CBS Radio (NYSE:CBS) has over 100 broadcasting stations in the U.S. and offers its audience several formats through the combination of on-air, online and new media platforms. Over the years, CBS's radio market share along with its radio ad revenues has declined. Despite this, we estimate that the radio business still constitutes about 11% of CBS's stock value.
CBS Radio faces the following trends:
Weak Radio Ad Market
Radio's share of U.S. ad spending has been declining over the years. This can be attributed primarily to the growth in internet and cable advertising. We estimate that radio ads attract 5.6% of ad spending currently and that this is expected to decline to 4% by the end of the Trefis forecast period.
Competition from Internet Radio:
Websites like Pandora allow users to create their own customized radio channels. With the introduction of the Pandora iPhone app and the ability to access Pandora on navigation screens in cars, consumers have an option to listen to their customized radio channels nearly anywhere. Traditional broadcast radio faces a significant challenge in such a situation.
Declining CBS Radio Market Share
CBS has divested some of its radio stations in the past and we expect this trend to continue as CBS focuses on the most profitable stations in the largest demographic markets. Even with our forecast of dwindling radio market share due to on-going divestments and competition from alternatives like internet radio channels, CBS radio still constitutes a significant portion of CBS's stock value.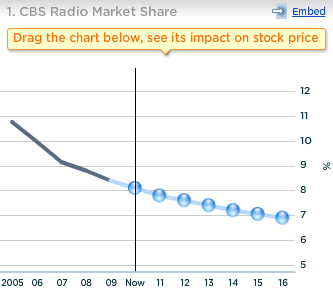 Disclosure: No positions