Here is the list of covered call opportunities from my screener for February 2010 expiration. With earnings season upon us, I eliminated all calls with earnings announcements before February 19 - the last trading day. I still have listed 30 stocks and 9 ETFs with call options meeting my criteria.

Topping the list is PAAS (PAAS) which is a great silver play, Foster Wheeler (FWLT) and Petrohawk (HK) are good plays on energy while Garmin (GRMN) and ERTs are plays on electronics.

Personally, I like CSX (CSX), Southwestern Energy (SWN) and Petrobras (PZE) these are more conservative plays in this market.

The metals are heavily concentrated in the ETFs as the GDX gold miners (GDX), XME (XME) and SLV (SLV) at the bottom of the chart.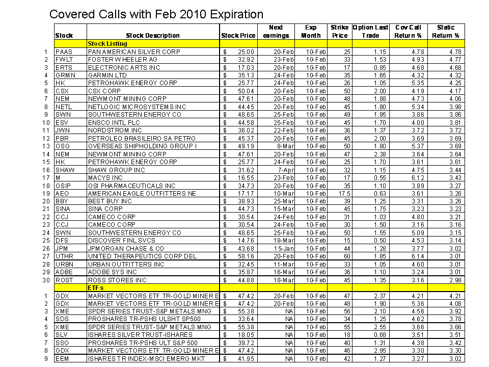 Author's Disclosure: Long with covered calls - PBR, CSX, SWN, PAAS & FWLT