Noble Energy, an exploration and production firm with a diversified energy assets portfolio, is a good long bet. Its role as Western firm of record on the many major discoveries in the Eastern Mediterranean offers a first-mover advantage.
Recent natural gas discoveries off Israel's eastern Mediterranean Sea are reversing its role of importer to that of exporter. According to the Energy Information Administration (EIA), the larger finds - the Tamar and Leviathan fields - hold estimated reserves of 10 trillion cubic feet (Tcf) and 18 Tcf respectively. These fields are part of the Levant Basin, with probable oil reserves of 1.7 billion barrels and probable natural gas resources of 122 Tcf.
The American firm Noble (NYSE:NBL), cited as being "behind most of the natural gas discoveries in the region," has also been the explorer credited with the estimated 7 Tcf-Aphrodite field in offshore Cypriot waters. Other smaller discoveries, the Dalit and Tanin fields will come online at some point as well. To compare, Texas's Barnett Shale has proved reserves of 32.6 Tcf and the Fayetteville gas play is 14.8 Tcf, according to EIA estimates.
This chart reflects the estimated reserves and when first volumes are expected to come online: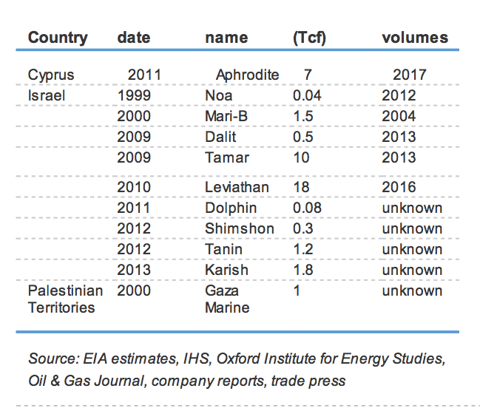 Click to enlarge
The lion's share of the finds benefit Israel, with limited capacity to explore, develop and produce oil and gas resources. In the past, Israel imported most of its natural gas supply from Egypt. Now Israel plans to export 40% of its natural gas reserves, as they have far more supply than demand can support. This story has repeated itself in the U.S., with the gas boom, followed by falling prices that has been a drag on the oil and gas sector profitability. Spot LNG in the east Mediterranean region is currently priced around $12.00 per million British thermal units, far better pricing than future U.S. gas prices. Egypt, facing gas shortfalls, plans to import gas via LNG though pipeline deliveries from Israel are likely cheaper. In 2010, Israel imported nearly 14% of Egyptian gas. These roles are reversing.
The gas finds, with Noble at the center of the storyline, are advancing new energy dynamics and different export options than before. This event may well have an impact on geopolitics and economic spillover effects for the larger Mediterranean-area trade routes.
Noble expects Israeli gas demand to grow 15% CAGR over the period 2012-2017. Natural gas is now used in nearly half of Israel's power generation, over 38% in years recently past. The overall economy will gain from the cheaper gas supply, mirroring the impacts noted in the U.S. economy, such as benefits to manufacturing and industrial activity, reduced carbon emissions, and lower energy bills. This one-time boon may help reverse the monopolies held in numerous industrial sectors in Israel, especially after the cottage cheese protests of 2011, when citizens waged a Facebook protest in dissatisfaction with the cost of living and socioeconomic inequalities. Israel's tech success as a portion of the economic pie may be reduced as other business lines now become more economic for Israeli firms.
At a November 8th presentation at Dallas Committee on Foreign Relations, Hillel Schuster, senior fellow at Bar-Ilan University, noted that Israel will be building considerable infrastructure in the years ahead to develop and distribute the gas supply. Noble and Israeli partner Delek (OTC:DLKGF) estimate total investments of $5 - $15 billion to develop the Leviathan field's needed pipelines or LNG facilities to export. Export markets could include piping gas to a willing Turkey, Greece, Jordan, the Palestinian Authority and possibly Egypt. A Delek executive says electricity tariffs could fall 40-50% by using Leviathan gas. An undersea pipeline to Turkey could involve $2- 3 billion in investment. In the following Eastern Mediterranean offshore fields, Noble Energy holds these positions: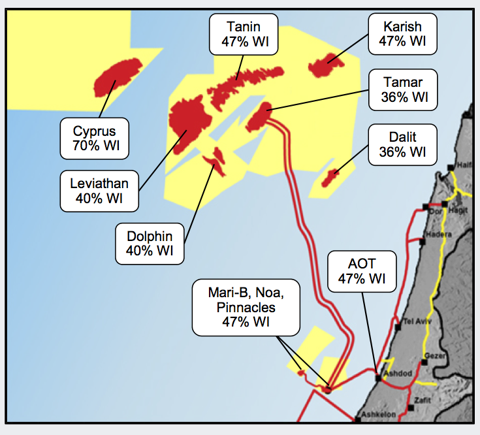 Click to enlarge
Noble estimates the following resource potentials, to name just a few:
Tamar: 10Tcf gross
Cyprus: 5-8 Tcf gross
Leviathan: 18 Tcf gross, 6 Tcf net
In 2014, Noble will explore the Mesozoic oil play in Levant, estimated as 3.7 Bboe (gross unrisked).
The developments stages for the immediately commercial areas of Tamar and Leviathan are as follows: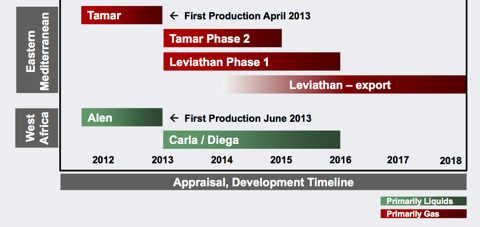 Click to enlarge
While the Eastern Mediterranean is a source of revenue generation in the years ahead, not mentioning the Niobrara Shale's Denver-Jules Basin contributions to Noble's future would be remiss. Noble anticipates 20% cumulative annual growth rates from 2012-2017, largely by focusing on liquids. Marcellus shale production in wet gas areas also contribute to 54% CAGR to 2017. Noble is tracking what the rest of leaders in shale plays have been doing: driving down drilling costs, optimizing production efficiencies, and targeting liquids, i.e., oil and natural gas liquids (NGLS).
The risks to the Eastern Mediterranean boom for Israel, and Noble, would be that production is stalled owing to unforeseen technical difficulties, increasing violence emerging in new ways, or a policy reversal. The current ruling coalition in Israel passed the gas export legislation expediently. Additionally, the purchase of Israeli exports by other Middle Eastern countries could be politically charged. At the same time, gas exports by Israel could smooth relations over time.
The Italian firm Eni (NYSE:E) is also exploring in the Levant Basin. Cyprus just announced November 7th a Memorandum of Understanding with Total (TOTL:PA) of France to develop an LNG terminal intended to serve Europe and Asia. Noble will benefit from this event. Noble recently partnered with Australia's largest LNG producer Woodside (WPL.AU) to leverage the Leviathan field. E&P firms like Noble that are able to partner well with other global firms have a skill set and capability that offers flexibility for global offshore energy opportunities and a doorway to Asian energy markets.
Over the period 2012- 2017, Noble's exposure to Eastern Mediterranean areas add to the expected 21% CAGR in discretionary cash flow, expected to grow $1 billion per annum, from under $3 billion in 2012 to over $7 billion in 2017.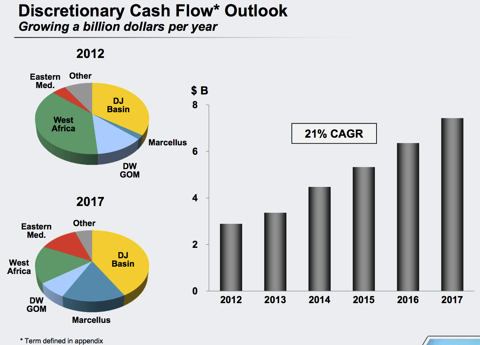 Click to enlarge
Noble's dividend is $.55/share (adjusted for stock split), having grown at 35% CAGR over the last eight years, beyond its peers. At its current price of $75 in late day trading Nov 11th, and given the reconfiguration of its resources portfolio, NBL has room to grow and pay dividends. Noble's target price was raised to $115 from $105 by FBR Capital.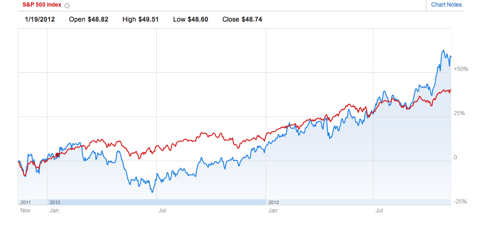 Click to enlarge
In the third quarter, CEO Davidson noted the following financials according to the earnings transcript:
"Sales volumes were up 13% from the second quarter of this year. Discretionary cash flow was up 29%, and adjusted earnings per share of $0.97 a share was up 40%. We had record sales volumes of 293,000 barrels of oil equivalent per day, with high quarterly marks set in 4 of our 5 core operating areas. This was a 26% increase versus the third quarter of last year after adjusting for the sales of certain noncore onshore U.S. assets." Revenues were $1.4 billion for the quarter, up 21% from the second quarter this year, with 80% from liquids products.
While an attractive buy right now, Noble and its East Mediterranean opportunity has more legs than on first glance. Noble's central position offers a number of outposts from which to jump.
Source: http://www.nobleenergyinc.com/
Disclosure: I have no positions in any stocks mentioned, and no plans to initiate any positions within the next 72 hours. I wrote this article myself, and it expresses my own opinions. I am not receiving compensation for it (other than from Seeking Alpha). I have no business relationship with any company whose stock is mentioned in this article.