The 3D printing stocks have been good to our readers over the past year or so, with gains exceeding 100% in some cases. We are believers in the practice of farming profits in winning trades, and as such think that with the latest run higher in the sector that readers would be well served taking a little bit off the table at these levels. We still like the momentum behind the trade, as well as the progress that these companies are making as their product transitions from a novelty item to a mainstream product, but acknowledge the need to take advantage of these prices.
Our favorite play, 3D Systems (NYSE:DDD), Stratasys (NASDAQ:SSYS), ExOne (NASDAQ:XONE), Voxeljet (NYSE:VJET) and Organovo (NYSEMKT:ONVO) have all performed well over the past month. It should be noted that Voxeljet, a newly-listed company, has already doubled from its IPO listing price in the mid $20s.
Chart of the Day
Voxeljet sold its shares for $13/share during its IPO and they began trading around $25/share. In the month after the IPO the shares have already doubled from their first day close and been a big winner in the industry since November began.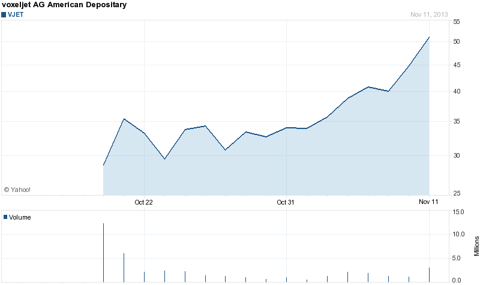 Source: Yahoo Finance
We have no economic news today but will have news this week starting Wednesday.
Asian markets finished higher today:
All Ordinaries -- up 0.11%
Shanghai Composite -- up 0.82%
Nikkei 225 -- up 2.23%
NZSE 50 -- down 0.13%
Seoul Composite -- up 0.92%
In Europe, markets are trading lower this morning:
CAC 40 -- down 0.37%
DAX -- down 0.32%
FTSE 100 -- down 0.49%
OSE -- down 0.52%
Our View
When we initially threw our hat into the ring and called a bottom in the stock prices of the 3D printing names, we were brutally honest with readers and stated that many of these names would not be long-term investments but rather momentum plays and short-term investments as we saw the chance that these companies would be able to compete against the big boys of tech highly unlikely. That view was nothing against these companies or their management teams, but rather based on how these new market trends generally play out. We still believe that most of these names will either be bought out, go out of business or be consolidated and simply forgot about in larger companies' product offerings.
That is however more there than here, and although we are not so bullish long term on these names as investments we have been some of their biggest backers when it comes to treating them as trades. We essentially called the bottom in 3D Systems and Stratasys when we initially went bullish and because of our continued bullishness we have had readers venturing outside of our recommendations and finding names like Voxeljet and Organovo.
Calling the bottom of the last correction put readers in a very good place. The latest leg up has created what we believe to be a good time to book some profits.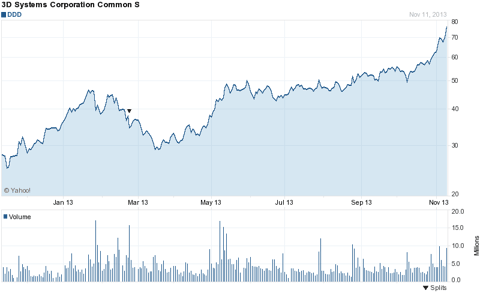 Source: Yahoo Finance
The two 800 pound gorillas in the industry are of course 3D Systems and Stratasys, and they both pretty much set the tone for the industry. But those who pay attention to the industry are probably realizing that there is a big wave of companies that are private and looking to come to market via the IPO process. Already we have seen Voxeljet, a German company, and ExOne come public this year to cash in on the 3D printing bull market but there are many more names out there.
Many of the names which keep showing up in our research are what we shall call more hybrid names. They are indeed 3D printing companies, but they have a focus on healthcare - an industry where 3D printing has long had a strong foothold (such as making the hip joint transplants). The next wave of 3D printing companies are going to resemble Organovo with a focus on merging two exciting technologies to help solve extremely important issues facing humans today.
The one name which seems to pop up a lot lately is Materialise. Anyone who reads European healthcare and technology financial publications has undoubtedly run across an article mentioning this company, and we have even seen The Wall Street Journal run an article (see here) discussing the company too. The company is developing a product which helps doctors do face transplants via 3D printing techniques and could look to equity markets to raise up to $100 million. Our guess is that they could raise more than $100 million based off of demand from investors and the success of other IPOs and this is why we are beginning to worry about the momentum behind the sector.
Each leg up is met with profit taking and sideways and/or downward movement in the shares. Keep in mind that in micro bull markets that the small cap names can actually create a situation where the tail does wag the dog.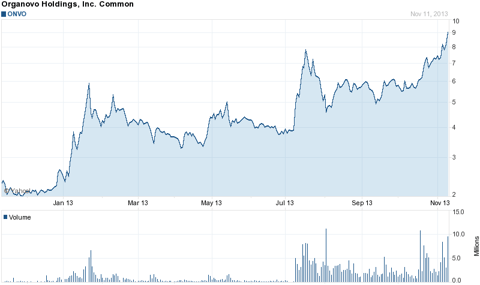 Source: Yahoo Finance
We like the promise offered by these sub-$1 billion market capitalization companies, but recognize from our past investing experience that as you diversify away from the big names in the sector, 3D Systems and Stratasys, that you actually increase your risk to the downside once the market begins to correct. It is because of our past experience in these micro bull markets that we believe that investors need to be taking profits off of the table now in small transactions as share prices increase in order to protect these tremendous gains to the downside when the next correction, or even little hiccup, occurs.
We are not bears by any means, but simply trying to be prudent with the spectacular gains readers have enjoyed thus far in the 3D printing craze.
Disclosure: I have no positions in any stocks mentioned, and no plans to initiate any positions within the next 72 hours. I wrote this article myself, and it expresses my own opinions. I am not receiving compensation for it (other than from Seeking Alpha). I have no business relationship with any company whose stock is mentioned in this article.