Advanced Emissions Solutions (NASDAQ:ADES) is one of those companies that don't come along very often. In simple terms, ADES's model monetizes government tax credits by helping companies comply with emission regulations. More specifically, ADES helps companies comply with MATS (Mercury and Air Toxic Standards) regulations. It operates in three principal business segments: Refined Coal, Emissions Control and CO2 capture.
For Q3 of 2013, the company earned $1.6 million or $0.16 per diluted share, compared to a loss of $3.9 million or $0.39 per diluted share for Q3 of 2012 (y-o-y). Earnings were $0.02 per share better than expected and revenue was slightly better as well. As per the company's press release:
Third quarter earnings of $1.6 million, or $0.16 per diluted share compared to a net loss of $3.9 million or $0.39 per diluted share for third quarter of 2012.
Record Emission Control ("EC") backlog and revenues on Backlog of $56.6 million up from $33.2 million at June 30, 2013, on Revenues of $14.5 million more than tripled from the third quarter of 2012 and were up more than 20% from the second quarter of 2013.
Refined Coal ("RC") rental and other income of $20.3 million, up more than 80% from the third quarter of 2012 and 63% from the second quarter of 2013. RC facilities operated by the Clean Coal Solutions, LLC ("Clean Coal") joint venture generated $6.8 million in credits during the quarter to be used to offset future taxes (the Company's wholly owned subsidiary, ADA-ES Inc. ("ADA"), owns 42.5% of Clean Coal).
Two additional RC facilities leased to investors in the quarter, significant progress with investors and utilities for additional RC facilities. The Company expects to have all 28 RC facilities in full-time operation by the end of 2014.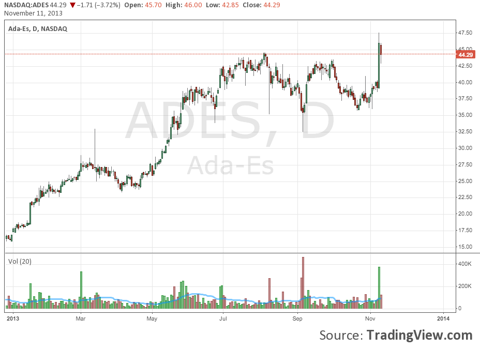 Click to enlarge
The company's stock was up by 17% last Friday, reaching record new highs, before giving a little back yesterday. Please note a new high accompanied by high volume based on a good quarter, usually (not always) means higher prices ahead.
There are several catalysts for ADES's stock looking ahead. To begin with, while environmental regulations impose higher costs on business and deter growth, they also help create jobs and save the economy billions, by lowering the harmful health effects of pollution. That according to a White house draft report on the cost of Federal regulations.
Also, while the cost estimate for MATS regulations vary, nevertheless most agree that the cost to industry is currently between $8-$10 billion a year and will rise over the years ahead. More importantly, in all studies that I have seen the benefits of MATS regulations outweigh the costs by a considerable margin. So in a way, MATS regulations pay for themselves, something that will not cause much political friction in Washington.
The company announced recently that 6 new facilities are scheduled to begin full-time operations by the end of Q1 2014 and that technological improvements expand the addressable market to include plants burning bituminous coal.
Also something else to keep in mind, is that analysts are projecting a very big rise in earnings and revenue for next year. Revenue for 2014 is projected to be about $386 million from $274 million in 2013, and earnings are estimated to be $3.62 a share, as opposed to marginal for all of 2013. Even more bullish are the whisper numbers for 2015 and beyond.
I highly advise investors to do their due diligence in ADES and make up their own minds about the company. Even if ADES is currently not a cheap stock, revenue and earnings over the next 2-3 years are estimated to see a sharp rise, and that should continue to put upward pressure on the stock.
And while ADES has risen sharply this year, I think it is more than justified and there are probably more profits for investors ahead.
Disclosure: I have no positions in any stocks mentioned, and no plans to initiate any positions within the next 72 hours. I wrote this article myself, and it expresses my own opinions. I am not receiving compensation for it (other than from Seeking Alpha). I have no business relationship with any company whose stock is mentioned in this article.