Annaly Capital Management Inc. (NYSE:NLY) is one of the largest, if not the largest, mortgage REITs in the US. It tends to be slower moving than many others. However, it also weathers the economic storms better than many others. NLY has performed several times better than the S&P500 when you include both dividends and stock price appreciation. The Q3 2013 dividend of $0.35 per common share amounts to 13.49% if annualized (using the November 11, 2013 closing stock price of $10.38 per share). This is far higher than the dividend of the S&P500 (about 2%). Further NLY is more diversified that many other REITs. This can confer more safety, just as diversification is thought to confer safety in a stock portfolio.
NLY recently completed the acquisition of CreXus Investment Corp. (NYSE:CXS). This is now operated under the name Annaly Commercial Real Estate Group. The name itself should tell investors that CreXus was a diversification from NLY's core business of Agency RMBS investments. Other subsidiaries of NLY are Merganser Capital Management Inc. -- an SEC registered investment advisor, FIDAC -- another registered investment advisor, which externally manages Chimera Investment Corp. (NYSE:CIM), Charlesfort Capital Management Inc. -- a middle market lender, RCAP Securities Inc. -- a FINRA broker/dealer, and Shannon Funding LLC -- a warehouse lender.
NLY's Commercial Real Estate Group is the current focus of change. NLY had about $1B in commercial real estate investments as of June 30, 2013. By September 30, 2013, NLY had upped that to about $1.2B (11% of equity). In its earnings conference call on November 7, 2013, it reported it had already pushed that figure to about $1.6B. It plans to reach $2B in commercial real estate investments by year end 2013. The 11% equity in these assets for the Q3 2013 report was responsible for 11% of NLY's core earnings. NLY reported a weighted average yield on commercial real estate debt and preferred equity at Q3 2013 end of 9.70%. It had a weighted average net equity yield on investments in commercial real estate at Q3 2013 end of 14.13%. These are both good metrics; and they compare favorably to the June 30, 2013 reported metrics of 9.90% and 14.13% respectively. In other words the equity investments in this area are delivering consistent yields. This is a big positive for NLY; and it bodes well for NLY's future.
NLY has also been de-leveraging in order to make itself safer. Its 6.2x leverage as of June 30, 2013 was down to 5.4x as of September 30, 2013. On top of this it increased its hedges to 74% from 56% of its assets. Plus it further reduced the underlying duration of its mortgage portfolio. This has left it with a very solid net capital ratio of 14.8%.
Its core earnings have ranged from $0.32 per common share to $0.28 per common share over the last five quarters. This is very stable. It does indicate that NLY may have a further dividend cut as the most recent core earnings of $0.28 per common share are not enough to cover the Q3 dividend of $0.35 per common share. The company has not yet said this; but with a lower leverage ratio it seems a small cut is likely. Still the increased safety of the company makes it more enticing even with a slightly lower dividend.
Some good news is that the average interest rate spread during Q3 2013 was 1.01%. This was up from 0.98% during Q2 2013. If the average interest rate spread can keep moving in this direction, that should help NLY deliver better core earnings even with lower leverage. Unfortunately the net interest rate spread may take a small hit in Q1 2013 and beyond. The new Basel III capital requirements for banks, which go into effect January 1, 2014, are expected to add 5 bps to 15 bps to the repo costs. However, NLY's net interest rate spread should still continue to increase longer term as interest rates rise. In support of a positive net interest rate spread trend NLY's annualized return on average equity (on a core earnings basis) has been steadily increasing from 8.07% on September 30, 2012, to 8.24% on June 30, 2013, to 8.62% on September 30, 2013. Very subtly NLY is adjusting positively to the rising interest rate environment.
The bad news is that book value has fallen in Q3 2013 to $12.70 per common share. It was $13.03 per common share as of June 30, 2013. I had hoped the book value would actually increase in Q3 2013; but the turnover to shorter duration assets and the selling necessitated by de-leveraging caused much of the losses in book value in Q3 2013. The volatility was still high in the first two months of Q3 2013. This meant NLY was getting less than it would in a more stable market on the above sales. I do not find this overly disturbing. The book value loss of Q3 2013 was not the huge loss of Q2 2013. Plus I (and I am sure the management) hope that the Commercial Real Estate Group assets will add stability and book value growth to NLY's overall portfolio. When NLY has $2B in equity invested in these assets by Q4 end 2013, investors should be able to see more book value gains in this area. I should note that commercial real estate loans are usually of 7-10 years in duration. Hence they will automatically have shorter durations than many of the Agency RMBS in NLY's portfolio.
Overall NLY is a buy. It is clearly making itself safer. Its stock price of $10.38 per share would have to rise 22%+ just to get to its September 30, 2013 book value. If you don't mind another likely, slight dividend cut, NLY may be a stock you should look strongly at. There are huge signs of a turnaround in the recent direction. The recent positive economic news that has been sending interest rates up again may be fleeting. 0.83% of the 2.8% GDP growth was from inventory increases. These seem likely to disappear after Christmas. In fact we are likely to see inventory decreases in early 2014, which will have a negative GDP growth effect. Many question the jobs numbers too. Many are saying they are only temporary and/or low paying jobs. For instance, a lot of retailers have to hire temporary workers for their busiest season of the year -- Christmas. For those thinking these two positive numbers mean a much improved economy, they are probably wrong. They will likely find this out in the next 2-3 months. The 10-year US Treasury Note yield will probably not skyrocket much beyond its recent highs (about 3.0%) before the market realizes this. This likely means NLY is likely a good buy.
The 25-year chart of NLY provides some technical direction for this trade.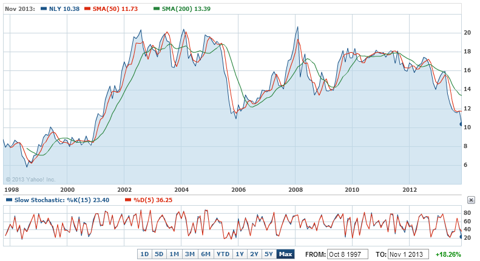 Click to enlarge
The slow stochastic shows that NLY is near oversold levels. The main chart shows that NLY is in a downtrend. However, there is support at $10. Further the company's recent moves make one think that the huge negatives are over for NLY. In fact it may start to add book value soon. Perhaps this will occur in Q4 2013.
We will have to wait to see what new negative and positive effects the new Basel III requirements bring in early 2014. However, there will always be some problem on the horizon. Overall NLY looks like a very good bargain. It is a buy, although investors may wish to average in over the next 6-12 months. The immediate term rising interest rates are pushing the mortgage REIT sector down currently; and no one is sure what Basel III will really bring. It would probably be best to buy at least some of your NLY investment after those rule changes go into effect (say 3 and 6 months after). Still I am impressed with the changes management has made. The only thing that seems likely to derail NLY is another bad recession. All stocks will be hit in that eventuality. Mortgage REITs may be hurt less than others. Such an event would probably cause the value of Agency RMBS to go up, not down. NLY should benefit. Investors should be heartened that there has been a small amount of insider buying in recent months. It is always nice when the CEO buys $2 million in his company's stock. The current 13.49% dividend is nice too, even if it may get cut to 11%.
NOTE: Some of the above information is from Yahoo Finance.
Good Luck Trading.
Disclosure: I have no positions in any stocks mentioned, but may initiate a long position in NLY over the next 72 hours. I wrote this article myself, and it expresses my own opinions. I am not receiving compensation for it (other than from Seeking Alpha). I have no business relationship with any company whose stock is mentioned in this article.