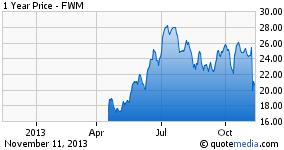 Last month, I wrote an article speculating that Fairway Group Holdings (NASDAQ:FWM) would file for a secondary equity offering as its IPO lock-up expiry date passed and noted that I expected a meaningful decline in the share price. I was half wrong. Though Fairway hasn't brought any stock to market, shares have declined reported a weak set of results last week including: weak same store sales growth, (another) operating loss, negative free cash flow. The company even reported a contraction in adjusted EBITDA - the metric to which it steers analysts (probably since all of the conventional metrics are so ugly). But most concerning to investors is the group's weak balance sheet. While no Wall Street analysts were so rude as to inquire about the company's financial health (could make writing something bullish more difficult), using the company's favored adjusted EBITDA metric, which is by far the most favorable way to view the company, it is carrying net debt to trailing 12 month adjusted EBITDA of 4x. This is considerably higher than other grocers/retailers (most large grocers/retailers are between 1-2x) and higher than most businesses in general. Even worse, unlike most retailers, Fairway has no real estate to fall back on. Though we don't know where Fairway's restrictive covenants lie (not disclosed - I've contacted the company but have yet to hear back), I'd have to imagine we are approaching its upper limits. As such, I believe it is worth considering the potential consequences of this high level of leverage - looking at the Risk Factors disclosure section in Fairway's 10-k gives us some clues:
Maximum capital expenditures are limited by loan covenants (again we don't know where these are). This is of critical importance to Fairway as the stock is dependent on new stores to generate top line growth - recall that same store sales have been negative for the past three years (and up a paltry 1% or so year to date). To grow its top line, and keep the stock interesting to the investing community, Fairway must grow its store count. Actually, given that it's sales base has nearly doubled over the past five years, Fairway needs to accelerate the number of stores it opens (moving from 2-3 openings per year to 3-5) in order to maintain a 15%+ top line growth rate. Considering that each store costs $10-13 million or so to open (excluding pre-opening costs which are expensed but then added back to Adjusted EBITDA) and that Fairway will likely incur additional central overhead capital expenditures (like the hike in capitalized distribution center spend & IT infrastructure we've seen to-date), capital expenditures could approach $70 million next year (vs. $56 million last year). Without a big jump in profitability, this level of expenditure will put further upward pressure on the leverage ratio.
Ability to take on additional debt - again, we don't have specifics here but Fairway needs their banker's approval to seek additional debt financing. While this is customary, given the high level of existing leverage, I believe it is unlikely that Fairway will be allowed to raise additional debt elsewhere as this would drain cash needed to service its existing obligations and make for lower recovery levels in the event of default/bankruptcy.
For these reasons, I believe that Fairway will have to sell additional stock to fund expansion. This is complicated by the fact that it's private equity owners continue to hold a meaningful amount of stock. As we've seen with most IPOs, these insiders generally look to sell down their stake further after lock-up expiry. Coupled with the company's potential need for additional equity capital, it is possible that a secondary offering cause a doubling of Fairway's free float. Factoring in Sprout's Farmers Market (NASDAQ:SFM) recently announced a large secondary offering ($1 billion), there may not be enough investor appetite for premium grocery stores. This could lead to significant downward price pressure on Fairway's share price. Were the market to reappraise Fairway at, say 75% of estimated fiscal 2015 revenue (implies 11x 2015 estimated adjusted EBITDA - still quite generous), this would lead to a valuation of $12/share (40+% downside). I remain short Fairway.
Disclosure: I am short FWM. I wrote this article myself, and it expresses my own opinions. I am not receiving compensation for it (other than from Seeking Alpha). I have no business relationship with any company whose stock is mentioned in this article.