Dear Seeking Alpha readers,
We have enhanced the Portfolio tab to make it easier to edit all aspects of your portfolio from a single page.
There is a new Edit Portfolio link found to the right of the portfolio drop down.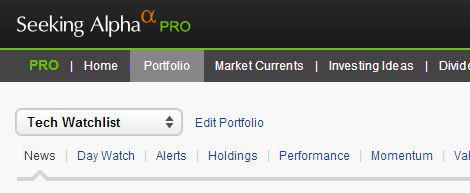 This page supports the following functions
Add Symbols
Remove Symbols
Subscribe for the daily portfolio summary email newsletter
Add and Edit Holdings (Optional)
Rename Portfolio
Delete Portfolio
The function to create a new portfolio remains in the portfolio selector list.
Hope you find the new page convenient. Any feedback is greatly appreciated
Sincerely,
Jacob Maltz
Seeking Alpha Product Team
product@seekingalpha.com
Disclosure: I have no positions in any stocks mentioned, and no plans to initiate any positions within the next 72 hours. I wrote this article myself, and it expresses my own opinions. I am not receiving compensation for it. I have no business relationship with any company whose stock is mentioned in this article.