Continuing to frustrate investors as well as the analyst community, Digital Realty's (NYSE:DLR) management warned of lower than expected FFO for 2013 and provided a rather anemic growth forecast for 2014 on its latest earnings call. While a good portion of the expected shortfall was related to a one-time rent expense adjustment (see below chart), the market has not been willing to overlook the company's latest excuses, sending shares down another 20% since the announcement.
DLR's steps to lower FFO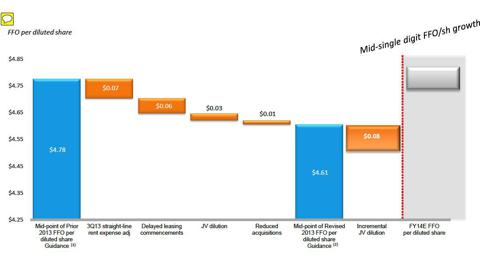 Since becoming the target of a high-profile short seller earlier this year, Digital Realty management has been widely criticized for not being more transparent with the investment community. And with at least three downgrades from sell-side brokerages following the guidance reduction, the criticism continues. Adding to the fray is S&P which revised its outlook on DLR's BBB investment grade credit rating from stable to negative.
Here We Go Again
Three months ago, I urged caution on the stock despite an attractive valuation, positing that industry trends may not bode as positively for the company as many seem to think. Further, I noted that despite my lack of belief in the extreme sensationalism surrounding Jonathan Jacobsen's short sell call, management had a lot to prove to investors and that its ability to regain footing might be a big "if." As I wrote back in August,
I'm personally not inclined to go rushing into Digital Realty right now, given the elevated risk profile I perceive
With the stock trading at roughly 10X next year's FFO valuation, I continue to be intrigued by it, and as a contrarian, by the negative sentiment surrounding DLR and its nearly 7% yield, which despite Jacobsen's warnings, appears to be well covered. And with its stock price in the mid 40s now versus the mid 50s three months ago, well, I'm even more intrigued.
Fundamentally though, there doesn't appear a lot to be jumping up and down about here. While the company is making moves to grow the asset and revenue base including its JV announcement with Prudential, the rent growth picture does not appear robust. Couple that with 2014 guidance of just mid-single-digit FFO growth and higher finance expense, and there still doesn't appear to be much reason to go rushing into Digital Realty right now.
Further, as we approach the end of the year and with tax loss selling season upon us, DLR will be a prime candidate for both retail and institutional investors to offset their gains. With the stock down 40% from earlier year highs, and the market cap having dropped from 10B to 6B, I think we are likely to see "artificial" selling pressure from those eager to get a DLR position off their books come December, even if they still believe in the company.
Bull Session
While I admittedly continue to be bearish on growth prospects at DLR, the company does run a rather cutting edge, unique business insofar as REITs are concerned that realistically should have demand and growth written all over it. Further, as was mentioned above, the valuation appears cheap. But there are questions those who continue to stick by the company or are considering purchase of shares should be asking themselves in the face of the current situation. Are the company's problems and laboring stock price simply due to a Keystone Cops type situation in the executive suites or is there a more secular problem facing the company? Is the board of directors capable of analyzing, dissecting and potentially taking action to correct the issues?
Income investors are being drawn to the company due to its robust yield of 7 percent, which seems to be the major redeeming quality of owning shares at the moment. For some, that may be enough reason to hold on.
Is DLR A Value Trap?
Though I would not characterize Digital Realty as the sinking ship that Jonathan Jacobsen has, I do think it's dead money. Many analysts appear to be throwing in the towel, apparently coming to the conclusion that the company's best days are behind it. I would tend to agree with that assessment and continue to urge retail investor caution here - despite the seemingly positive superficial data. For those who wish to take a bit more optimistic stance, I would ease in slowly, perhaps evaluating the company's progress from quarter to quarter. If DLR does turn into a sinking ship over time, you don't want to be drinking too much on board, just in case you need to swim to shore.
Disclosure: I have no positions in any stocks mentioned, but may initiate a long position in DLR over the next 72 hours. I wrote this article myself, and it expresses my own opinions. I am not receiving compensation for it (other than from Seeking Alpha). I have no business relationship with any company whose stock is mentioned in this article.
Additional disclosure: Disclaimer: The above should not be considered or construed as individualized or specific investment advice. Do your own research and consult a professional, if necessary, before making investment decisions.