I spend a good portion of my day reading analyst reports, commentaries, and upgrades looking for possible investment selections as well as good topics for the articles I write for TheStreet.com and Seeking Alpha. Most commentary is dry as dust.
So when I come across a colorful turn on a phrase by an analyst it will catch my eye especially if it is on a stock I believe in and own. Such was the case earlier today when I came across Piper Jaffray's take on InvenSense (NYSE:INVN). The phrase "More growth drivers than a hormone factory" definitely caught my attention.
Jaffray's analyst notes the company's recent win with Apple (NASDAQ:AAPL), additional penetration with Samsung (OTC:SSNLF) as well as additional wins up ahead with other OEMs for his enthusiasm. Piper Jaffray has an "Outperform" rating and a $25 a share price target on this ~$16.50 a share tech stock.
The motion sensor vendor has had rough go of it since its last earnings report due to tepid forward guidance it issued along with an earnings report that beat on the bottom line but just missed revenue expectations for the quarter. It might be time to start building a position in this smartphone vendor as it seems poised to win a greater share of business from the two heavyweights (Apple & Samsung) in the space. It is also important to remember that tablet and console-related weakness was responsible for the poor guidance. The company should grow nicely along with the overall smartphone market.
Company Overview:
InvenSense delivers motion interface solutions based on its multi-axis gyroscope technology that target smartphones and tablets, console and portable video gaming devices, and smart televisions.
4 reasons INVN can go higher from $16.50 a share:
The company should come in with over 20% revenue growth both for this fiscal year and for FY2014.
Despite the poor guidance after the last quarterly results, the median analyst price target by the 12 analysts that cover the stock is $20 a share; more than 20% above the current price of the stock. Price targets range from $18 to $25 a share.
InvenSense has a very solid balance sheet with over $150mm in net cash on its books (~15% of the company's market capitalization).
INVN seems to have some short-term technical support at just under its current level (See Chart).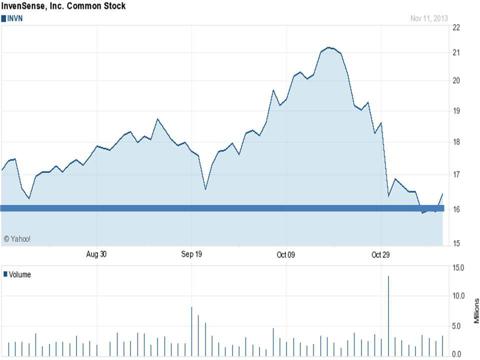 Disclosure: I am long AAPL, INVN. I wrote this article myself, and it expresses my own opinions. I am not receiving compensation for it (other than from Seeking Alpha). I have no business relationship with any company whose stock is mentioned in this article.