Note: This article covers a micro-cap stock. Please be aware of the risks associated with these stocks.

Advaxis (NASDAQ:ADXS) is a clinical-stage biotechnology company developing the next generation of immunotherapies for cancer and infectious diseases. As the title suggests, ADXS' novel technology platform generates a comprehensive immune response by using attenuated bacteria that are bio-engineered to secrete antigen/adjuvant fusion protein to help guide the natural immune response to fight cancer. Advaxis recently reported the final 18-month survival data for ADXS-HPV in patients with recurrent cervical cancer at the 2013 Society for Immunotherapy of Cancer Annual Meeting. The randomized Phase II trial resulted in an increase of 28% from the 22% in the final 18-month survival data.
Financial Fundamentals
The majority of clinical-stage biotech companies usually suffer from massive dilution and require dire funding to stay afloat. Unfortunately, Advaxis has a history of multiple dilutions and reverse splits that ultimately (and painfully) assisted the company to up list onto NasdaqCM. However, since the recent closing of public offering of common stock and warrants, Advaxis has successfully received an estimated $26.5M before deducting underwriting discounts, commissions, and other offering expenses payable by Advaxis. The cash balances out to a healthy cash reserve of $23M, which will assist in keeping Advaxis above water for a several more quarters.
Short Activity/Institutional Holdings
The board of directors and management have recently put their money where their mouth is with a series of insider purchases ranging from 12k to 150k shares, which is rare in the biotech world. Since Advaxis recently upgraded to the big boards, the short interest stands at 0% as of Oct. 15, 2013, which I would expect to increase slightly next quarter due to ample supply of bear ammo.
Product Line
Unlike many biotech companies, Advaxis is leading the charge on multiple fronts in the next generation of immunotherapies. The recent results from its lead drug candidate, ADXS-HPV India, have raised a few eyebrows in both the investment and scientific world. The small biotech company has positioned itself internationally with 15 distinct immunotherapies in cancer and infectious disease development. Advaxis is currently targeting the indications of cervical, head, neck, anal, prostate, and breast cancer. Advaxis is also trying to strategically position itself inside the animal market by targeting canine osteosarcoma.
Wild Cards
Advaxis unfortunately has a laundry list of wild cards, such as: the recent appointment of unproven Gregory T. Mayes as the executive vice president and COO, its recent up list onto NasdaqCM, its recent dilution, the recent designation of orphan status, and the not-so-great history of making investors suffer to stay afloat. With the recent FDA orphan designation, the market has yet to fully react to the potential commercial benefits of orphan status approval. As noted below, the FDA will not approve another sponsor's marketing application for the same drug for the same use or indication before the expiration of seven years from the date of approval.
Unless FDA previously approved the same drug for the same use or indication, FDA will not approve another sponsor's marketing application for the same drug for the same use or indication before the expiration of seven years from the date of such approval as stated in the approval letter from FDA, except that such a marketing application can be approved sooner if, and at such time as, any of the following occurs:

Orphan drug exclusive approval protects only the approved indication or use of a designated drug. If such approval is limited to only particular indication(s) or uses(s) within the rare disease or condition for which the drug was designated, FDA may later approve the drug for additional indication(s) or uses(s) within the rare disease or condition not protected by the exclusive approval.
Recent Designation for Head and Neck Cancer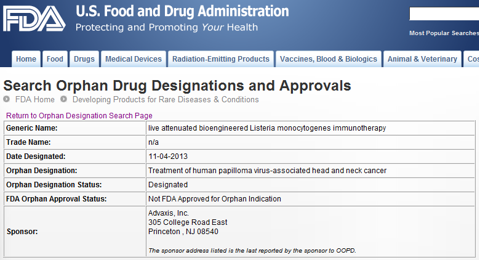 Summary
I would recommend a temporary hold on ADXS due to the firing of recent PRs. Or, I'd recommend entering only a small position (no more than 10% of your portfolio) as I suspect a few firework shows within the next couple of weeks in response to a possible approval of the breakthrough status for HPV.
For speculative investors, if ADXS can seal the deal with a licensing deal before the end of the year, I'll upgrade the event to a July 4th firework show. ADXS can be seen as a prime candidate for a potential licensing deal with Big Pharma due to its recent orphan status designation, Phase II results, and decent results in the 18-month survival data from their HPV-India trials. In my eyes, ADXS is turning over a new leaf and attempting to return value back to disappointed investors.
Also, it is important to note that ADXS showed comparable results to chemotherapy and radiation treatments without the horrible side effects such as typhlitis, gastrointestinal distress, anemia, fatigue, hair loss, and vomiting. With the combination of decent efficacy and safety, I see the Advaxis product line as a wise alternative to existing therapies.
Disclosure: I am long ADXS. I wrote this article myself, and it expresses my own opinions. I am not receiving compensation for it (other than from Seeking Alpha). I have no business relationship with any company whose stock is mentioned in this article.