The price of West Texas Intermediate (WTI) crude oil has tumbled to less than $95.00 per barrel from a high of $112.00 per barrel toward the end of August, spurring headlines about the collapse in crude-oil prices and the potentially negative ramifications for energy stocks.
Once again, the media has confused the outlook for North American crude-oil prices - which reflect regional production trends, throughput capacity and refinery utilization rates - with the global oil market.
The prices of Brent crude oil, an international benchmark, and comparable light-sweet crude oils in North America historically have tracked one another closely. But the traditional price relationship between WTI and Brent began to break down in late 2010 and early 2011, reflecting rapid production growth from US shale oil and gas plays and local takeaway constraints.
Domestic oil production has climbed to more than 7.5 million barrels per day from less than 5 million barrels per day in 2011. Industry observers expect output from the Bakken Shale in North Dakota and the Eagle Ford Shale to top 2.2 million barrels per day in 2014 - a huge increase from the less than 100,000 barrels per day lifted from these plays in 2008.
The consensus forecast calls for total US productions of crude oil and natural gas liquids (NGL) to top 10 million barrels per day in 2014. If this projection pans out, the US would overtake Russia as the world's second-largest producer of liquid hydrocarbons. And should the domestic production boom continue to accelerate, America could even surpass Saudi Arabia later this decade as the No. 1 producer of liquid hydrocarbons.
This deluge of domestically produced crude oil has saturated key regional markets, starting with the hub in Cushing, Okla.- the official delivery point for the WTI that underpins futures that trade on the New York Mercantile Exchange.
A rising tide of crude oil from the Bakken Shale, the Permian Basin in West Texas and Canada's oil sands, coupled with limited southbound pipeline capacity, resulted in a localized glut of crude oil that depressed WTI prices relative to Brent and other benchmarks that reflect global supply and demand conditions.
Whereas WTI and other landlocked varietals traded at a significant discount through late 2012, Light Louisiana Sweet (LLS) crude oil and coastal benchmarks continued to track Brent's price movements.
For example, on the last trading day of 2012, LLS went for $0.75 per barrel less than Brent, while WTI fetched a discount of $20.00 per barrel.
More recently, the price of LLS has decoupled from Brent crude oil and started to track WTI. As we explained in the Oct. 31, 2013, Graph of the Week, Crude Realities: Price Volatility is Here to Stay, new pipeline capacity has shifted the oil glut from Cushing to the US Gulf Coast.
As we predicted a little over three months ago in Falling through the Cracks: Downgrading US Refiners, the influx of this inland crude oil has crowded out imported volumes of light-sweet crude oil to the Gulf Coast region and depressed the price of LLS.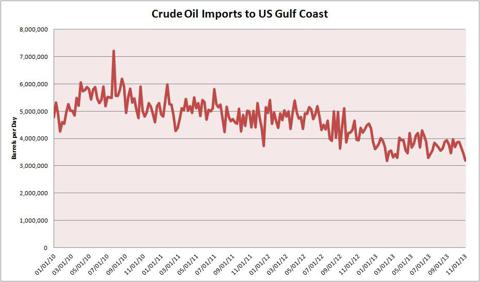 Source: Energy Information Administration
The consensus outlook calls for seaborne shipments of light-sweet crude oil to this major refinery center to decline to almost zero by year-end.
And this trend is playing out in other regions. As recently as 2007, the US regularly imported more than 2.5 million barrels per day of light-sweet crude oil, compared to less than 900,000 barrels per day in August 2013.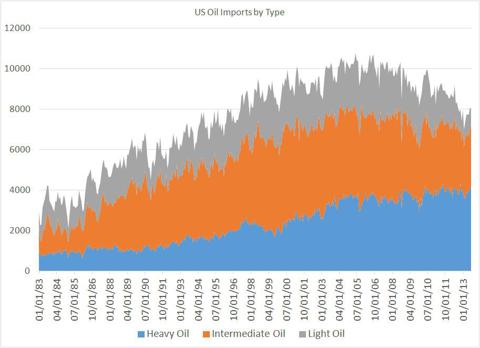 Source: Energy Information Administration
Investors can expect domestic crude-oil prices to continue to track Brent in a handful of isolated North American markets. For example, a lack of inbound pipeline capacity means that California relies on seaborne shipments of crude oil from Saudi Arabia and other foreign countries to meet more than half its needs.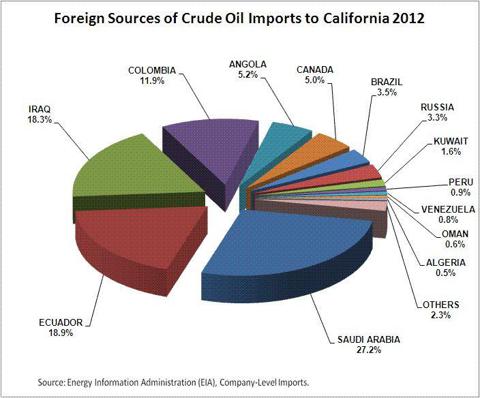 Source: California Energy Commission
That being said, rising shipments of light-sweet crude oil from the Bakken Shale and other domestic plays should displace some of California's imports and provide some price relief.
Independent refiner Valero Energy Corp (NYSE: VLO) estimates the cost of transporting crude oil from North Dakota to California at $13.00 per barrel to $15.00 per barrel.
Delivering these volumes to the Golden State via a combination of railcars and barges entails significantly higher costs than moving crude oil by pipeline. However, the wide price differential between Brent and many North American benchmarks makes these transportation methods a feasible option.
Aside from improving the flow of oil to markets on the East and West Coast, the potential release valves for the emerging glut of crude oil on the Gulf Coast are few and far between.
US law prohibits the export of crude oil without a special license from the US Dept of Commerce. To date, approvals have only allowed limited shipments to Canada unless the law changes or regulators start to authorize more export licenses, the glut of crude oil on the Gulf Coast will persist.
In contrast, US law allows for unlimited exports of gasoline, diesel and other refined products. This trade has boomed in recent years: International shipments of refined products through the first eight months of 2013 have increased by 55 percent from the same period five years ago.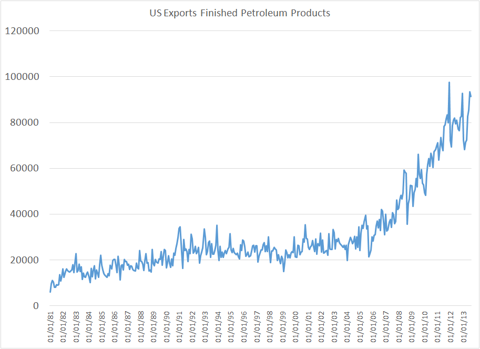 Source: Energy Information Administration
The wide price differentials of recent years have prompted some capacity additions, albeit not enough to handle rising volumes of light-sweet crude oil.
MDU Resources (NYSE: MDU) and Calumet Specialty Products Partners LP (NSDQ: CLMT) earlier this year announced plans to build a new diesel refinery in North Dakota to process surging production from the Bakken Shale. Refiners with operations on the Gulf Coast have also announced plans to add capacity to run more condensate and light-sweet crude oil.
However, with the US refinery utilization rate consistently at elevated levels, the scope for improvement remains limited. And planned refinery outages for maintenance and upgrades can have an outsized effect on crude-oil prices.
Price Outlook
Investors should expect US crude-oil prices to remain volatile over the next few years, with gluts of crude oil emerging periodically in certain regions. In general, we expect North American prices for light-sweet crude oil to trade at a discount to Brent and other benchmarks that reflect global supply and demand conditions.
At the same time, WTI shouldn't fall below $80.00 per barrel for a long period - any dip to this resistance point would likely prompt producers to slow their drilling activity.
The downside risk to Brent and other international benchmarks appears to be limited. According to the International Energy Agency, non-OPEC supply will increase by 1.2 million barrels per day in 2013 and 1.8 million barrels per day in 2014, driven primarily by rising production in the US and Canada.
Meanwhile, the global economy's slow recovery from the 2007-09 financial crisis and Great Recession should ensure that demand growth offsets production gains. Our forecast calls for Brent crude oil to range from $95.00 per barrel to $115.00 per barrel.
Disclosure: I am long VLO. I wrote this article myself, and it expresses my own opinions. I am not receiving compensation for it (other than from Seeking Alpha). I have no business relationship with any company whose stock is mentioned in this article.