UCP, LLC (NYSE:UCP) is a homebuilder and land developer, primarily focused on Northern California and a growing presence in the Puget Sound area of Washington State. Based on recent M&A multiples, UCP represents a 3x return potential and one of the best housing plays available.
History
UCP was founded in 2004 by Dustin Bogue under the name Union Community Partners, LLC. Like many homebuilders/land speculators, Union Community Partners ran into trouble in 2008. With home prices falling, transaction activity slowing and a growing debt burden, it represented a distressed investment opportunity. In January 2008, they were acquired by PICO Holdings (NASDAQ:PICO), a diversified holding company.
PICO's investment saved the business and provided opportunistic capital to accelerate the growth opportunity. During 2008 and 2009, UCP was able to acquire land in the South Bay Area and Monterey market of Northern California at trough prices. Since the PICO acquisition, they were able to invest $219 million to acquire ownership or control of over 6,000 lots ($36,500 per lot).
This year, UCP completed a successful IPO to list on the NYSE. Shares are basically flat since listing this July.
Current Portfolio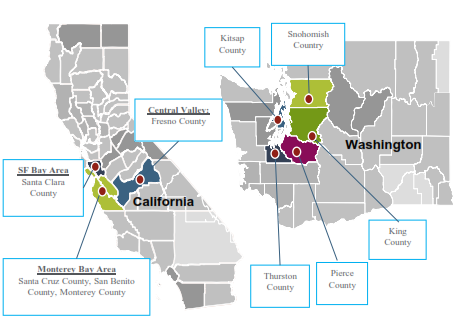 Source: UCP Inc.
As of June 30, 2013, UCP owned or controlled 5,845 lots - 80% of which was acquired from 2008-2011. Management estimates this inventory would last 8 years at their current pace of sales, later in this report I'll show they're unlikely to develop all 8 years of inventory and will likely be taken out at a large premium to current valuations. 84% of the lots are located in California.
Recent Results
In their second quarter report, management announced the successful sale of 57 homes, up from 6 in the year ago period. The average sales price increased 54% to $367,000 - so activity and pricing remains robust.
In addition to home sales, management disclosed the sale of 54 lots for $6.8 million (average $125,925 per lot).
Valuation
UCP has an enterprise value of $288.8 million. On a per lot basis, that equates to $49,413 - only slightly higher than the price paid of $36,500 per lot.
Let's look at few different ways to think about valuation. Let's assume that management can sell every lot at the valuation they were able to achieve last quarter.
5,845 lots x $125,925 = $736 million
That would equate to a 2.55x the current enterprise value. But given the price and transaction pace, it's likely that lot values will continue to increase over the next 5 years so this may be conservative.
Another way to look at valuation is the M&A multiple. What would a smart, strategic acquirer pay for the lots? Thankfully, we have a few examples to look at. Let's start with the less comparable of two recent deals.
On November 4th, Tri Pointe (NYSE:TPH) announced a deal to acquire Weyerhaeuser's (NYSE:WY) homebuilding unit. Now, this isn't a perfect comp because Weyerhaeuser had lots in Texas, Arizona, California and Nevada. The $2.7 billion deal valued the 27,000 lots at $100,000 each. If we use that same valuation for UCP we get $584 million or 2x current enterprise value.
Why is this conservative? The average value of a home in Texas was $176,000 in 2011, $149,000 in Arizona and $138,000 in Nevada; compared to $299,000 in California. So a homebuilder will obviously be willing to pay more for a California lot vs. the other states.
This is where comp #2 comes in handy. On November 7th, Toll Brothers (NYSE:TOL) announced a deal to acquire Shapell Industries lots in a $1.6 billion deal. Shapell had 5,200 lots in California, mostly San Francisco Bay area, metro LA and Carlsbad (very similar markets to UCP). That deal equates to a per lot basis of $307,692. If we use that valuation for UCP we get to $1.8 billion! More than 6x current enterprise value.
Bottom line, UCP is cheap. They had capital to act quickly and bought prime residential lots during the crisis. The current share price dramatically undervalues the company. Selling off small chunks of the inventory can get you over a 2x return. A strategic acquirer could pay 6x or more.
Disclosure: I am long UCP. I wrote this article myself, and it expresses my own opinions. I am not receiving compensation for it (other than from Seeking Alpha). I have no business relationship with any company whose stock is mentioned in this article.