It has been widely reported that CEO Kazuo Hirai's plan to revitalize the company is now contingent on the holiday shopping season. After two recurrent profitable quarters, Kazuo shocked investors last week when he reported an unanticipated second quarter loss that overturned Sony Corporation's (NYSE:SNE) ability to convalesce from $8 billion in TV losses. Of further dismay, the company cut its forecasts for televisions, cameras, and computers, which makes up 22% of Sony's sales. Moody's Investor Service even warned that the credit rating might be downgraded to junk. It will be two years in February since Sony announced Hirai as president and chief executive officer, effective April 1st 2012. With so much pressure on this holiday season, let's review how Sony has prepared to contend specifically in their gaming segment. Sony's PlayStation 4 and Microsoft's (NASDAQ:MSFT) Xbox One were the most-hyped product divulges of summer '13. The first day the PlayStation 4 will be available on shelves across America is this Friday, November 15th. Gamers in Europe will have to wait until November 29th. The PS4 and Xbox One will cost consumers $399 and $499 respectively.
Reputation Matters
Some investors may not be aware that Sony offers free additional features on their PlayStation devices, which Xbox does not without pricing options. For instance the PlayStation Network (PSN) has no monthly fee for streaming services like Netflix (NASDAQ:NFLX) while Xbox Live, Microsoft's equivalent does require a monthly fee. Small savings like these for gamers can be an excellent reason why they may choose the PS4 over Xbox Live. This is partially why there are over 48 million online users in the Xbox community and 110 million PSN accounts. Sony does however have a paid upgraded version called PlayStation Plus that produces recurring revenue. PlayStation Plus will be required for online gaming. These details may seem frivolous to the average investor but this is a paradigm of the overall larger outlook from the gaming community. This is the same gaming community who's outcry caused Microsoft to back-track forcing users to automatically operate the console online and allowing them to play offline as well. This is noteworthy because Sony Corporation has an adequate reputation amongst gamers, as they do not pick pockets so-to-speak. This attitude is reflected by the US Gamer team, whom unilaterally chose PS4 over the Xbox One just after the summer announcements. Brendan Sinclair, of US Gamer, stated "The company (Microsoft) charges an outrageous amount for Xbox Live Gold, and then justifies it by including functionality that is assumed to be free on other systems (like a web browser, Netflix, or I suppose, online multiplayer)… In short, Sony has a better track record of doing right by its customers this generation, and I will reward them with my patronage to start the next generation." US Gamer is a website that updates thousands of gaming enthusiasts about the latest in video gaming. Similar websites or blogs have a similar sentiment but there are still no doubt obstinate Xbox fans out there as well.
In fact, in Chart 1, both consoles appear to be fairly equal in terms of their product commitment scores. SDL Global Customer Experience Management uses algorithms that search millions of keywords in web sources that demonstrate customers purchase intent in terms of a "product commitment score." Both systems have relative scores according to SDL.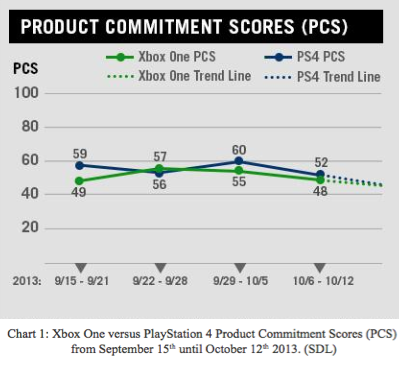 When social listener Leadsift analyzed millions of social media posts from the last three weeks of October, they found that 1.1 million people tweeted about Microsoft's Xbox One while 1.7 million people tweeted about Sony's PlayStation 4. However, what is the true value of a tweet anyway? Well, of that same sample, gamers said they intended to purchase a PlayStation 2.6 times more frequently than the Xbox.
Video game enthusiasts across the globe will be making their decision for the right console in the upcoming months. This is important for investor's interested in Sony to understand, because these gaming devices do not have subsequent generations every year (aside from a slightly updated thinner version, which the PS3 had) in the same way as the Apple (NASDAQ:AAPL) iPhone, meaning they are less likely to just "wait for the next model" as many have for the iPhone 6. People have also been holding off from purchasing consoles as they are waiting for the next generation. Brian Blau, a Gartner research director, from Gartner Inc. (NYSE:IT) stated "pent-up demand for these new consoles has caused a temporary reduction in game console hardware sales during 2013, but growth will resume during 2014 and sales of existing console hardware are forecast to grow from $15.9 billion today to $22.7 billion in 2015."
Historical Perspective
To date, Sony has sold approximately 27.1 million PS3 consoles in North America and 79.2 million worldwide. In comparison to Microsoft whom have sold approximately 44.5 million Xbox 360 consoles in the US but slightly less worldwide at 78.4 million. One of the prevalent reasons a user may choose one console over another are the games each of them support. Certainly there is overlap of very popular games such as Grand Theft Auto V that are available on both systems. This controversial game in particular, made over $800 million in sales in the first 24 hours when it was released earlier in September this year. Microsoft has 7 Game Of The Year (GOTY) awards for Halo 3 on Xbox 360. Sony's PlayStation 3 has 100 GOTY awards for Uncharted 2: Among Thieves.
As the holiday season approaches, there are three critical sales times: Black Friday/Cyber Monday, the mid-December peak for well-prepared consumers, and of course those of us who do our last minute shopping. One reason why PlayStation is surpassing Xbox in terms of online conversation in the gaming community is because PlayStation is truly a gamers system while Microsoft will likely repeat their same strategy as last year of targeting non-gamer shoppers. They will target non-gamers such as parents who are buying for their kids and families whom would like an "entertainment device" as opposed to the gaming console that enthusiasts adore. So what can either company do to get an edge during the holiday craze? In the past both have utilized a strategy called "bundling." Game bundling is when games and/or a controller are included with the purchase of a video game console.
Financial Review
From Sony's February 20th 2013 debut of the PlayStation 4, share price has increased 14%. Microsoft is up 7.07% from their May 21st 2013 announcement of the Xbox One. Note that these returns start on different days (until November 11th). This does however provide some insight from Wall Street's perspective of the battle between these gaming consoles. Sales in the gaming division increased 5.1% year-on-year to $1,588 million. Andrew House, head of game operations, stated that Sony projects the PlayStation 4 will sell more than five million consoles by March 31st, approximately 1.5 million times more than the previous in its first month's. PlayStation Plus with multi-player access will add supplementary recurring revenue at $50 annually. Chart 2 shows that Sony (blue) has had a return of 48.75% beating Microsoft's (orange) return of 40.35% YTD. Both conglomerates beat the S&P 500's (red) return of 24.21% YTD.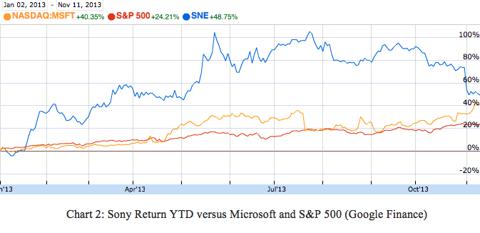 Click to enlarge
(Click to enlarge)
However, there is reason for concern. Most notably is the $196 million loss in the period that ended September 30th. "How fast the PS4 comes off the blocks will be a closely watched indicator of Hirai's performance," said Damian Thong, a Tokyo-based analyst at Macquarie Group Ltd. who recommends buying the stock. "If they miss targets, there will be a lot of questions about whether they can turn things around."
I Know First Prediction
I Know First uses an algorithm to forecast stock performance and to generate stock market forecasts. Essentially, the algorithm identifies stocks trading in ranges that deviate drastically from the trends the algorithm deems rational. The algorithm's methodology is discussed in more detail in Citigroup's Competitive Advantage under the section titled Algorithmic Prediction for Citigroup. Chart 3 shows I Know First's predictions for SNE in the 1-month, 3-month and 1-year time horizons. The dark green demonstrates that the algorithm is strongly bullish.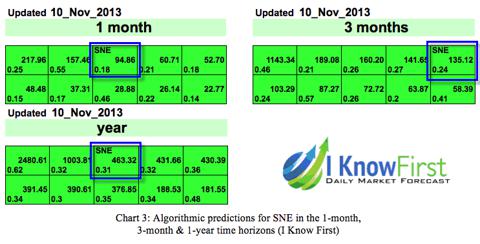 Click to enlarge
(Click to enlarge)
In each box there is the ticker symbol, the signal and the predictability indicator. The number in the middle of the box (flush right) is the signal. The signal expresses the predicted direction and magnitude the algorithm believes an asset will move meaning that it represents the movement direction/trend (not a percentage or specific target price). A bigger number signifies a stronger signal as Sony's is relatively higher than most of the other stocks that the algorithm identified for this specific day. In addition to monitoring the signal, it is imperative to take into consideration the predictability. This is the "strength" of the prediction, which ranges theoretically between minus 1 to plus 1. The predictability shows us another independent indication regarding how predictable the market or asset is as different markets/assets are not equally predictable. In this case, SNE has a consistently high signal, however there are markets with higher predictability so there is more risk involved. We elaborate further here.
Conclusion
Holiday season is around the corner and just in time for Sony to produce the numbers that will appease investors. PlayStation 4 will be released this Friday, November 15th, a week head start before Microsoft's Xbox One. Fans across the globe will be enthralled with all the innovation that has developed from this epic competition for the ultimate video game console. However, for those considering purchasing SNE, please do due diligence of Sony's eight other business segments, as their gaming division makes up approximately only 10% of the revenue. The articles intended purpose is to elucidate investors, so they have a substantiated understanding of the gaming industry, relationships as well as overall outlook from this customer segment and general comprehension of Sony's next generation PlayStation system. The data utilized in the algorithmic forecast for SNE is not limited to this one business sector but also uses a multitude of additional variables in its quantitative analysis. From a qualitative analysis perspective, listening to video game enthusiasts, Sony's favorable reputation could perhaps boost PS4 sales as their share price has increased 14% since the debut of the PlayStation 4 back in February. Kazuo has made sure that Sony is first to be noticed. The initial public introduction of the PlayStation 4 was three months before Xbox One and the release date is also a week before as well. It was to be expected that game console hardware sales during 2013 were slower as there is suppressed demand for the new consoles as Gartner research director Brian Blau explained. Growth will resume starting with the holiday season.
Business disclosure: I Know First Research is the analytic branch of I Know First, a financial startup company that specializes in quantitatively predicting the stock market. This article was written by Joshua Pastore one of our interns. We did not receive compensation for this article (other than from Seeking Alpha), and we have no business relationship with any company whose stock is mentioned in this article.
Disclosure: I have no positions in any stocks mentioned, and no plans to initiate any positions within the next 72 hours. I wrote this article myself, and it expresses my own opinions. I am not receiving compensation for it (other than from Seeking Alpha). I have no business relationship with any company whose stock is mentioned in this article.