ServiceNow Inc (NYSE:NOW) is a provider of enterprise applications via the cloud. The company went public in 2012 and reported financial data going back to the first quarter of 2012.
ServiceNow's valuations reflect its growth rate and industry; like most enterprise application providers that deliver via the cloud, ServiceNow is overvalued. But in this case, the valuations are not as extreme. There could be a chance to buy this growth stock at a decent valuation when there is a substantial decline in the share price.
I'm not forecasting profitability for this firm in the coming years, but I think the financial performance will act as a tailwind. So, if the share price declines roughly 20% from the recent peak, I will accumulate shares.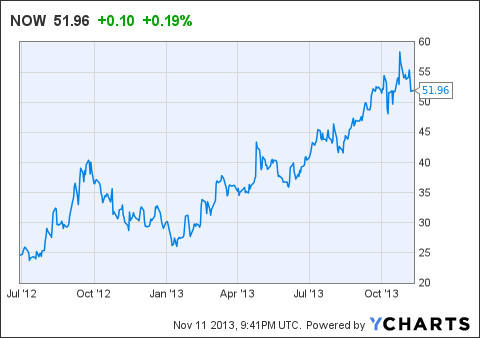 In the following sections, I provide forecasted financial performance, valuations, and technical analysis. I also conduct peer company comparisons.
Fundamental Analysis
The revenue recognition policies are standard for the industry; ServiceNow recognizes subscription revenue and professional services revenue on a time-and-materials basis.
I think ServiceNow's total revenue will increase in the 50% to 70% range during calendar 2014 on increased customer count, upsells and renewals. My estimates assume ServiceNow grows above the industry rate because of it relatively small scale.
As ServcieNow approaches $1 billion of annual revenue in calendar 2015, I am modeling revenue growth slowing to the 20% to 40% range, which would be inline with salesforce.com's (NYSE:CRM) growth rate; the midpoint of the forecast calls for $895 million of 2015 revenues.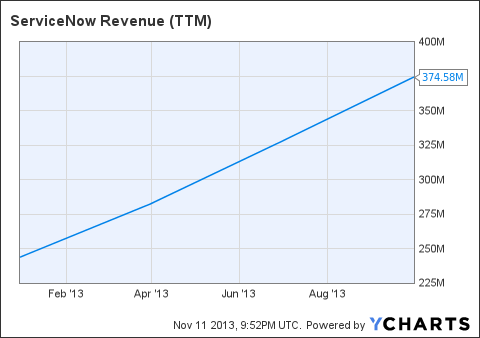 NOW Revenue (TTM) data by YCharts
In terms of the gross profit margin, I'm looking for 65% in calendar 2014 and 2015 on higher subscription revenue and margin expansion in professional services. I do not anticipate any major changes in the operating expenses over the next two years as the company will probably continue to invest gross profit in sales and marketing activities; consequently, I think we will see an operating margin of negative 15% over the next two years. I'm looking for a net profit margin of -16% in calendar 2014 and 2015.
In terms of the outstanding shares, I am not forecasting major equity capital raising over the next two years. So, in terms of EPS, I am looking for (0.75) in 2014 and (0.90) in 2015.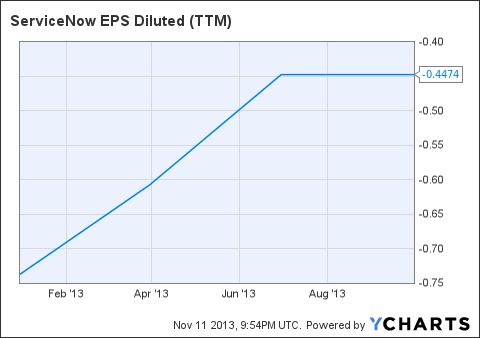 NOW EPS Diluted (TTM) data by YCharts
To put the profitability in perspective, salesforce.com has a higher gross margin and is spending more of its revenue on SG&A; also, salesforce.com reported smaller operating losses. A comparison of the operating histories of the two companies reveals that salesforce.com is the more profitable of the two firms.
Workday (NYSE:WDAY) is less profitable than ServiceNow and is reporting roughly twice as large of an operating loss. The companies are about the same size in terms of revenues.
NetSuite (NYSE:N) is also about the same size by revenues and is about as profitable as ServiceNow.
Overall, the fundamentals of ServiceNow are bullish; the company could generate revenues in excess of $1 billion in calendar 2016.
Valuations
In this section, I'm going to do some analysis of the multiplier model valuations. I'll examine both the trailing valuations and the forecasted valuations. Also, I include technical analysis in this section. I'm bullish on ServiceNow, but I need a substantial decline to accumulate shares.
First I'll examine the multiplier model price/sales ratio. The twelve trailing months price/sales ratio is 18.2 which I think is expensive. ServiceNow is trading at 11.5 times my 2014 revenues forecast and 9.27 times my 2015 revenues forecast. The trailing and forward price/sales ratios are too high for me.
Next I'll discuss the price/book value ratio. The current price/book ratio is 25. I forecast that coming down to about 21 in fiscal 2014 and 18.6 in fiscal 2015. I think ServiceNow is overvalued on a price/book value basis.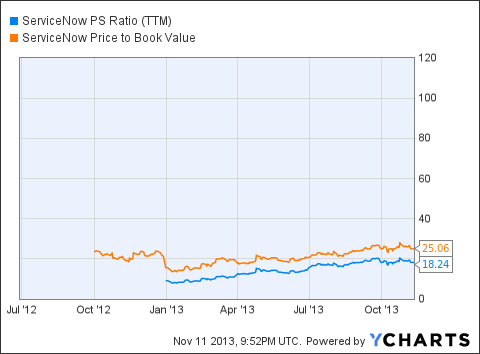 NOW PS Ratio (TTM) data by YCharts
The multiplier model valuations suggest ServiceNow is overvalued, but if there is a throwback of 20+%, ServiceNow could be an excellent long candidate. It is a growth stock and I'm not going to be able to buy it at 1 times sales. Additionally, I will not buy shares when the price is near a recent high.
That leads me into the technicals. ServiceNow is in a bull market of primary and intermediate degree. I would use an intermediate term decline, like the one at the end of 2012, to get long shares of ServiceNow.
Disclosure: I have no positions in any stocks mentioned, and no plans to initiate any positions within the next 72 hours. I wrote this article myself, and it expresses my own opinions. I am not receiving compensation for it (other than from Seeking Alpha). I have no business relationship with any company whose stock is mentioned in this article.