DirecTV (DTV) has announced price increases for 2010. Prices on programming packages have been raised by $3 to $5 while DirecTV's DVR fee has risen from $6 to $7. The customers which are currently part of company's 12 month promotional plan will not be affected by price rise. We expect an overall positive stock impact of just under $1 as a result of the increased prices.


Part of the reason for the price increase is to offset rising subscriber acquisition and content acquistions costs which are expected to go up in 2010.

About 60% of DirecTV's stock value comes from its satellite TV service and about 30% comes from DVR and HD TV box equipment fees. You can modify our forecasts for Satellite Subscriber Fees and HD-DVR Fees to see how much DirecTV would be impacted by further changes in pricing.

However, if DirecTV's pricing increases faster than that of its satellite and cable competitors (Dish (NASDAQ:DISH), Time Warner (TWC), Comcast (NASDAQ:CMCSA)), the company's pay TV market share could be negatively impacted.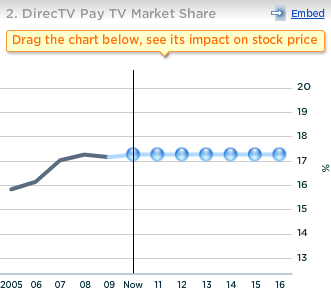 Disclosure: No positions