Akamai (NASDAQ:AKAM) is known for helping websites to deliver web content fast and securely to web visitors. Visitors to sites served by Akamai receive web content from a nearby Akamai server rather than the website's own servers.
About 37% of Akamai's value comes from its online shopping business which helps e-commerce websites like Amazon (NASDAQ:AMZN) and Nordstrom (NYSE:JWN). In comparison, only about a quarter of Akamai's value comes from its media content business where it delivers content for media sites like Fox News (NASDAQ:NWS) and CNN.
Akamai's business from online shopping sites vs. media sites
The online shopping business has higher margins compared to the media business, which is the primary reason why online shopping is more valuable. We estimate that Akamai has about 84% gross margins in online shopping compared to only 59% in media.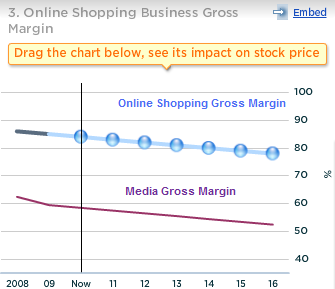 Secure transactions key to higher margins
Transaction security is an important component of Akamai's services for online shopping websites and Akamai's reputation as a reliable service provider help it to maintain higher margins in this business. We believe Akamai faces stiffer competition in its media content delivery business, which also has lower margins due to volume pricing.
Disclosure: No positions