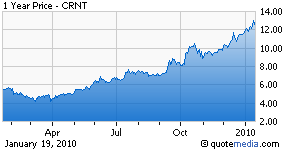 The share price of Ceragon Networks Ltd. (Nasdaq: CRNT) reached a more than two year high when it crossed $13 last week. One can ask what is going on in its sector, and if it is on its way to breaking its post-bubble record of $22 reached in October, 2007, or if it will now head lower.
Ceragon develops and sells wireless equipment to cellular telecommunications firms for the section of their network from the communications tower back toward the network backbone.
Something new happened in Ceragon's industry in the past year, when a little-known Canadian company DragonWave (NASDAQ:DRWI) burst out like a rocket. DragonWave's share traded on Nasdaq this past October at around $11, and is currently at $13.50. But only one year ago, in January 2009, it traded on the Toronto Stock Exchange at one US dollar. The jump of more than ten times occurred because in the last quarter the company reported on, it sold $56 million worth of equipment, compared with $11 million in the corresponding quarter of 2008.
Nearly the entire rise came from one customer, Clearwire (CLWR) which is in the process of rolling out a WiMAX network in the US, and was responsible for 82% of DragonWave's sales in the quarter.
What happened this year between DragonWave and Clearwire reminds me of what happened between Orckit Communications Ltd. (Nasdaq: ORCT) and KDDI in 2005-2006: a jump in sales from $0 to $200 million. There are investors who sold 10% of all of DragonWave's shares short, because they believe that this relationship will end tragically for DragonWave, as happened with Orckit.
DragonWave bet more than two years ago on Clearwire, and developed its equipment to fit Clearwire like a glove. This was despite the fact that Clearwire ran its first tests with Ceragon equipment, and Ceragon was confident that it would have a much larger share of orders than it actually received in 2009. Ceragon, by the way, nearly bought DragonWave a few years ago.
DragonWave has a charismatic CEO, Peter Allen, who knows how to wow Wall Street, and that's what he did last week at a presentation he gave at the 12th annual Needham growth stock conference. He is doing Ceragon a service, because he knows how to present the tremendous potential among companies in the sector, at a time when cellular networks are collapsing under the weight of video traffic sent through iPhones and similar devices.
Allen does not hide the great risk the company runs in relying on one customer, and claims that they still have one more year ahead of strong growth with Clearwire, followed by stability. In the meantime, the company is working on developing other customers around the world.
In my opinion, the greatest danger for DragonWave, which is also Ceragon's greatest opportunity, is that next year Clearwire will decide to actually increase its orders from Ceragon. Not just because it is dangerous to rely on one supplier, but because Ceragon's equipment is considered among the most advanced on the market.

Published by Globes [online], Israel business news - www.globes-online.com - on November 17, 2009; Reprinted on Seeking Alpha with permission
© Copyright of Globes Publisher Itonut (1983) Ltd. 2009