Intel (NASDAQ:INTC) processors power about 78% of the personal computers (PCs) produced in 2013, up from just over 71% in 2012. This growth in market share at the expense of AMD (NYSE:AMD) has allowed Intel to mitigate declining demand for PCs.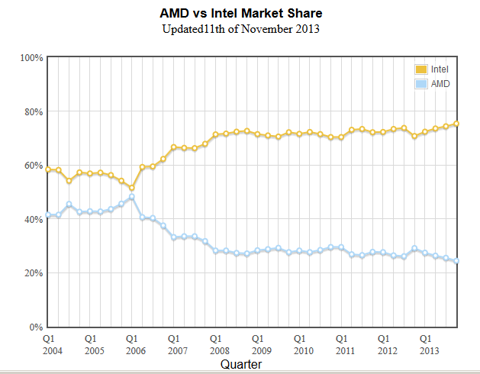 For the 9 months to September, Intel's PC Client Group had sales of $24.4 billion versus $25.9 billion in 2012. For the fourth quarter of 2013, I expect Intel's PC Client Group to hold 2012 revenues of $8.5 billion with the new Haswell-based PCs now widely available in a variety of form factors in the marketplace. Total PC Client Group revenue for 2013 should come in somewhere close to $32.9 billion.
Intel includes smartphones, tablets and a variety of other lower priced devices in its "Other Intel Architecture" segment. While Intel has made no real inroads into smartphones to date, its new Bay Trail processors are found in a wide variety of tablets and hybrids this year, many of which just made it into the market for the Christmas season. SA Author Ashraf Eassa's recent article commented on the warm reception being received by Bay Trail devices. If these devices prove to be popular in the Christmas season I would expect Intel's revenue from "Other Intel Architecture" to jump to at least $2 billion in the December quarter, double last year's $1 billion level, bringing this segment to $4 billion in sales for the year as a whole.
Intel's Data Center Group continues to show steady growth and there is no reason to think this will not continue into year end. Accordingly, I expect Data Center Group to have $3.0 billion in revenues for Q4 and $11.2 billion for the full year.
Intel's software, service and other revenues have been steady at about $1 billion per quarter, rounding out the portfolio.
Adding up the components, I expect Intel to close out 2013 with revenues of $52.1 billion, a bit less than their guidance.
With margins of 61% and combined R&D and Administrative costs of about $18.5 billion, Intel's full year should come in around $10 billion net income or just shy of $2.00 a share.
This is marginally higher than the $1.85 to $1.93 range of estimates as reported on Yahoo Finance.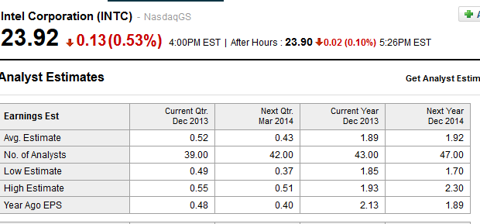 It is possible that Intel could surprise if sales of Bay Trail and Haswell based devices are more robust than expected. There certainly is a lot of new product available and many of the new devices are significant advances in both function and form. Intel's foray into Android devices adds to the potential as does the introduction of Haswell powered MacBooks by Apple (NASDAQ:AAPL).
Nonetheless, the quarter is unlikely to bring major earnings surprises in either direction and there is no reason to rush out and buy the stock. More telling will be Intel's guidance. By the time Q4 earnings are out Intel should be close to launching its Broadwell range of silicon and its guidance as to industry acceptance will have the benefit of a lot of information from Q4 sales trends and the degree to which its advances in processor power and battery life are translating into higher demand for devices with "Intel Inside."
I am long calls on 170,000 shares expiring January 2015 and short calls on 50,000 shares expiring January 2014 as a hedge. If Intel stock remains below $25.00 past January 18, 2014, I will short additional calls to extend the hedge.

Disclosure: I am long INTC. I wrote this article myself, and it expresses my own opinions. I am not receiving compensation for it (other than from Seeking Alpha). I have no business relationship with any company whose stock is mentioned in this article.
Additional disclosure: I also have an option straddle on Apple expiring January 2014