By: Brendan Gilmartin
Cisco Systems (NASDAQ:CSCO) is slated to report 1Q 2014 earnings after the close of trading on Wednesday, November 13. The results are typically available at 4:05 p.m. EST and will follow with a conference call at 4:30 p.m. Given its size and influence, Cisco has the potential to impact the broader market gauges, including the index futures and large-scale ETFs.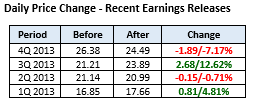 Outliers And Strategy
Key Measures:
In the previous conference call, Cisco said Non-GAAP EPS is expected to range from $0.50 to $0.51 per share. The current consensus is $0.51 (Source: Yahoo Finance).
Cisco previously said it expects 1Q 2014 revenues to increase 3% to 5% y/y. Based on the 1Q 2013 revenue figure of $11.90 bln, the projected range would equate to $12.257 bln to $12.495 bln. The consensus is $12.35 bln.
Note that Cisco typically provides upcoming quarterly guidance in the ensuing conference call following the earnings release. CEO John Chambers tends to be conservative in his outlook, sometimes resulting in a share price reversal. For the 2Q 2014 period, estimates are for Non-GAAP EPS of $0.52 on revenue of $12.60 bln (which would equate to a 4.10% increase over 2Q 2013).
Sympathy Plays: Juniper Networks (NYSE:JNPR), F5 Networks (NASDAQ:FFIV), Riverbed (NASDAQ:RVBD), Citrix (NASDAQ:CTXS) And Cavium (NASDAQ:CAVM).
Implied Volatility: Cisco shares tend to be quite active on earnings. The options market is currently pricing in a 6% reaction to the 1Q results, in line with what the average move has been over the past 2 years. Last quarter, the shares fell sharply after earnings failed to meet loftier expectations. With Cisco now well off the 52-week high of $26.30 established prior to the 4Q 2013 report in August and a more cautious backdrop, in-line to slightly better than expected results are more apt to trigger a move higher.
Recent News
10/16: MKM Partners downgraded Cisco from Buy to Neutral and cut the price target to $26, according to StreetInsider.com. The firm cited weakness in emerging markets, reduced enterprise spending and the impact of the U.S. government shutdown.
10/07: Goldman Sachs reportedly believes the concerns pressuring Cisco's share price were overblown, according to a post on StreetInsider.com. The noted concerns over the macroeconomic backdrop are overdone and maintained a conviction Buy rating with a price target of $30.
09/03: Cisco declared a quarterly dividend of $0.17 per common share. The current yield is 2.90%.
Technical Review
Since succumbing to a multi-month near $22.25 in late October, Cisco shares are up about 7% in advance of the 1Q 2014 earnings release. Should earnings surprise to the upside, the next key resistance level is near $24.50. Conversely, support is at $23.00, with downside risk to $22.50. (Chart courtesy of StockCharts.com)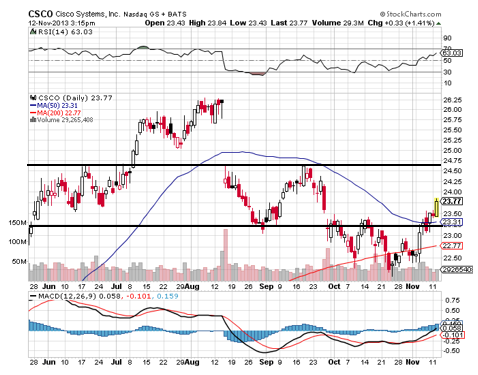 Summary
Cisco shares recently broke through technical resistance near the 50-Day SMA in the $23.25 area, despite concerns over a weakening macroeconomic backdrop and potential slowdown in enterprise spending. Helping to mitigate those concerns include new product offerings and growth in mobile. At 12.6x trailing earnings, a discount to the 5-year average (16.0x), with a dividend yield of 2.9%, downside appears limited at these levels. Note that, while earnings and revenues for the 1Q period are expected to garner close scrutiny, the outlook for 2Q 2014, expected during the ensuing conference call, could heavily influence the market reaction.
DISCLAIMER: By using this report, you acknowledge that Selerity, Inc. is in no way liable for losses or gains arising out of commentary, analysis and or data in this report. Your investment decisions and recommendations are made entirely at your discretion. Selerity does not own securities in companies that they write about, is not an investment adviser, and the content contained herein is not an endorsement to buy or sell any securities. No content published as part of this report constitutes a recommendation that any particular investment, security, portfolio of securities, transaction or investment strategy is suitable for any specific person.
Disclosure: I have no positions in any stocks mentioned, and no plans to initiate any positions within the next 72 hours. I wrote this article myself, and it expresses my own opinions. I am not receiving compensation for it (other than from Seeking Alpha). I have no business relationship with any company whose stock is mentioned in this article.