Many Real Estate Investment Trusts (REITs) were adversely impacted by the dramatic rise in interest rates in May and June 2013. Despite trading like equities, REITs are considered a 'high yield' play and were impacted by the unexpected spike in rates as were fixed income and other comparable securities. But not all REITs are equally affected by interest rate changes and many of them still do offer relatively attractive yields with some potential upside appreciation as well.
The key for investors is to find the right sectors and within each sector, find the leading players that have financial stability, strong operations, and the ability to take advantage of trends within their respective industries.
Investment Thesis: The dynamics of certain sectors provide opportunities for companies to provide attractive returns to investors over the long term. The healthcare industry, and in particular, senior housing, is poised to benefit from an aging baby boomer generation, supply shortages, and demographic trends that will continue to drive demand for their services. And while there are very large healthcare REITs that operate in the space, we feel we found a small gem in Senior Housing Properties Trust (NYSE:SNH).
Now we realize that many REITs took a beating in May and June and for investors holding these securities for their stability and dividend growth, a hit to principal hurts. But before we dismiss REITs as investment options in a rising rate environment, let's first look at their long-term performance.
REITs as All Weather Investments
The day is fast approaching when inflation will finally rear its ugly head. Already, we experienced a rise in interest rates of 1% in the 10-year Treasury during May and June. Advisors, portfolio managers, and other experts have been calling this period the end of the bond rally, and it is safe to say that it would be difficult for bonds to generate the types of returns they have generated over the last few years. As interest rates rise, the prices of bonds decrease as newer issues become relatively more attractive at higher rates.
The general decline in many REITs over the summer did little to quell the misconception that REITs are adversely affected by a rise in interest rates. While this may certainly have been the case in this time, the same does not hold true when looking at longer periods of time. In fact, an interesting white paper written by Cohen & Steers in April 2013 highlights the outperformance of REITs over stocks and bonds in periods of rising interest rates and inflation. Since 1979, REITs have generated a cumulative return of 56.5% during the 135 months of rising 10-year Treasury Yields, compared to a cumulative return of 38.3% for stocks, and 4.2% for bonds.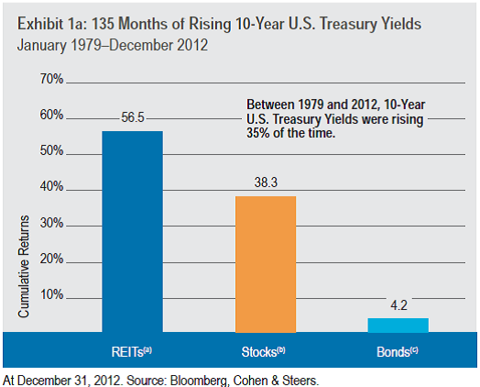 Click to enlarge
According to the Cohen and Steers white paper, real estate fundamentals have a greater impact on REIT performance than changes in interest rates. They go further to show that even in periods of easing inflation, which may or may not coincide with falling interest rates, REITs outperformed bonds by a substantial margin, and slightly outperformed stocks.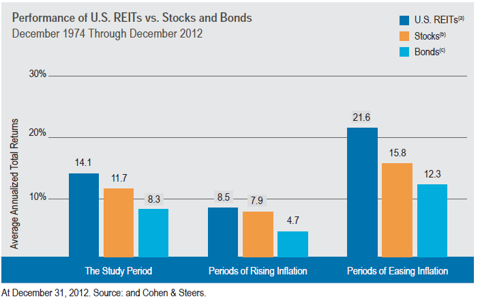 Click to enlarge
Despite these findings by Cohen and Steers, investors in REITs did experience a decline in their holdings in May and June as the 10-year Treasury rate increased by over 1%. In the same article, however, Cohen & Steers highlighted a few REIT sectors that are less sensitive to rising rates.
REITs for Rising Rates
The chart below displays the different REIT property types by economic sensitivity and lease duration. Notice that across the top section of the graph are 5 distinct REIT types with relatively shorter lease durations than the REITs shown towards the bottom of the graph. The REITs across the top include Senior Housing, Manufactured Housing, Self Storage, Apartments, and Hotels.
If we consider the dynamics of these sectors, it makes intuitive sense that they would be less susceptible to a rise in interest rates and/or inflation for that matter. Each one of the sectors mentioned typically has short-term leases or contracts that can be renewed more frequently at higher rates if necessary. The most extreme case is that of a hotel REIT, which can change its room rates continuously.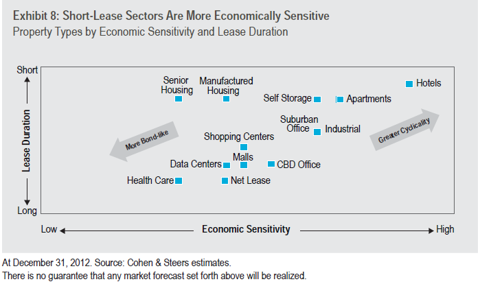 Click to enlarge
The graph also indicates which REITs are more sensitive to the economy, from low sensitivity on the left to the highest sensitivity on the right. Investors with a bit more risk appetite and a tendency to invest tactically based on the forecasts of economic activity, may be more interested investing in those sectors in the top right quadrant. While more conservative investors should generally stay in those sectors towards the left side of the chart.
You will notice that both Healthcare and Senior Housing lie towards the left hand side of the chart. And we concur with the stability of the healthcare sector in any economic environment. But since we are currently in either a flat rate or rising rate environment, the more defensive play would be to focus on Senior Housing, which is technically a sub-industry within the healthcare sector.
Senior Housing Dynamics
It is difficult to argue about the aging baby boomer generation and the impact they will have on society in a variety of ways. We can however, argue that the investment universe is ripe with ideas that depend on the demographic trends of an aging baby boomer generation, whose most seasoned members have recently reached retirement age. These baby boomers will increasingly be downsizing their homes and after they are finally done with whatever they intended on doing during retirement, will likely end up in a senior living facility of some sort.
According to Dr. Bruce Chernof, the chair of the bipartisan federal commission on Long-Term Care:
"Roughly 70% of Americans who reach age 65 will need long-term care for at least three years during their lifetimes"
As life expectancy continues to increase, the numbers could be staggering. According to the Scan Foundation, life expectancy in the US has increased considerably in the last century and is expected to continue to rise. For individuals born in 2010, the projected life expectancy is 79 years, compared to 52 years in 1910.
Additional statistics from the Scan Foundation may provide some additional insight into the magnitude of this trend:
· In 2010, there were 40.3 million Americans age 65 or older, accounting for about 13% of the total US population. Of these individuals, 5.5 million were 85 years and older.
· 44% of Americans aged 65 or older lived alone in 2010.
· The number of Americans who need long-term care is expected to increase from approximately 12 million today to 27 million in 2050.
· By 2030, when the last baby boomers turn 65, the number of Americans age 65 and older is projected to be 72 million, or 19% of the total population.
· The percentage of the population that is age 85 or older is expected to grow by more than 25% by 2030 and by 126% by 2050.
According to the Scan Foundation:
"In 2011, the largest generation in history - the baby boomers - began turning 65. The US population is also living longer, often with chronic illness and disabling conditions. Given these demographic trends, we can anticipate significant growth in the demand for long-term care."
Despite these trends, the number of nursing homes dropped almost 9% from 2000 to 2009. The recession has made getting private financing for new nursing home construction tougher. From 2007 to 2011, the sections of a facility that provide only nursing care declined by a third. These trends should bode well for healthcare REITs with operations in senior housing. In addition to the growing population of seniors, the supply side of the industry is also appealing. For example, of the $650 billion of senior housing assets existing today, public healthcare REITs own only about 20%, resulting in quite a bit of upside potential for acquisition opportunities.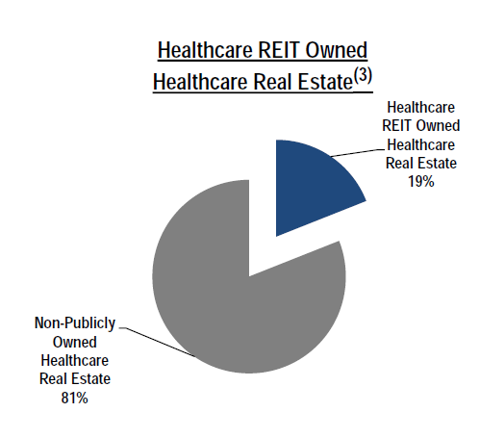 Click to enlarge
Who pays for Long-Term Care?
The demographic trends are compelling. But what about the costs, and who pays for them? According to a study by Genworth done in 2013, a private room at a nursing home costs $83,950 a year, on average. If you don't want to or can't spend that much you might have to share a room. The cost of a semi-private room: $75,405. Perhaps you don't need a nursing home but rather, an assisted living facility. That will only cost you $41K.
Any way you look at it, long-term care is expensive. To put it in perspective, the 2012 median household income in the US was $51,371, according to the Census Bureau. So who pays for it?
Well, suffice to say we all do, even if indirectly. According to the chart below provided by O'Shaughnnesy CV, Medicaid is the dominant source of payment for long-term care, followed in the distance by out-of-pocket payers, and other private sources.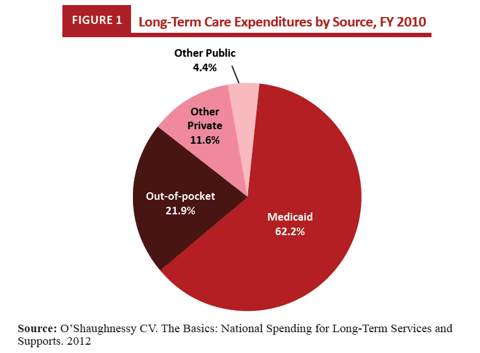 Click to enlarge
But according to a recent report by the AHCA, in 2011, nursing homes lost at least $20 per Medicaid resident per day nationwide. Total losses for the industry were more than $6 billion and the damage is only getting worse, as the federal government last year cut its Medicaid reimbursement rates by an additional 11%.
These expenditures are expected to increase to $346 billion by 2040 from $208 billion in 2010. To prepare for these skyrocketing costs, individuals have been more willing to buy long-term care insurance, primarily through employer-sponsored programs. In 2011, employer sponsored policies made up over one-third of all active policies, compared to 3% in the mid-90s. The one caveat we found is that the federal government is the largest employer offering group long-term care insurance (LTCI).
With the implementation of Obamacare and political haggling over the fiscal budget and debt ceiling, there could be an inordinate amount of risk to the stability of the programs that help pay for LTCI. Will Medicaid be able to keep pace with the growing population of retirees? Will the government reduce LTCI benefits to its employees? If these sources of funds dry up, who will pay for it then?
As the O'Shaughnessy chart shows, if Medicaid or Medicare sources for payments of LTCI are reduced or do not keep up with demand, the balance must come from out-of-pocket expenses or other private sources. This is one of the reasons we like Senior Housing Properties Trust.
Senior Housing Properties Trust
Senior Housing Properties Trust, or SNH, we, our or us, is a real estate investment trust, or REIT, which owns independent and assisted living communities, continuing care retirement communities, nursing homes, rehabilitation hospitals, wellness centers, and properties leased to medical providers, medical related businesses, clinics and biotech laboratory tenants, or MOBs, located throughout the U.S.
It owns an investment portfolio of about $5.3 billion diversified across 392 properties in 39 states, and the D.C. area.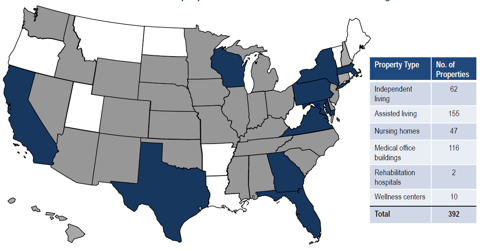 Source: Company website
Most of the properties it owns are assisted living facilities, independent living facilities, and nursing homes. SNH also owns approximately 116 medical office buildings (MOBs). In aggregate, SNH properties are leased to approximately 600 tenants, which provide a great deal of diversification. Furthermore, the majority of its assets are leased to private pay counterparties, which limits its exposure to government reimbursement. Regardless of what direction our political system takes our government, the effect on SNH will be limited.
It also has a well-diversified portfolio of properties focused on assisted living facilities, independent living, and nursing homes. It also owns over 100 medical office buildings that are leased to biotechnical and other medical companies. The breakdown of property types within its portfolio can be seen below:

Click to enlarge
Source: Company Website
Dividend Growth
Over the last 10 years, SNH has raised its dividend every single year, reaching $1.56 in 2013. That is a 27% increase over that period.
Strategic Operational Moves
The company recently restructured the management agreement with Reit Management and Research LLC (RMR) to better align interests with shareholder value and enhance corporate governance. The new agreement includes a base management fee based on the lower of SNH's historical cost of assets or market capitalization and 10% is to be paid in stock. There is also an incentive fee to be calculated based upon SNH's total return in excess of benchmarks set by the SNH Compensation Committee. The incentive fee will vest over a 5-year period and will be subject to a claw back. That means that if returns exceed the benchmark in one year, resulting in an incentive fee payment to RMR, there is still the possibility that the payment would be reversed if there is underperformance in future years.
The company also entered into an agreement to sell both rehab hospitals on its books for $90 million, with an expected gain on the sale of $30 million and will also result in further reduction in the government reimbursement part of its business to only 2% of revenues. SNH currently ranks as the best in the industry in terms of its limited exposure to government funding. The charts below indicate it has the highest percentage of revenues derived from private payors from the peer group compared. And it also has the lowest percentage of revenues derived from both Medicare and Medicaid.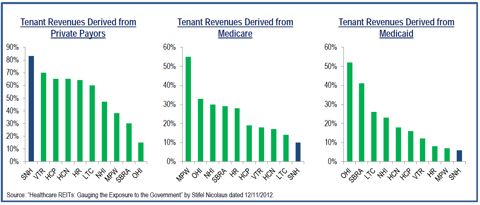 Click to enlarge
Currently, 94% of Net Operating Income (NOI) comes from private pay properties, which is the lowest in the healthcare REIT space.
Click to enlarge
Source: Company Website
SNH also has good lease expiration diversification, with approximately 9% to 15% of its leases expiring every year from 2014 to 2019.
Click to enlarge
Source: Company Website
Financial Stability and Cash Flow Generation
SNH has a strong balance sheet and carries very little debt. It has a total debt/market cap of 30.4% as of 9/2013, and this level has remained relatively consistent over the last 10 years. In addition, 86% of its properties are unencumbered, and it also has access to a $750 million credit facility of which only $125 million is outstanding.
Operating cash flow has increased every year over the last 10 years from $80 million in 2003 to $288 million in 2013. Normalized Funds from Operations (FFO), a more commonly used metric for REITs showed similar growth, from $219 million in 2010 to $296 million in 2012, and so far in 2013, its Normalized FFO exceeded $236 million through the first 3 quarters of 2013.
Risks
Despite our optimism about the sector and the excitement of SNH's position within the Senior Housing industry, there are still some risks that may lead to less than expected performance for the stock.
· Concentration of management with one company - out of the 389 properties owned by SNH as of 9/2013, 189 of them were either leased to or managed by Five Star, which represents approximately 38% of total rental income. Five Star is a former subsidiary of SNH and SNH is Five Star's largest stockholder. The company claims that its relationship with Five Star provides it with a competitive advantage and we would concur with that statement. The close relationship with Five Star has enabled SNH to better control quality and consistency in its operations across a majority of its property portfolio.
· Competition - while we view SNH's focus on smaller properties and single property acquisitions to be its competitive advantage, there are much bigger players in the space, including HCP Inc. (NYSE:HCP) Health Care REIT Inc. (NYSE:HCN) and Ventas (NYSE:VTR) to name a few. All three of those REITs have market capitalizations of over $17 billion each.
Valuation
From a valuation perspective, we also think SNH is undervalued relative to its peers. Comparing it to its larger competitors mentioned above, SNH looks attractive on a number of metrics:

Click to enlarge
Both price to sales and price to book are at a discount to peers. And while this may be warranted being the baby of the bunch, we think there is an opportunity for upside in the stock. SNH has a 6.7% dividend, which is noticeably higher than any of its peers, and it also has comparable interest coverage and the lowest debt level of the group. What really stands out in our view as well is the 51% operating margin, due mainly to the higher level of focus on private payors, higher margin facilities, and occupancy rates of approximately 90% across the board.
Technical Analysis
From a technical standpoint, we think we are almost at a good entry point. The stock approached its 200-day moving average in late October and corrected about 5%. If it can hold above 23 and break above its 50-day moving average, it has the potential to rise back up to 26 in the short term. In the long term, however, it's hard for us to ignore a 6.7% dividend and the secular trends in the industry.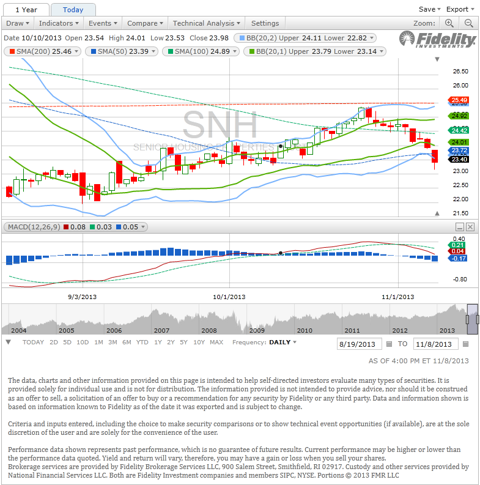 Click to enlarge
Portfolio Allocation
We like the risk/reward ratio for this stock. The dividend yield is attractive, which not only provides a nice safety cushion for any price appreciation in the short run, but we think there is considerable upside on the price as well. While most REIT total returns come from dividends and the reinvestment of dividends (some studies claim 2/3 of REIT returns are due to the dividend), we think that SNH will provide more upside price potential than that for the foreseeable future. We would therefore allocate 6% of our portfolio to this position, the highest level we would have in any position.
Allocation: 6%
Disclosure: I am long SNH. I wrote this article myself, and it expresses my own opinions. I am not receiving compensation for it (other than from Seeking Alpha). I have no business relationship with any company whose stock is mentioned in this article.