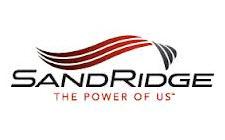 Executive Summary
I wrote an article prior to SandRidge (NYSE:SD) reporting earnings stating I believed the stock was a buy with substantial upside potential. Even though SandRidge beat expectations, the stock tanked 7% the next day. I have received several requests from my followers for my thoughts on the subject. In the following sections will discuss my position on the stock going forward.
SandRidge Tanks On Earnings Beat
SandRidge Energy reported third quarter EPS of $0.07, beating estimates by $0.04. Revenue of $493.6 million was down -7.4% year over year, yet beat current estimates by $27.9 million. The CEO James Bennett raised guidance going forward. Bennett stated,
"A Mississippian test well in Kay County, Oklahoma, was especially encouraging and extended the eastern boundary of the Mississippian play with a 1000 boepd test rate." Bennett went on to say, "Through successful high grading efforts and operational improvements, we have increased Mississippian production from the second quarter even while reducing our rig count by 15%, again delivering more production for less capital. As a result, we are increasing full-year production guidance for the second quarter in a row without increasing budgeted capital expenditures and while continuing to lower other expenses."
So why did the stock tank?
Quarter Over Quarter Production Growth Was Weak
Mississippian lime production rose just one percent quarter over quarter. Furthermore, the average initial rate per Mississippian well fell 19% quarter over quarter and the initial three wells completed in the Woodford Shale came in at non-commercial rates.
This is a short-sighted reason to sell. There will always be variance in the oil and gas business on a quarterly basis. That is the nature of the business. You must take a step back and look at the big picture. Production growth may have been weak sequentially, but the company expects 12% production growth in 2014. See chart below.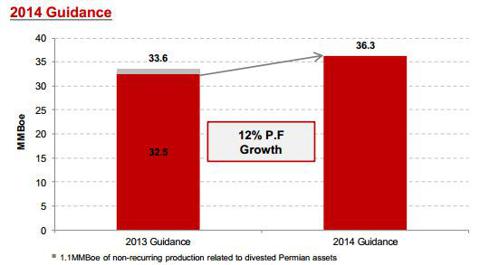 Positive Cash Flow From Operations Questioned
Some analysts and industry experts have questioned the true value of SandRidge's assets. When the company reported the first three Woodford shale wells came in at non-commercial rates and production growth was minimal for the quarter, the thoughts of decreasing cash flows came squarely front and center.
Even so, the company expects 35% overall production growth in the Mississippian by 2014 and 50% growth in liquids production. It seems Wall Street is still in the "show me" mode for this guidance. See chart below.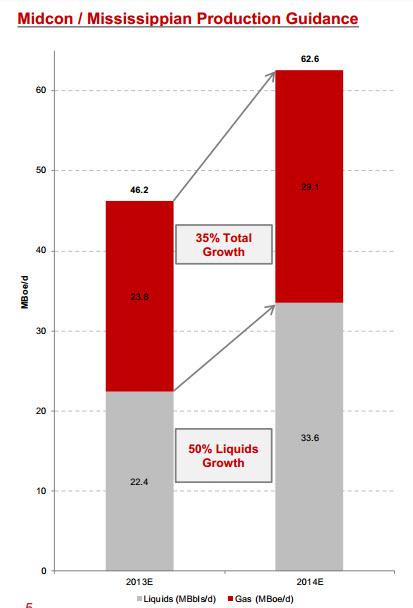 SandRidge's High Debt Level
SandRidge went on a wild spending spree during the Tom Ward era. Consequently, the company has a high level of debt. This is a double edged sword so to speak. On one hand the company has an impressive portfolio of assets, on the other it has a tremendous debt load to service. The high debt burden definitely increases the risk of investing in SandRidge. SandRidge's debt to equity ratio is 1.7 vs. its peers at 0.3. See chart below.

A Case of Buy the Rumor, Sell The News?
Profit taking could have had a lot to do with the selloff. The stock was up significantly prior to earnings. Even I was caught up in the hoopla. I sold my position in after-hours once I saw the discrepancy in the pop vs. the headline numbers. The minimal spike in after hours after such a significant beat was telling of the sell off to come.
Conclusion
I am looking to jump back into the stock at current levels if it can hold here at the 50 day sma.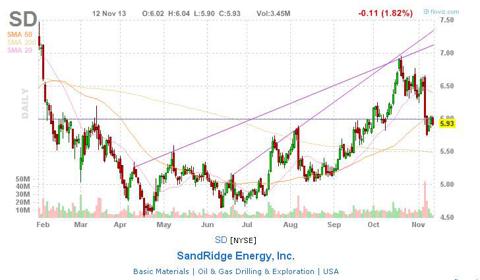 The company remains on track to grow EPS. SandRidge is employing rigorous capital discipline thereby improving return on capital. The company is on track to align its cost structure with its asset base. Finally, production and asset growth is projected to continue into next year. I believe SandRidge is a buying opportunity if the price stabilizes at the $6.00 mark. It is still early in the turnaround. Higher risk brings higher reward. Right now the risk is high. This is definitely a speculative play.
Disclosure: I have no positions in any stocks mentioned, but may initiate a long position in SD over the next 72 hours. I wrote this article myself, and it expresses my own opinions. I am not receiving compensation for it (other than from Seeking Alpha). I have no business relationship with any company whose stock is mentioned in this article.