On Monday, November 11, it was noted that Whole Foods (NASDAQ:WFM) co-CEO Walter Robb indicated that the company would try setting up shop in a number of additional urban areas after seeing how successful the company has been within the Detroit marketplace. According to John Gallagher of the Detroit Free Press, the inner cities that were proposed include but are not limited to both Chicago, Illinois and Newark, New Jersey. In the wake of Monday's announcement I wanted to highlight a number of reasons why I'm staying slightly neutral on shares of Whole Foods.
Recent Performance & Trend Behavior
On Monday shares of WFM, which currently possess a market cap of $21.52 billion, a beta of 0.64, a P/E ratio of 39.32, a forward P/E ratio of 28.96, and a current dividend yield of 0.69% ($0.40), settled at a price of $57.80/share.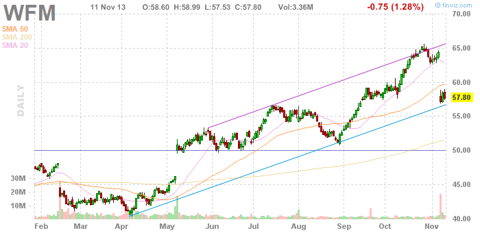 Based on their closing price of $57.80/share, shares of WFM are trading 8.45% below their 20-day simple moving average, 3.23% below their 50-day simple moving average, and 12.20% above their 200-day simple moving average. These numbers indicate a short-term and mid-term downtrend for the stock and a long-term uptrend for the stock, which generally translates into a near-term selling mode for most traders and a longer-term buying mode for most investors.
24-Month Dividend Behavior
Since September 15, 2011 the company has actually increased its regular quarterly dividend twice in the last 24 months. The company's dividend behavior which represents a 100% increase ($0.05/share paid on 09/15/11 vs. $0.010/share paid on 09/25/13), also includes a $1.00/share special dividend that was paid on December 6, 2012 and a 2:1 stock split that occurred on May 30, 2013. The company's forward yield of 0.69% ($0.40) still makes this particular grocery store play a highly considerable option, especially for those who may be in the market for a very conservative stream of quarterly income.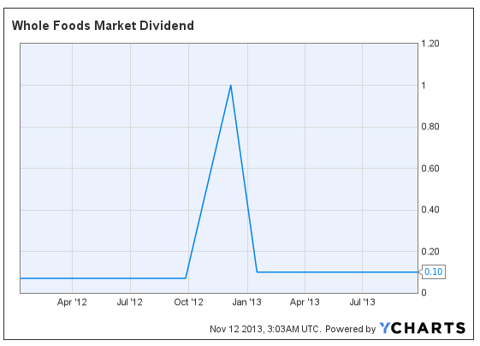 Recapping The Company's FQ4 Results
On Wednesday, November 6, Whole Foods reported FQ4 EPS of $0.32/share and revenue of $3.0 billion. These results surpassed EPS estimates by $0.01/share and were in-line with revenue estimates, even though a 2% year-over-year increase in revenue was demonstrated. It should be noted that the company's earnings report included but was not limited to the fact that the company's comparable same-store sales increased 5.9% and the fact that Whole Foods ended the quarter with approximately $1.4 billion in cash after paying $37 million in quarterly dividends and buying back approximately $37 million in common stock.
If, on one hand, the company can continue to demonstrate strong same-store sales and subsequently increase its current cash position I see no reason why the company's dividend distribution and buyback initiative would not continue to demonstrate moderate growth over the next 12-24 months. If, on the other hand, comparable same-store sales growth begins to slow or the company's current cash position falls below $1.25 billion (for any number of reasons), long-term investors may want to consider reducing the size of their position as shares could be headed down a very unfavorable path.
Looking Ahead To FY 2014
One of the reasons I'm staying fairly neutral on shares of Whole Foods has to do with the fact that the company sees FY 2014 EPS of $1.65/share to $1.69/share, which is lower than the company's previous forecast of $1.69/share to $1.72/share and the consensus estimate of $1.73/share. If the company misses estimates by a margin larger than $0.02/share to $0.03/share (due to an unexpected rise in food costs or unexpected delays with regard to its inner-city expansion plans) shareholders could be in for a very unpleasant ride, which in my opinion, could send shares 7%-10% lower in the period following the company's FY 2024 results.
Risks Factors
According to Whole Food's most recent 10-K, there are a number of risk factors all investors should consider. These factors include but are not limited to the fact that increased competition may adversely affect the company's revenues and profitability, economic conditions that adversely impact consumer spending could materially impact the company's business, and lastly, the availability or scarcity of quality natural and/or organic products could impact the company's business.
Conclusion
Although I'm currently remaining neutral on shares of Whole Foods (due in large part to the company's FY 2014 outlook, which was reduced on November 6), there are a few things I'd keep a watchful eye on over the next 12-24 months as each could play a positive role in the company's long-term growth. For example, near-term investors should focus on the company's recent performance and trend behavior, while long-term investors should pay close attention to any growth that may be directly related to both the company's inner-city development initiative as well as any sustainable increase in comparable same-store sales over the next 12-18 months.
Disclosure: I have no positions in any stocks mentioned, and no plans to initiate any positions within the next 72 hours. I wrote this article myself, and it expresses my own opinions. I am not receiving compensation for it (other than from Seeking Alpha). I have no business relationship with any company whose stock is mentioned in this article.