Last week, I read an article by Morgan Myrmo entitled, "Finding Liquor Stocks As Income Investments." In this article, Mr. Myrmo made the case for investing in the stocks of spirit makers due to the rising consumption of spirits and wine in the United States. Mr. Myrmo also noted that Americans are also spending more money on an annual per capita basis. Personally though, I am curious about how much of this increased per capita spending is due to inflation. The article then closes by giving a brief discussion of three different spirit manufacturers and their potential as income investments. I found myself walking away from this article curious about the investment potential of a fourth company, one that is not even mentioned in Mr. Myrmo's original article. That company is French wine and spirits manufacturing giant Pernod Ricard (OTCPK:PDRDF).
Pernod Ricard is one of the largest distilled beverage manufactuers in the world and owns a wide variety of some of the most popular brands of spirits. These brands include Pernod (an anise-based spirit), Pernod aux extraits d'absinthe, Ricard and 51, Seagram's gin, Havana Club, Powers whiskey, Perrier-Jouët champagne, Jacob's Creek, and my personal favorites, Frïs, and Absolut vodkas. The company has a market cap of $31.06 billion at the time of writing which, while less than half the size of Diageo (NYSE:DEO), still puts it near the top of the world's spirit manufacturers measured by market cap.
On October 24, 2013, Pernod Ricard released its first quarter 2013/2014 results and these will provide a good starting point for our analysis of the company. Overall, the first quarter results were disappointing but most of the disappointment was due to the Euro appreciating against most other currencies in the company's first quarter. If we ignore the effects of this then the company's results were nowhere near as disappointing. In the first quarter of 2013/2014, the company had total worldwide sales of €2,013 million, a decline of 8.67% compared to the prior year quarter. However, sales were relatively stable when measured in local currencies, showing only a 1% decline. Thus, nearly all of the disappointment in the company's sales results was due to currency fluctuations.

Source: Pernod Ricard
Furthermore, the company's entire sales decline happened in Asia. Spirit drinkers in the United States, Canada, Mexico, and Brazil maintained their consumption of the company's beverages and drinkers in Europe actually increased their consumption on a year-over-year basis.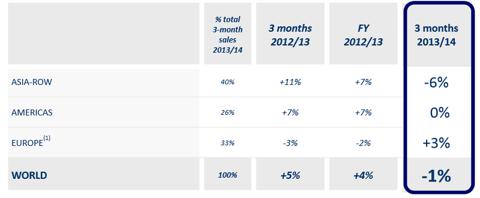 Source: Pernod Ricard
One of the reasons for the sharp year-over-year sales decline in Asia is measures taken by the Chinese government to change the country's culture of conspicuous gifting. Chinese President Xi Jinping has been mounting a campaign against corruption in the government of the world's second largest economy. While this is certainly admirable, it has been having a negative effect on the spirits business since expensive liquors have often been used as bribes. This campaign has affected both locally produced and foreign liquors.
In addition to the Chinese anti-corruption campaign, the imposition of a large excise tax on imported spirits in Thailand and inventory reductions in South Korea had negative effects on sales in those two nations. In the case of South Korea at least, the decline is likely to be temporary. Basically, liquor stores in South Korea slowed their purchases of Imperial scotch whiskey and sold down their existing stock of the beverage in advance of a change in packaging. However, these same stores will need to replenish their stocks with the newly packaged scotch and this will push sales back up in coming quarters.
Analyzing sales figures is all well and good, but as investors we are more concerned with the bottom-line figures: net income and cash flow. Unfortunately, Pernod Ricard did not report its bottom-line numbers in either its first quarter press release, its first quarter presentation, or its first quarter analyst webcast. However, the company did post strong year-over-year profit growth in its 2012/2013 fiscal year, the results of which were released in August. In the 2012/2013 fiscal year, the company posted group net profit of €1.19 billion, up from €1.15 billion in the previous fiscal year. In addition, the company posted a higher net profit in the 2012/2013 fiscal year than in the previous one: €1.21 billion versus €1.17 billion. This profit growth has allowed the company to continually increase its dividend every year since the financial crisis of 2008 and 2009.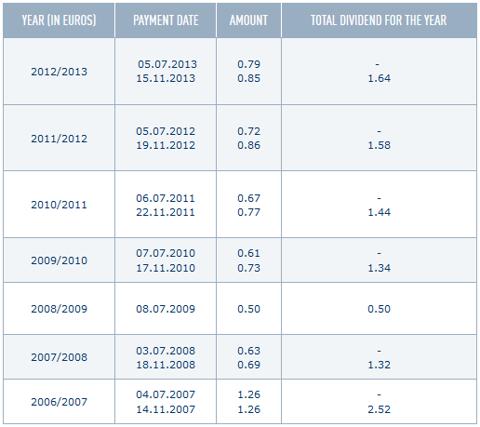 Source: Pernod Ricard
As you can see, the company's most recent dividend was €1.64 per share. This gives the company a dividend yield of 1.88% at the current share price. This is lower than some of the company's peers such as Diageo but higher than some others such as Beam (NYSE:BEAM). As a French company, Pernod Ricard's dividend is subject to the French withholding tax of 25%. However, the United States has a tax treaty with France that reduces the rate to 15% for investors domiciled in the United States.
According to Bloomberg, Pernod Ricard has 265.42 million shares outstanding. Thus, the company has an EPS of 4.56 based on the company's fiscal year 2012/2013 results. This gives the company a P/E ratio of 19.17 at the current share price. The company thus does not appear to be particularly underpriced. We cannot depend on the P/E ratio alone in determined whether a company is over- or underpriced although I will admit to preferring companies that I invest in to have a P/E ratio of under 15 with single digits preferable. Pernod Ricard's P/E of 19.17 puts it slightly lower than its peers (but still relatively in line, at least with Diageo), based on trailing twelve months earnings:

Underlying data sourced from Bloomberg and CapitalIQ
Pernod Ricard thus appears to offer a similar proposition to all the other large spirits makers. The company has a portfolio of some of the strongest branded spirits in the world, pays a dividend to investors, and offers some growth potential as the worldwide consumption of distilled beverages continues to increase.
Disclosure: I have no positions in any stocks mentioned, and no plans to initiate any positions within the next 72 hours. I wrote this article myself, and it expresses my own opinions. I am not receiving compensation for it (other than from Seeking Alpha). I have no business relationship with any company whose stock is mentioned in this article.