By Todd Buton
Tower International (TOWR) delivered another big "beat and raise" on October 30. While revenues were a little light, the company still managed to grow its profit margins. And thanks to a debt refinancing in the quarter, lower interest expense should provide a nice tailwind in 2014.
Analysts unanimously raised their estimates for both 2013 and 2014 after the Q3 beat, sending the stock to a Zacks Rank #1 (Strong Buy).
Tower International is a global automotive supplier that provides a broad range of metal structures from stampings to complex body and frame assemblies for virtually every major automotive vehicle manufacturer.
Since Tower was last written as the 'Bull of the Day' on April 18, 2013, the stock has risen more than 50%.
Third Quarter Results
Tower reported its third quarter results on October 30. Adjusted earnings per share jumped to 48 cents, crushing the Zacks Consensus Estimate by 71%. It was Tower's 8th straight positive earnings surprise.
Revenue was a little soft, rising just 1% to $495.2 million, which was below the consensus of $511.0 million. But Tower still saw strong margin expansion in the quarter.
The gross profit margin improved 50 basis points, for instance, to 11.3%. And selling, general and administrative expense declined 40 basis points as a percentage of sales to 5.9%. Meanwhile, the adjusted EBITDA margin improved 70 basis points year-over-year to 9.8%.
Tower also benefited from a debt refinancing in the quarter as the company paid over $4 million less in interest expense in the quarter. Cash flow was strong too, with operating cash flow jumping from $7.8 million to $38.0 million.
Estimates Rising
Following strong Q3 results, management raised its full year 2013 adjusted EPS guidance by 18% to $2.25. This was driven in part by interest savings from the refinancing and a more favorable geographic mix of earnings.
Looking ahead to 2014, President and CEO Mark Malcolm stated that Tower "can also now look forward to some meaningful favorable tail-winds in 2014, with the already accomplished re-financing actions boosting next year's adjusted earnings per share by about 45 cents and free cash flow by about $15 million, compared with the partial-year savings achieved in 2013."
These factors prompted analysts to revise their estimates significantly higher for both 2013 and 2014, sending the stock to a Zacks Rank #1 (Strong Buy). The 'Agreement' and 'Magnitude' of consensus estimates are the two biggest components of the Zacks Ranks, and you can see those both moving in the right direction for Tower: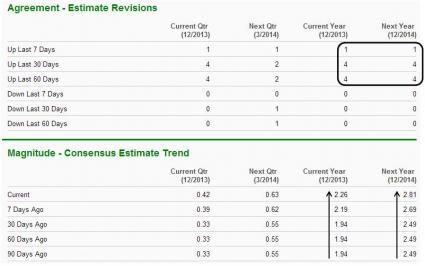 The Zacks Consensus Estimate for 2013 is now $2.26, slightly above consensus, and up from $1.94 before the Q3 report. The 2014 consensus is currently $2.81, up from $2.49 over the same period.
Reasonable Valuation
Shares of Tower have been on fire so far this year.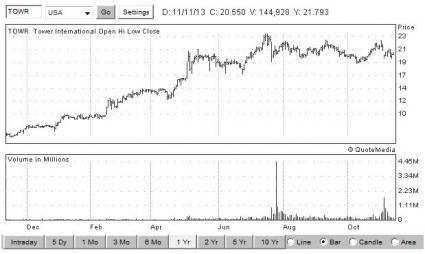 But the valuation picture still looks attractive. The stock trades at less than 8x 12-month forward earnings, well below the industry median of 13x. And its price to sales ratio is just 0.2, well below the peer group multiple of 0.7.
The Bottom Line
With excellent earnings momentum and reasonable valuation, Tower still offers investors attractive upside potential.
TOWER INTL INC (NYSE:TOWR): Free Stock Analysis Report (email registration required)