Growth stocks are great instruments of investment in a bull market. Investing in a growth stock that are trading at reasonable prices in a bull market provides you with a downside assurance that if the market tanks, these stocks are likely to be punished less than most. If the market continues trending north, then the improved value proposition of these stocks will eventually lead to investors noticing them and bidding up their prices.
Visa (NYSE:V) is a good growth stock that has managed to grow its revenue by an average 20% for the last ten years, by no means a small achievement for a company that makes $5 billion in profits in a year. In the last three years alone, Visa has managed to grow its profits from $2.97 billion in 2010 to $5.45 billion in 2013, a whopping 83.75% growth. Growth companies don't come better than Visa. Visa combines the double-digits top-line growth of a hot technology stock, with the bottom-line comforts of a well-run bank.
Pessimism wanes
The good news for Visa bulls is that the pessimism that hang around Visa's stock after the historic July 31, 2013 swipe fees ruling seems to have worn off, and the stock has since then recovered nicely to trade at the current $196.10. Although the stock has gained a healthy 32% year-to-date, there are some significant tailwinds that can propel the stock even higher, perhaps as high as $255 in the near-term as analysts at Stifel Nicolaus recently predicted. The Street has a strong A ''Buy'' rating on Visa. The consensus rating on the stock is a ''Buy'' with an average $208.79 price target, representing a significant 6.5% upside potential from current price.
Although Visa's fourth-quarter revenue of $3.00 billion narrowly missed consensus estimates of $3.02 billion, the revenue was still 8.9% better than for the same period last year. Visa has consistently hiked its dividend payouts every year since it went public; the payments network company did not disappoint this time either, and raised its yearly dividend from $1.32 to $1.60, a huge 21% rise. Visa's 40.82% profit margin edges out rival's MasterCard (NYSE:MA) with 40.46%.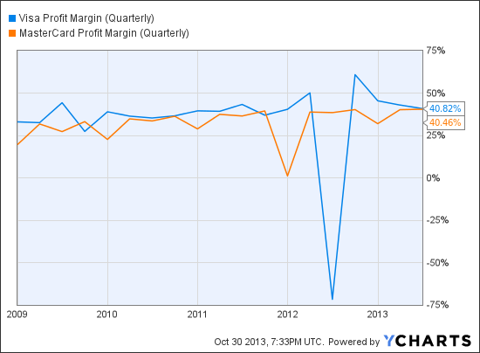 Visa's revenue per employee ranks among the highest for tech companies.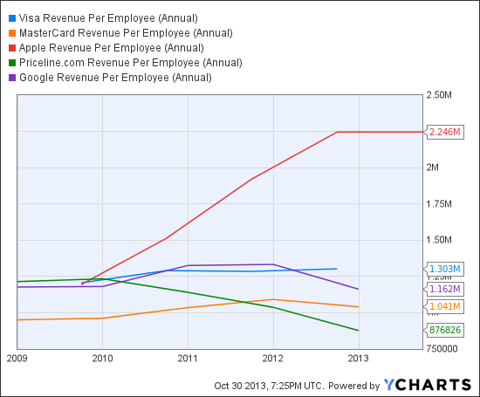 Its stock is also cheaper than MasterCard's, trading at 26.94 forward PE compared to MasterCard's 27.80.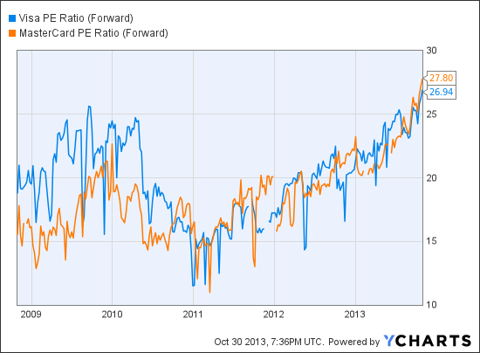 Let's now have a look at other reasons why I remain upbeat about this card company.
Building Business on Plastic
Bank lending in the United States remains weak, due to the after-effects of the 2008 economic recession. Mom-and-pop shops, startup businesses and many other mid-size businesses are increasingly transacting using credit cards in order to grow their revenues.
People tend to buy more when using cards than when using cash. According to Visa, the average cash transaction in the U.S. is only $17, but increases dramatically to $42 for debit card transactions and $66 for credit cards. Debit and credit card transactions provide businesses with a means to grow their top-lines. The steady growth of corporate credit has made it more popular for bigger businesses to accept credit card transactions too.
Prepaid Preference
Prepaid cards have remained a sweet spot for debit card companies such as Visa and MasterCard. Although Mercator Advisory Group recently revealed the market for prepaid cards has been growing at an annual 20% clip, there is still plenty of room to run. Companies and Markets.com predicts the global market for prepaid cards will top $2.1 trillion in 2018. About one in five under-banked consumers prefer using debit cards to checking accounts. Prepaid cards remain very popular with college students.
Emerging market potential
Currently, about 85% of the world's retail purchases are cash-based. In the U.S. the figure is 50% . The burgeoning middle classes in many emerging economies translate to a huge market for electronic payment processing. A recent Gallup/ World Bank study revealed how only 7% of consumers own credit cards compared to 50% in the developed economies. Adoption rates vary from as low as 2% in Asia to 18% in Latin America.
The all-important Chinese market has been growing in leaps and bounds. The Lafferty Group World Cards Intelligence estimates Chinese credit card transactions grew a massive 156 times in ten years from just $4.8 billion in 2002 to 748 billion in 2012. China is slated to grow into the world's largest credit card market by 2015.
Innovating virtual wallets
Visa and MasterCard both unveiled their respective digital wallet platforms in 2012, a few months after Google (NASDAQ:GOOG) and Isis, a wireless carrier consortium, unveiled theirs. Visa launched V.me in France, Spain and the U.K. Visa also offers payWave as a small minicard or as a traditional card.
MasterCard launched PayPass in May 2012. This platform lets customers purchase products online, either by tapping their cellphones against a reader when shopping in a store, or by clicking on an icon when shopping on the internet. PayPass operates in the U.S., the UK,Canada and Australia.
The digital wallet platform is designed to help customers with speedier checkouts. Card purveyors, such as Visa and MasterCard, both with well-developed digital wallet platforms, will quite likely rack up healthy revenues using their respective platforms. This relatively new platform has significant entry barriers that give these two early leaders considerable pricing power.
Bottomline
Visa has established a solid reputation as a growth stock with rapidly-expanding revenues and profits. The rapidly growing credit card market in emerging economies as well as the company's digital platform will ensure the strong revenue growth trend continues. The favorable global tailwinds will not only propel companies that process credit/debit card transactions such as Visa and MasterCard higher, but also favor companies that lend money and issue cards such as Discover Financial Services (NYSE:DFS) and American Express (NYSE:AXP) as well.
Disclosure: I have no positions in any stocks mentioned, and no plans to initiate any positions within the next 72 hours.
Business relationship disclosure: Syncopy Research is a team of financial analysts. This article was written by Alex Kimani, the firm's senior analyst. We did not receive compensation for this article (other than from Seeking Alpha), and we have no business relationship with any company whose stock is mentioned in the article.