Bear Markets Feed Off Recessions
The probability of equities entering a new bear market phase increases as the economy gets weaker. For example, 2008 was a less-than stellar year for stocks; the economy was struggling as well.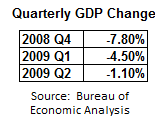 You do not have to be a Nobel Prize winning economist to know the global economy is not running at full capacity in late 2013. However, the evidence does not point to an imminent recession. From Forbes:
The Conference Board is predicting a 3.1% increase in global economic growth for 2014; that figure stands at just 2.8% for 2013. Bart van Ark, the Conference Board's executive vice president and chief economist, said in a Tuesday morning press briefing that global growth in 2013 was less than they had previously expected thanks to factors ranging from recessionary environments in Europe to political in-fighting at home.
Stocks Are Not Waving Recession Flags
From a technical perspective, bear markets are marked by downtrends. The current weekly chart of the S&P 500 ETF (NYSEARCA:SPY) remains in an uptrend, which aligns with economic confidence rather than economic fear. The value of using moving averages to help monitor the health of trends is described in this video segment.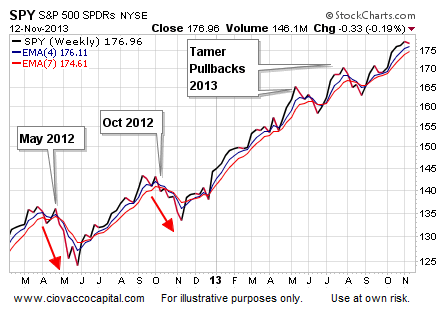 Slow Growth And Monetary Stimulus
As we noted on November 9, stocks could continue to push higher than most people believe with positive economic growth complemented by ongoing quantitative easing from the Federal Reserve. On the topic of Fed policy, mixed messages were delivered Tuesday. From Reuters:
Minneapolis Fed Bank President Narayana Kocherlakota and Atlanta Fed President Dennis Lockhart said monetary policy should remain accommodative. Neither is a voting member of the Fed's policy-setting committee. In contrast, Dallas Fed President Richard Fisher told CNBC that the Fed's program of buying $85 billion in bonds every month to stimulate the economy cannot continue forever. But the key Fed comments this week may come during a Senate Banking Committee confirmation hearing for Fed Vice Chair Janet Yellen, who has been nominated to succeed Ben Bernanke as Fed chairman. Yellen has been a big supporter of the Fed's current policies.
Demand For Core ETFs Supports Bullish Case
Trends speak to economic conviction. When the demand for bonds is greater than the demand for stocks, it indicates bearish economic conviction is greater than bullish economic conviction. The weekly chart of bonds (NYSEARCA:TLT) relative to stocks below continues to align with the case for positive economic growth.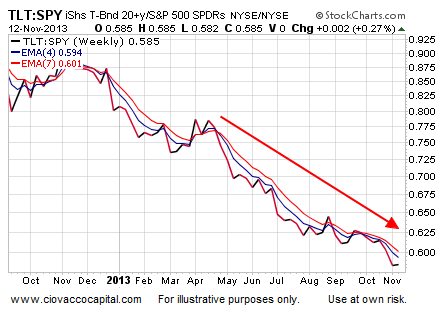 Foreign Stocks Vs. Bonds
Taking a wider economic view, demand for bonds (NYSEARCA:AGG) remains weak relative to demand for foreign stocks (NYSEARCA:EFA).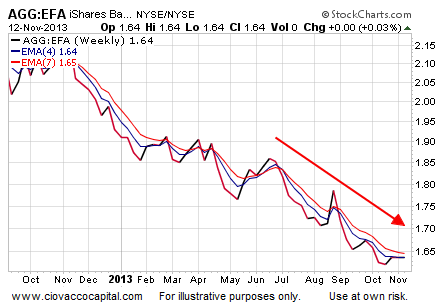 Technology Still Catching A Bid
The weekly chart of tech stocks (NASDAQ:QQQ) below allows us to monitor the battle between bullish conviction and bearish conviction in this key market sector. The bulls still have the upper hand.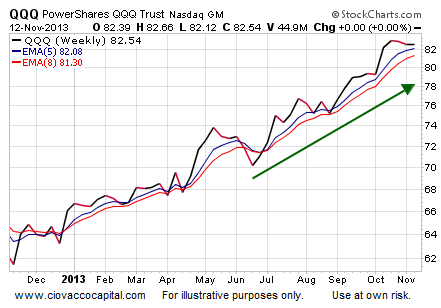 Demise Greatly Exaggerated
Small caps (NYSEARCA:IJR) have taken a break from their leadership role in recent weeks, but the weekly trend still shows bullish demand exceeds bearish concerns.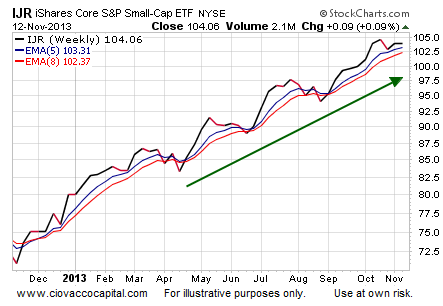 Energy Hoping For Fed Help
Energy stocks should key off of the market's taper expectations. For now, the trend aligns with a bullish profile.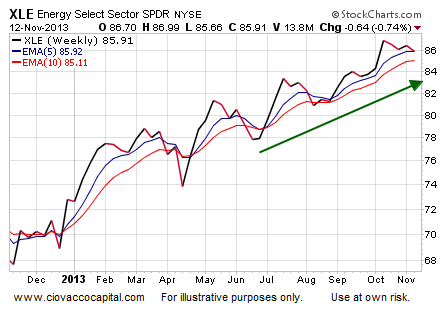 Demand For Financials
Similar to small caps (NYSEARCA:IWM) and technology stocks, demand for the financial sector ETF (NYSEARCA:XLF) has remained strong enough to maintain a bullish weekly trend.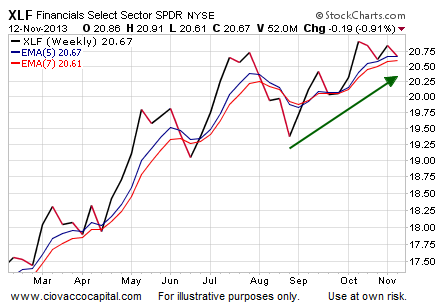 Emerging Markets Need To Rally
When you have a diversified portfolio of ETFs, it is not realistic to expect them all to perform well in unison. The key is to reduce exposure to your weaker sisters, as we did last week with our stake in emerging markets (NYSEARCA:EEM). Weekly charts often "repair" themselves before the close on Friday. Therefore, the look of the chart below as of Tuesday needs to be taken with a grain of intraweek salt.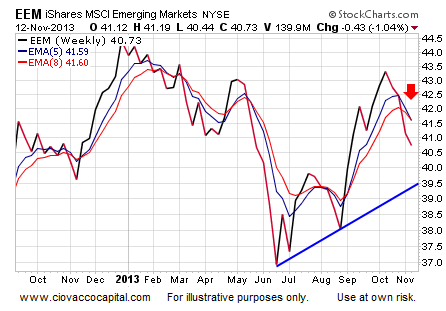 Asset Allocation Implications
The market's pricing mechanism told us to begin redeploying cash on October 10 and is still sending "stay long for now" signals. Therefore, we continue to hold positions in U.S. stocks, technology, financials, energy (NYSEARCA:XLE), foreign stocks, and emerging markets. Since flexibility is a core tenet of investing success, we must be willing to reduce our exposure to stocks when the observable evidence changes. Are there reasons to be concerned about the stock market? Yes, but extreme optimism or investors being "all in" are not on the list.
Disclosure: I am long SPY, IJK, QQQ, XLF, XLE, EFA, EEM. I wrote this article myself, and it expresses my own opinions. I am not receiving compensation for it (other than from Seeking Alpha). I have no business relationship with any company whose stock is mentioned in this article.