Starbucks (NASDAQ:SBUX) posted wonderful fourth-quarter results, driven largely by robust same-store sales growth. Revenue jumped 13% year-over-year to $3.8 billion, roughly in-line with consensus estimates. Earnings per share increased a whopping 37% to $0.63, easily exceeding consensus expectations. Free cash flow for the firm's 2013 fiscal year was terrific at $1.8 billion, equal to 12% of revenue. That figure is up from $894 million in free cash flow generated in its 2012 fiscal year.
Comps Drive Success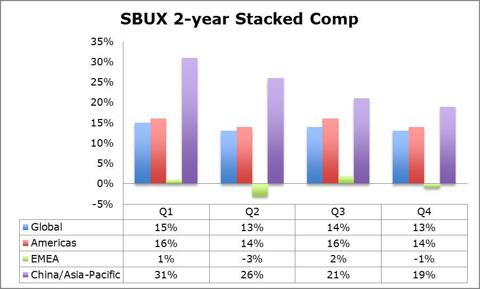 Click to enlarge
Image Source: Company Filings, Valuentum
As we can see from the above chart, Starbucks continues to experience wonderful same-store sales growth. Fourth quarter and full-year comp-store sales jumped 7% year-over-year.
Financial analysts love using comp-store sales (or same-store sales - they have the same meaning) as a performance measuring stick because it reveals that a company has the ability to drive more traffic in existing stores, increase the amount customers spend when they visit, or has the ability to raise prices. These factors aren't mutually exclusive, and some companies are able to persuade customers to come more often and buy more products at higher prices.
As for Starbucks, the firm has a certain amount of fixed costs at its existing stores. However, it doesn't have the same amount of marginal costs, so each additional sale a store makes is more profitable than the last. Hence, Starbucks' annual operating margin increased 150 basis points year-over-year to 16.5% of sales for fiscal year 2013.
Starbucks is Not a One-Trick Pony
Starbucks is clearly experiencing wonderful sales momentum at its existing locations, but that isn't the only growth avenue at the company. Late in 2012, the company acquired Teavana for $620 million. Last week, Starbucks opened its first tea café (existing Teavana locations sell take-home tea and tea accessories) in New York City. Though we do not yet have a read on sales, CEO Howard Schultz provided fascinating commentary, saying on the conference call:
"We are convinced that with Teavana, Starbucks can reinvent and do for tea just what we have done for coffee and that we can grow and expand the tea industry and the Tea Bar concept by introducing the wide, innovative array of handcrafted tea beverages, tea inspired food and world-class tea merchandise. With the tea being our larger opportunity than coffee outside of the U.S. and Canada, we see a future with Teavana stores across North America and around the world."
Identifying tea as a greater opportunity for Starbucks than coffee outside of the US is a bold statement. If Starbucks can reinvent tea consumption in the same way it revolutionized coffee consumption in the United States, then we think the company has incredible long-term potential.
Guidance
Starbucks' 2014 earnings per share guidance of $2.55-$2.65 fell just short of consensus estimates calling for $2.67 per share. Still, we thought Starbucks' guidance was relatively strong. The firm anticipates top-line expansion in excess of 10%, comp-store sales growth in the mid single digits, and operating margin expansion of 150-200 basis points. Starbucks also plans to open 1,700 net new locations.
Valuentum's Take
Starbucks' fourth quarter results revealed that the firm has yet to see its momentum decelerate, particularly in important areas such as the Americas and China/Asia-Pacific. The seeds of the company's plan to revolutionize tea are being planted as we speak, and, if efforts are successful, it will add another leg to the Starbucks growth story. Though we plan to review our fair value estimate, we think shares remain richly valued (they are trading at 30 times 2014 earnings), and we are not considering the name for the portfolio of our Best Ideas Newsletter at this juncture.
Disclosure: I have no positions in any stocks mentioned, and no plans to initiate any positions within the next 72 hours. I wrote this article myself, and it expresses my own opinions. I am not receiving compensation for it (other than from Seeking Alpha). I have no business relationship with any company whose stock is mentioned in this article.