The fire thing with Tesla (NASDAQ:TSLA) cars is starting to get a bit out of hand. And, by that, I mean people continue to make a huge deal over what I still continue to see as commonplace. And Tuesday, the lunacy continued with talks of a recall until saner minds like Elon Musk prevailed - at least for now.
I wrote an article earlier this week asking if Tesla was cheap enough for the bears yet - it's taken almost a 20% haircut since its highs in October. The fire hype continues to "assist Tesla stock with its correction."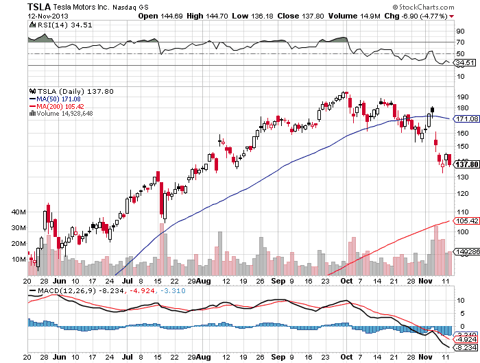 Click to enlarge
On Tuesday, it was being reported that there haven't been any discussions of a recall for the Model S - yet another unprovoked negative headline in this investor's opinion.
That led me to ask: who the hell even seriously asked about a recall?
So, Tesla CEO Elon Musk stated at the New York Times DealBook conference on Tuesday that there is definitively going to be no recall. He also reemphasized that the company has a strong safety record. Tesla continues to use these fire concerns to continue to convey how safe their vehicles are - after all, all three drivers made it out unscathed.
But, again I ask, why would there be concern here?
I had already pointed out in a previous article that while a total of three fires are being opined and scrutinized about in the world of Tesla, companies like GM are recalling hundreds of thousands of vehicles at a time because of things like "power window and door lock modules that can overheat and catch fire "while the car is parked." As I put it earlier this month, I'd bet Tesla has the "door handle" problem figured out at this point.
As a reminder, there are about 19,000 Tesla cars on the road worldwide right now - these three fires represent 0.01% of Tesla owners - and all three of those 0.01% struck an object at a high speed. If you don't want your car to catch fire, don't run it into things at high speeds.
The latest fire was due to running over a tow hitch. Tow hitch - large, steel, heavy, and not supposed to be placed in the middle of a highway. This is what a smaller tow hitch looks like: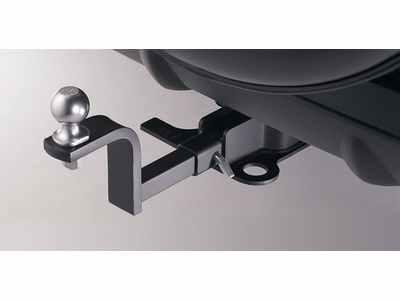 And a larger one: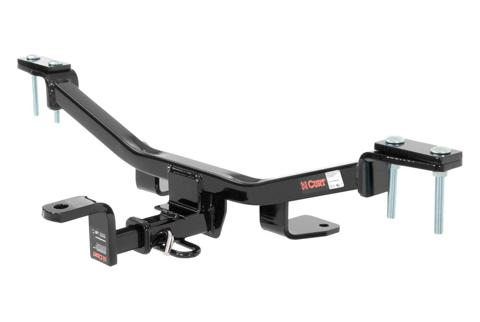 Click to enlarge
I've provided both because I don't know exactly how large the one that was involved in the fire was. I do know, however, that all three people involved in these fires swore by the safety of their vehicle, with two of them vowing to purchase another Model S.
I also know that if you hit one of those tow hitches in your Ford tomorrow, doing 60 down a freeway, there's a reasonable chance that your vehicle could sustain major damage, including fire. No need to be an automotive expert to understand that one.
Musk continued to go to bat for his company on Tuesday, as reported by Forbes:
"Headlines are very deceiving," Musk told Andrew Ross Sorkin in New York on Tuesday at the Dealbook conference, "if fire risk is your concern, you'd have difficulty [finding] any better car than the Model S."

Last week, a Tesla Model S ran over a tow hitch on a Tennessee freeway, causing an electrical fire that destroyed the car. It was the third fire affecting a Model S in just over a month, which has effectively thrown the company's stock price off a mini cliff, falling over 17% since November 4.

Yet Musk was defensive when asked about Tesla's safety record, noting the Model S is "about five times less likely to have a fire than the average car." With their three fires, Tesla has had about one fire every 8,000 vehicles, compared to one in 1,300 for the industry average. There are 200,000 gasoline car fires every year, he told Sorkin, "how many times do you hear about this [in the news]?"
In the latest fire incident, the owner penned a letter afterwards that concluded by saying:
This experience does not in any way make me think that the Tesla Model S is an unsafe car. I would buy another one in a heartbeat.
ValueWalk continued about Musk's comments at DealBook on Tuesday:
When asked what's going on with the fires, Elon Musk said they're replacing the drivers' Model S as quickly as possible. He also explained that the drivers felt like the car saved them from death or serious injuries. In the second fire, the driver said he probably would have died if he hadn't been in a Model S. There were multiple impacts in that wreck, which was extremely violent. The driver and passengers walked away, and afterward there was a small fire.

Musk compared the Model S to the Titanic. Like if it smashed through the first and second icebergs, then stopped at the third and all passengers debarked safely, and then the headlines were about a small fire on the ship.

Musk says he's a perfectionist and that they would do a recall if they felt like there was something affecting the safety of the Model S. He says that they are not considering a recall, however.
I concluded my last article by reaffirming that I was staying on the sidelines after selling my long position in the $150 region. My goal remains to wait until Tesla dips under the $110 region to reload on a long position. I said in my last article:
While I'm bullish on Tesla as a company, I sold my long position in the $150's after earnings fearing an even bigger price walk down. I'm waiting for what other potential long investors in Tesla should be waiting for - the company to correct to a point where it's starting to look like a value to the market. When that occurs, Tesla will naturally continue an upward trend yet again. However, that time isn't now.
I continue to maintain this stance on Tesla going forward. I'm confident in Musk's statements Tuesday and the continued safety of people who operate Tesla's vehicles, which are, again, claimed to be the safest in the world.
My only concern and reason for waiting is due to what I feel will continue to be a technical correction - with nothing to do with the overblown fire headlines that have helped push the stock downward. Long term, I remain extremely bullish on Tesla.
Best of luck to all investors.
Disclosure: I have no positions in any stocks mentioned, and no plans to initiate any positions within the next 72 hours. I wrote this article myself, and it expresses my own opinions. I am not receiving compensation for it (other than from Seeking Alpha). I have no business relationship with any company whose stock is mentioned in this article.