Shares of Silver Wheaton (NYSE:SLW) have shown weakness lately following the news of Barrick Gold (NYSE:ABX) temporarily suspending development at its Pascua Lama project, located in Chile and Argentina. This projectwas expected be a major growth driver for Silver Wheaton, as the company has a 25 percent share of the total annual silver production, which would have amounted to a whopping 9 million ounces in the first five years.
With Pascua Lama, the company was forecasting 2017 silver equivalent production of more than 50 million ounces, significantly higher than 2013's estimate of 33.5 million SEO's.
However, Barrick released the following news on Oct. 31:
"Barrick has decided to temporarily suspend construction activities at Pascua-Lama, except those required for environmental protection and regulatory compliance…
The decision to re-start will depend on improved project economics such as go-forward costs, the outlook for metal prices, and reduced uncertainty associated with legal and other regulatory requirements."
- The company's new production forecast is significantly less at 42.5 million SEO's, as you'll see in the chart below.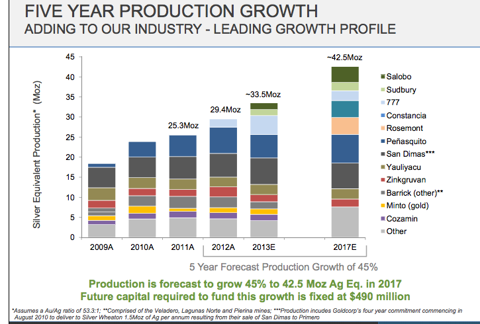 Click to enlarge
Here's what the CEO had to say in the Q3 2013 conference call.
"...we do believe that Barrick's decision was fiscally prudent and should improve the economics of this project going forward.

Furthermore Silver Wheaton did secure an additional year of production from three of Barrick's other mines in exchange for extending the Pascua-Lama completion test deadline by 1 year to the end of 2017.

Though the project suspension is clearly not the ideal situation we view the additional year of silver as adequate compensation for extending the deadline and we continue to believe in the Pascua-Lama project."
- Transcript is courtesy Seeking Alpha.
Despite this news, I still feel that Silver Wheaton presents a strong long-term buying opportunity, especially now since the share price has dropped down to the $21 range.
The share price weakness obviously also has to do with depressed precious metals prices, with silver currently trading at just $20.65.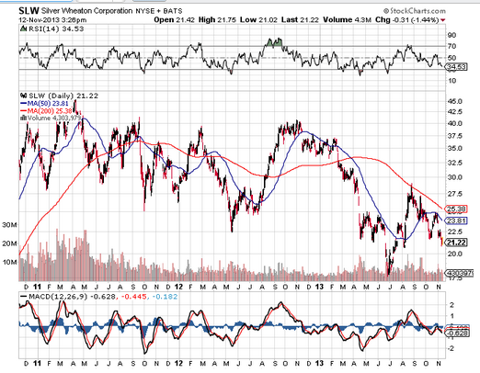 Click to enlarge
You will see below that over the last 5 years, Silver Wheaton has crushed the competition, outperforming mining companies (represented by the HUI gold bugs mining index) by a large margin.
However, Silver Wheaton has also crushed its peers Franco Nevada (NYSE:FNV) and Royal Gold (NASDAQ:RGLD) in that time, with returns of 562 percent since 2009: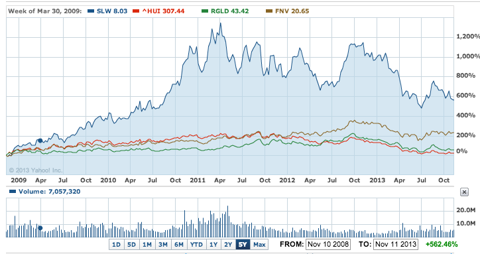 Click to enlarge
The news from Pascua Lama was certainly not good news. However, I feel that Silver Wheaton is still a great buy at current prices.
Here are a few major points I'd like to make:
- Strong quarterly results: Silver Wheaton achieved record production of 8.9 million silver equivalent ounces in the Q3 2013, an increase of 17% from Q3 2012. Silver equivalent sales were 52% higher than a year ago coming in at 7.8 million ounces. This shows that even without Pascua Lama, the company is growing each and every year.
- Silver Wheaton reported net earnings of $77.1 million ($0.22 per share) and operating cash flows of $118.7 million ($0.33 per share) for Q3 2013. While silver mining companies are struggling to turn a profit at $21 silver, SLW is still very, very profitable.
- The new 2017 forecast still represents growth of 42.5 percent over that time period, more than 10 percent compounded annual growth, at fixed prices.
- I feel that investors are treating the Pascua Lama news as if the announcement was a permanent suspension of development at Pascua Lama, and not a temporary suspension. I feel that Barrick made the right choice by delaying production with precious metals prices at current levels. A possible rebound in the price of gold and silver next year could cause them to re-start development, and I still feel that this project will be in production eventually. Barrick could also sell the property to another mining company if they wished.
- In Silver Wheaton's original contract with Barrick, throughout 2014 and 2015 the company was entitled to silver production from three of Barrick's currently producing mines, the Lagunas Norte, Pierina, and Veladero "to the extent of any production shortfall at Pascua-Lama, until Barrick satisfies the completion test."
Investors should know that Silver Wheaton will now be entitled to the production from Barrick's other mines for an additional year (until the end of 2016) under the new agreement.
- Silver Wheaton has agreed to extend the completion test deadline an additional year to December 31, 2017. According to the silver purchase agreement, if the requirements of the completion test have not been satisfied by the amended completion date, the agreement may be terminated by Silver Wheaton.
In such an event, Silver Wheaton "will be entitled to the return of the upfront cash consideration of$625 million less a credit for any silver delivered up to that date."
- This agreement significantly de-risks the contract for Silver Wheaton in my view. The company will still be receiving silver from Barrick's other mines, and is entitled to a large cash consideration should Barrick not complete the completion test.
- Silver Wheaton has a sustainable, flexible dividend policy. Dividends are linked to operating cash flows, with 20% of the average of the previous four quarter's operating cash flows distributed to shareholders. You are essentially getting "paid to wait" and I feel that a prudent strategy for investors is to re-invest these dividends.
- The company has been very active on the deal front. On Nov. 11, the company completed an "Early Deposit Gold Stream Agreement" with Sandspring Resources on the Toroparu project located in the Republic of Guyana, South America. Silver Wheaton the right to purchase 10% of the life of mine gold production from Toroparu, for $148.5 million plus an ongoing production payment of $400 an ounce.
However, SLW only has to advance $13.5 million first, then may choose to proceed with the gold stream following the delivery of a bankable definitive feasibility study, environmental study and impact assessment by Dec. 31, 2015.
If Silver Wheaton elects not to proceed with the Gold Stream, the Company will be entitled to either a return of $11.5 million. Because of this, I feel this deal is very low-risk for Silver Wheaton but also gives them upside to a quality project. Full details can be found in the Nov. 11 news release.
- Balance Sheet: The company had just $62 million in cash at September 30, 2013. However, the company also holds $58.6 million in investments, which include $29.9 million in shares of Bear Creek Mining (OTC:BCEKF).
The company has capital commitments of $490 million, which include one final payment (of the Silver stream) to Hudbay of $125 million, to be made once $1 billion has been spent on Constancia, $135 million once $1.35 billion has been spent on Constancia (Gold stream) and $230M for the Rosemont transaction (Source: Corporate Presentation).
However, between cash flow and credit available under the company's $1 billionr revolving facility, I believe Silver Wheaton has the capacity to complete more deals.
Bottom Line? If You Like Silver, SLW is Still The Way to Go
Silver Wheaton's business model is still far superior to mining companies since the company receives precious metals at a fixed cost per ounce. This model allows the company to remain very profitable, even at $21 silver.
Even with the issues at Pascua Lama, Silver Wheaton is still a buy in my opinion. If you are bullish on silver like I am, the company remains one of the best investments in the sector, giving investors tremendous leverage and upside to an increase in the price of gold and silver.
In the meantime, investors can receive a decent dividend, one which I believe will grow significantly over time. Silver Wheaton remains one of my top long-term picks in the precious metals sectors, and I look forward to adding shares of continued weakness.
Disclosure: I am long SLW. I wrote this article myself, and it expresses my own opinions. I am not receiving compensation for it (other than from Seeking Alpha). I have no business relationship with any company whose stock is mentioned in this article.