"As for Brinker International, EAT, double digit gain today for Brinker. EPS of 29 cents versus a 22 estimate. Their same store sales were down 3%." — CNBC's Squawk on the Street 1/20/2010
Brinker International (NYSE:EAT), one of the nation's largest operators and franchisers of casual dining restaurants, reported strong second quarter earnings on Wednesday morning and shares are surging more than 11% on the news. It has been a very difficult year for restaurants and Brinker was certainly not immune. However, the company was able to lure customers back into its restaurants with effective promotions and certainly benefited from an overall improvement in the confidence of consumers. Traffic at Chili's and Maggiano's franchises was better than a year ago and proved to be a bright spot in the results. Overall, Brinker continues to show same-store sales declines of 3.1% though that was better than most expected and was a sequential improvement.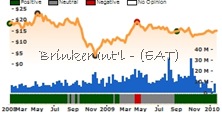 The restaurant industry sounded a more optimistic tone in its annual forecast saying it expects "gradual improvement". A press release from an industry organization said they expect sales to be flat in 2010 which is revised substantially higher from previous estimates of 2.9% declines. It is no surprise that the last year was terrible for many restaurants as consumers often opted to stay home for meals. It was only the second year in the last 50 in which the industry actually lost jobs.
Brinker was among the restaurants that cut jobs and closed 47 underperforming locations. In addition, Brinker sold 189 locations of its Romano's Macaroni Grill chain and cut some franchises as well. The overall effect was to trim the cost structure to a more sustainable level as the company copes with improving but still very thrifty consumers. Operating expenses in the quarter were 23% lower than the period a year ago, which certainly helps boost the bottom line as sales have fallen.
At the current price level, we are reaffirming our Undervalued rating after the better than expected results. Brinker's quarter could be viewed as a signal that sales in the restaurant industry are finally starting to stabilize. We have concerns that increasing food costs will continue to hamper the company going forward, but it has effectively combated those problems thus far through lower operations costs as well as higher menu prices. Brinker management even expanded margins to 6% from 5.6% a year ago in spite of the higher input prices. Both price-to-cash earnings and price-to-sales are well below their historically normal ranges which suggest the stock may have further to run in an improving operating climate.