It is not often that something in this market make me fall out of my chair laughing. Yes, there are some things that are funny, but the latest round of news for chip giant Intel (NASDAQ:INTC) is just hilarious. Tuesday morning, there were a couple of analyst notes out on Intel, just minutes after each other, that said completely different things. Today, I'll discuss the latest analyst news on Intel, update the short interest picture, and examine what's up with the chip giant.
The analyst notes:
Not often do I take pictures of websites, but this image has to be a winner. Here is a screen shot of Intel's analyst summary page from Street Insider.

Honestly, I couldn't make this stuff up. Just three minutes after a report comes out from Jefferies telling you to buy Intel, MKM Partners comes out and downgrades Intel.
Jefferies reiterated its Buy rating on Intel and $30 price target. The analyst sees the company's November 21st analyst day as a catalyst for the chip giant. The research firm details the large capex plan Intel has had, which the chip giant could translate to market share gains in tablets and handsets. Jefferies has been one of the more positive firms when it comes to Intel. Even after the huge Q3 warning in 2012 and terrible fall, Jefferies only cut its price target on Intel to $24, which is basically where we are now. So if Jefferies' $30 price target on Intel is about a year out like their past target, Intel investors could be rewarded nicely over the next 9-12 months.
Then we have MKM Partners, which downgraded Intel to Neutral (from Buy) with a price target of $25. The research firm cited "a lack of catalysts." I can understand the downgrade, because it's hard to have a buy rating on a stock when you see less than a dollar of upside. But I would kinda disagree with the "no catalysts" part, especially since the analyst day is less than 10 days away! Fellow SA contributor Ashraf Eassa called the MKM downgrade the worst he's ever seen.
Overall, it is funny to see what happened here on Tuesday with these analysts. However, there is a key point here. This back and forth shows you how divided the analyst community is on the chip giant. The average rating on the stock is barely above a hold, with the average and median price targets in the high $23s. With Intel shares closing Tuesday at $24.43, the average and median price targets imply a decline in stock price from here. Intel has been a frustrating investment in recent years.
Short interest update:
A couple of weeks ago, I detailed how Intel's short interest had hit another new yearly high. At the middle of October update, more than 255.3 million shares were short. That represents a small portion of the roughly 5 billion shares outstanding. However, at the same time a year ago, short interest was at 182.5 million shares. Six months before that, short interest was at 88.6 million. So while a small number of shares are short, the number has been increasing at an alarming rate. The chart below shows Intel's short interest history since early 2012, including the most recent update.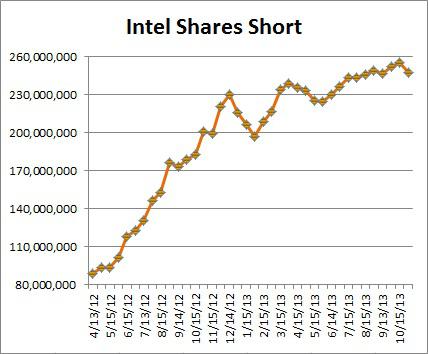 Short interest in the final few weeks of October declined by nearly 8 million shares. While the 3.1% decline does not seem like much, this was the largest decrease since the middle of May 2013 update, more than six months ago. This was also only the second decline in the past 10 updates. Short interest in Intel is still elevated however, up 23.22% in the past year and nearly 180% since mid-April 2012. However, it is nice to see a decline for once. We'll see if it continues.
Where the stock stands:
Looking at Intel right now, shares are up since the most recent earnings report. That's a little questionable in my opinion, given the weak guidance, but it is what it is. The following table shows how Intel's 2014 stacks up against other top tier tech names such as Apple (NASDAQ:AAPL), Google (NASDAQ:GOOG), Microsoft (NASDAQ:MSFT) and Cisco Systems (NASDAQ:CSCO). Cisco will report earnings this week, so its numbers will be changing in the coming days and weeks, more so than the others who have all reported already.

*Values for EPS growth and P/E are non-GAAP
When it comes to large cap tech growth, you shouldn't be counting on Intel, unless of course they make a surprising deal with Apple soon. Not only does Intel show the least amount of growth for its respective 2014 fiscal year, but Intel will most likely show its second straight year of revenue declines this year. Even though the financial media and all of those Apple bears will make it seem like Apple's revenues are declining, Apple still has the most growth of the four established names. Also, after converting Cisco's earnings to GAAP, Intel trades at the second highest valuation of the established four (excluding Google). While Intel has the highest dividend yield, it has the least amount of growth, and probably the worst buyback right now.
What's my key point here? Well, Intel investors can't get too excited about 2014. I know that Intel is working to improve its offerings in the mobile space, but high expectations are what caused Intel's downfall these past two years. 2012 was the worst of that, with Intel falling well short of initial expectations. 2013 hasn't been as bad, but the company will still fall short of its original goals.
For that reason, I'd like to see Intel be very conservative with its 2014 guidance. I don't want the company to completely kitchen sink things and issue guidance well below estimates. However, if expectations call for 2% revenue growth as they do now, I'd be happy if they originally guide to say flat revenues in 2014 or very low single digit growth. It would be much better for Intel to guide low for 2014 and be able to raise guidance, then to guide high and have to cut its forecast two or three times, as we've seen in recent years. Also, low initial guidance would probably send the stock down, allowing investors a chance to accumulate before a potential rebound.
Final thoughts:
It sometimes can be hard to sort through all of the noise when it comes to Intel. This is especially true when you have one analyst telling you to buy, and another one three minutes later downgrading the name. Right now, Intel is stuck. The chip giant is a slow growth company, trading at a slightly higher valuation than some of its other top tech peers. I think that Intel needs to issue very conservative guidance to start for 2014, so they don't fall into the trap of the past two years. For that reason, I still think that Intel is a short idea above $24, and a good buy below $22. Right now, Intel is in short territory.
Disclosure: I have no positions in any stocks mentioned, and no plans to initiate any positions within the next 72 hours. I wrote this article myself, and it expresses my own opinions. I am not receiving compensation for it (other than from Seeking Alpha). I have no business relationship with any company whose stock is mentioned in this article.
Additional disclosure: Investors are always reminded that before making any investment, you should do your own proper due diligence on any name directly or indirectly mentioned in this article. Investors should also consider seeking advice from a broker or financial adviser before making any investment decisions. Any material in this article should be considered general information, and not relied on as a formal investment recommendation.