Anadarko Petroleum (NYSE:APC) still seems to be one of the sector darlings fetching high multiples based on high projected production growth originating from its US onshore development assets. However, the stock has sold off recently in light of Q3 results. While production increases were driven by US onshore production, investors used a lower than expected EPS figure to sell shares. Anadarko's Q3 adjusted EPS of $1.13 missed consensus estimates of $1.16. As a result of the sell-off Anadarko Petroleum now appears to be oversold in the short-term.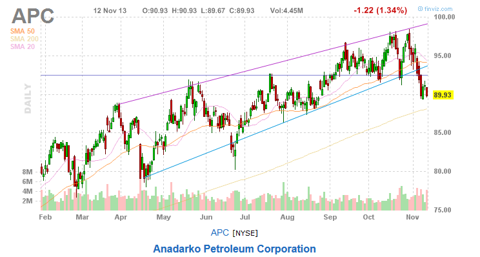 Despite the recent sell-off Anadarko Petroleum is the best performing independent oil- and gas exploration company in the peer group depicted below. Anadarko has returned 137.78% over the last five years and 28.03% in the last year allowing Anadarko to take home the gold medal. Over a two year period only Marathon Oil (NYSE:MRO) performed better with a return of 29.45% and Anadarko comes in second with 13.43%. Apache Corp. (NYSE:APA) has faced some challenges on its own relating to its Egypt exposure and $16 billion acquisition spree it went on over the last couple of years. Suncor Energy (NYSE:SU) and Occidental Petroleum (NYSE:OXY) also made shareholders happy with five-year returns of 84.43% and 98.46% respectively. Devon Energy (NYSE:DVN) is a true underdog with negative performances over a two- and five year measurement period. Anadarko's strong run-up in price has made the company comparatively expensive and investors pay a decent-sized growth premium in order to profit from the ongoing US shale production boom.

US onshore production driving incremental production growth
As one of quite a few US companies with significant shale exposure, the market expected strong operational results from Anadarko's Wattenberg, Eagle Ford and East Texas plays. The table below from Anadarko's Q3 review shows that oil sales volumes have doubled since 2010 and NGL sales volumes are about to increase 49%. Shale plays in the US are currently regarded as the 'next big thing' and growth expectations are lofty to say the least.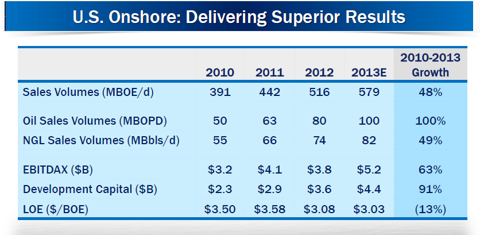 In its news release from November 4, 2013 Anadarko Petroleum summarizes the importance of US shale plays for its incremental production growth:
During the third quarter, Anadarko increased U.S. onshore sales volumes by approximately 61,000 BOE per day over the third quarter of 2012, which includes an approximate 16-percent increase in liquids volumes. The Wattenberg horizontal program, where Anadarko more than doubled sales volumes over the third quarter of 2012, was a significant contributor to this growth. The company also achieved substantial growth in the Eagleford Shale in South Texas and the liquids-rich East Texas horizontal development.

Anadarko also increased activity in the Wolfcamp play in the Delaware Basin of West Texas during the quarter, currently running six operated rigs, compared to none in the third quarter of 2012. Wolfcamp results have been very encouraging with six wells now on production. Each well has demonstrated initial production rates of between 1,000 and 1,600 BOE per day of gross processed production with oil comprising more than 70 percent of the product mix.
Market valuation
High expectations and a run-up in share price have catapulted Anadarko's P/E ratio to 16.81 which is considerably higher than the P/E ratio for other exploration firms in the sector. The peer group average forward P/E ratio stands at 12.51 but is biased upwards by Anadarko Petroleum. Without Anadarko the peer group average P/E ratio would just stand at 11.65. Therefore, Anadarko trades at a 44% premium to the ex-Anadarko peer group average P/E ratio: A rich multiple reflecting very high expectation regarding US onshore production growth.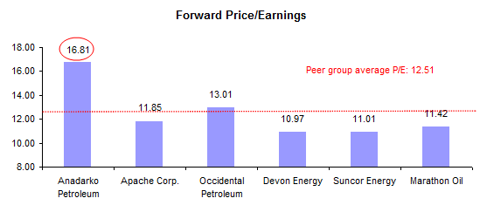 Shareholder value is likely to come in form of capital gains which will reflect future production and sales growth. Dividend investors, however, can find some value in the sector with Occidental Petroleum having the highest dividend yield of all companies in the peer group at 2.68%. Profitability of exploration companies depends largely on the underlying oil-, NGL- and natural gas prices that make exploration companies highly cyclical investments. Cyclical investments do not lend themselves to income-driven investment strategies unless investors have return targets that can withstand fluctuating dividend payments.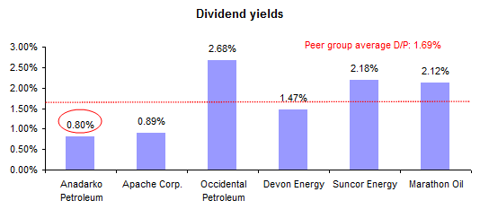 Conclusion
Investors considering an investment in Anadarko Petroleum need to be aware that expectations regarding future production increases are already lofty and, consequently, the growth premium required is fairly high. No doubt, shale plays offer huge potential for companies with concentrated portfolios in the region. However, at some point it becomes harder and harder to impress the market. Anadarko's U.S. onshore sales volumes increased roughly 61,000 BOE per day over the third quarter of 2012 and yet Q3 results triggered a sell-off that sent shares 6% lower. Investors might want to consider alternative oil- and gas exploration companies that do not trade at premium multiples.
I generally expect a continued economic expansion with moderate GDP growth rates in the coming years (from Europe to the US to China) and oil prices above $100 should persist. Oil- and gas explorers, especially ones with US shale exposure, could do very well in such a scenario. However, investors pay a premium price at the moment and Anadarko's share price reaction to Q3 has shown that expectations can be disappointed fairly quickly. Given the high multiple achieved in the market already, investors might want to consider alternative oil- and gas investments with lower growth premiums.
Disclosure: I am long APA, DVN. I wrote this article myself, and it expresses my own opinions. I am not receiving compensation for it (other than from Seeking Alpha). I have no business relationship with any company whose stock is mentioned in this article.