It has been an interesting 76 days since we published our initial research on Harvest Natural (report 1 & report 2) and so we thought it would be instructive to provide an update on our thesis. Our initial research was not popular and we were accused of everything from "working for someone in Houston who wanted to flush some weak hands, and acquire some shares before the announcement" to being a "Bill Ackman wannabe clown." We pride ourselves on having thick skin but we also believe in the mantra: if you don't tell your story someone else will.
Here's a look at how our thesis played out.
Opinion #1: The stake in Petrodelta needs to be impaired
Since our initial report, Harvest Natural (NYSE:HNR) has decided to "go down with the ship" on this one. Our initial articles clearly pointed out the imminent liquidity crunch that HNR faced in regards to its October 1st interest payment. With $0 in revenue and a monthly cash burn in excess of $2m, desperate times called for equally desperate measures. Sentiment was clearly souring after our reports and the stock declined from $5 to $4. We speculate that the HNR crew knew it would be difficult to raise equity at a reasonable price so they threw together an extremely vague press release on 9/11/2013 that announced the company had started exclusive negotiations to sell its Petrodelta stake for $373m. The company then held an absurd conference call later that day that contained no firm details and did not include a Q&A segment. For such a transformational development, a few minutes of Q&A would have been appropriate.
The stock reacted positively and traded up although it never got anywhere near where it should have if the market fully believed this announcement. HNR used the transient bump in the stock price to sell $2m worth of equity on 9/30/2013 at $5.13 per share just in time for the Oct 1st interest payment. HNR also sold another $1.9m worth of equity the next day although this investor drove a harder bargain and bought at $4.82 per share. Neither transaction was registered under the Securities Act. Truly remarkable stuff.
Clearly the market has voted today (stock down -32%) on its interpretation of the HNR story but let's pretend for a second that the ginned up Pluspetrol deal was real. The press release says the stake is to be sold for $373m (we're curious to know what "assumption of certain other obligations" fully entails, if this includes future CAPEX requirement, etc. then the value to HNR would be much less than stated).
Unfortunately for HNR, the stake in Petrodelta is now on the balance sheet at $495.6m! The company actually had the audacity to mark up the Petrodelta stake another +$26m in Q3. This is a significant amount for a company with a market cap of $122m.
The Petrodelta stake has increased in value by +20% in 2013 despite the Pertamina deal falling apart, a Venezuelan currency devaluation, and other companies either abandoning projects or getting assets nationalized. In the words of ESPN, c'mon man!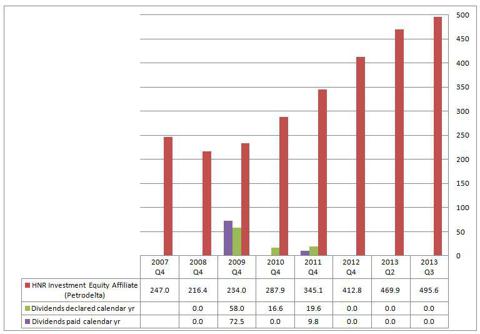 Conclusion: Even if the Pluspetrol deal is consummated, the Petrodelta stake would still need a massive impairment. In an odd way, the 9/11/2013 press release validated our impairment thesis.
Opinion #2: The value of Gabon asset is nowhere near the Wunderlich numbers.
We won't rehash the whole saga but Jason Wangler, an analyst at Wunderlich Securities, upgraded HNR on August 19th and slapped a price target of $9 per share on the stock. In his analysis, he concluded that the Gabon asset was worth $726m (not a typo). Five weeks later, HNR announced that it was in exclusive negotiations to sell this Gabon asset for $123m.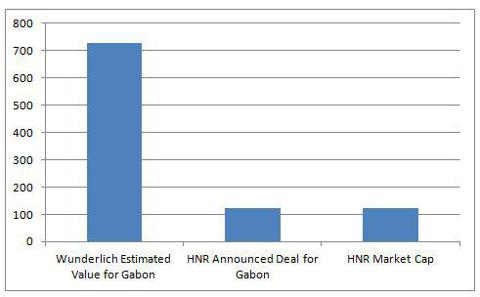 Conclusion: We think the record of history is clear on this one.
Opinion #3: HNR will raise equity
We hate to harp on Wunderlich but they are also on the record as saying HNR would not raise outside capital. On September 30th and October 1st, HNR raised ~$4m in equity. The Q3 earnings call today suggested that additional equity offerings are likely on the way.

Conclusion: We think the record of history is clear on this one too.
There is a big difference between yelling "fire" in a crowded theatre and walking past a dilapidated theatre and saying "gee, that looks like a fire hazard." Ultimately the market will price a stock according to its intrinsic value. It doesn't matter what we say, or Jim Cramer, or anybody else for that matter. We will continue to spend our time and energy highlighting opportunities that we believe are mispriced.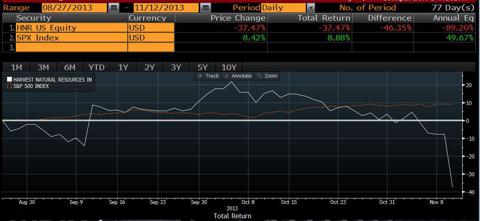 Disclosure: I have no positions in any stocks mentioned, and no plans to initiate any positions within the next 72 hours. I wrote this article myself, and it expresses my own opinions. I am not receiving compensation for it. I have no business relationship with any company whose stock is mentioned in this article.
Additional disclosure: The author and/or employer may buy or sell shares in any company mentioned, at any time, without notice. The information contained herein is believed to be accurate as of the posting date. Readers should conduct their own verification of any information or analyses contained in this report. The author undertakes no obligation to update this report based on any future events or information. This article represents best efforts to convey a fact-based opinion. My conclusions may be incorrect. This is not a recommendation to buy or sell any securities.