Qualcomm (NASDAQ:QCOM) has done a lot right over the last few years and the massive amount of market share in handsets that it has accumulated over the last two years is certainly a testament to this. The company has been absolutely great about integrating its modem blocks with its apps processors and, at the same time, its modem blocks have been far and away the most sophisticated solutions available on the market.
This still holds true today - Qualcomm's latest Snapdragon 800 features an LTE-Advanced modem (category 4, so 150Mbps download speeds possible) built right onto the same piece of silicon. As far as cellular modems go, and as far as integration goes, there are no competitors out today that can really touch Qualcomm at the high end. That being said, the market is desperately looking for a #2 supplier of LTE modems (nobody likes a monopoly), and ironically enough the prime candidate to be this #2 player is Intel (NASDAQ:INTC) (you know, the company that isn't used to being #2 in any of its core markets).
Intel's Latest LTE Efforts: Looking Good, But Not Quite There
Intel finally launched its long-delayed XMM 7160 multimode LTE modem and RF solution. It's built by TSMC (NYSE:TSM) on its 40 nanometer process for the baseband portion and 65 nanometer for the RF portion, and it's a pretty no-frills design. It supports plain vanilla LTE (not LTE-Advanced like Qualcomm's latest modems) and according to Intel's wireless disclosures it will also support category 4 (which means up to 150Mb/sec download rates).
However, this modem is still missing some pretty critical features that keep it out of many key markets. For instance, in the China market, support for TD-SCDMA is critical, and it's something XMM 7160 doesn't support. Intel's modem also doesn't support CDMA (which means that until Verizon (NYSE:VZ) and Sprint (NYSE:S) move to LTE-only networks, phones with Intel's modems are locked out of phones supported by these carriers). To top it all off, it only supports LTE FDD and not LTE TDD which will be popular in Asia.
It's not a particularly highly featured modem and I don't suspect that it will get all that many design wins in handsets (if any...the one major design that's been announced is the Galaxy Tab 3), but it does look like a good first step upon which Intel intends to build rather quickly.
XMM 7260: A Glimmer Of Hope?
Intel has repeatedly claimed that its next generation modem, the XMM 7260, will be available in devices during the first half of 2014. Now, at the recent disclosures (the webcast replay can be found here), I made a very explicit effort to ask about when the next generation modem would be available. Here is the relevant quote:
Ashraf Eassa: When you say first half of 2014, do you mean in products and on shelves or beginning to ship to OEMs for second half of 2014 availability?

Thomas Lindner, Senior Director of Marketing and Product Planning Multicomm: In products.
So, what's interesting about this modem is that, first off, it's built on TSMC's 28nm process (both RF and baseband), so right off the bat that should give some power/performance improvements. But more importantly, the modem supports TD-SCDMA, TD-LTE, and LTE-Advanced. It is also a Category 6 (i.e. 300 Mbps), which is actually ahead of what Qualcomm is shipping today (although no doubt that next year it will likely have a similarly capable modem). Unfortunately, XMM 7260 still doesn't support CDMA (no Verizon/Sprint until these carriers move to LTE-only networks) which may limit the adoption some, but not nearly as badly as what we are seeing with XMM 7260.
Now, if Intel is actually correct and not blinding us with an overly aggressive schedule, then as far as the upper half of the smartphone market goes (i.e. high end that doesn't require integrated baseband), Intel should be in good shape to compete and win designs. Interestingly enough, the LTE phone that Intel demonstrated at IDF wasn't running the clunky 7160 but instead the shinier 7260.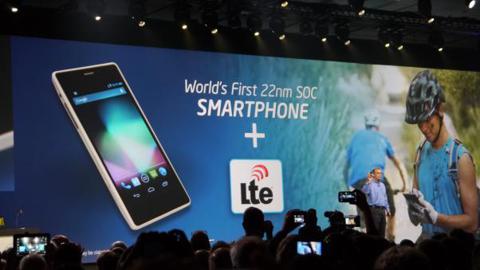 Still No Integrated Part
The biggest flaw with Intel's smartphone lineup even for 2014 is that it is unlikely that Intel will release a part with an integrated cellular baseband. This, unfortunately, keeps Intel out of the very high volume markets dominated by Qualcomm, Spreadtrum (NASDAQ:SPRD), and MediaTek. This integration is key for cost reasons.
Now, at the 2012 Investor Meeting, Hermann Eul and Mike Bell had suggested that a "highly integrated part" codenamed "6331" would have an integrated cellular baseband.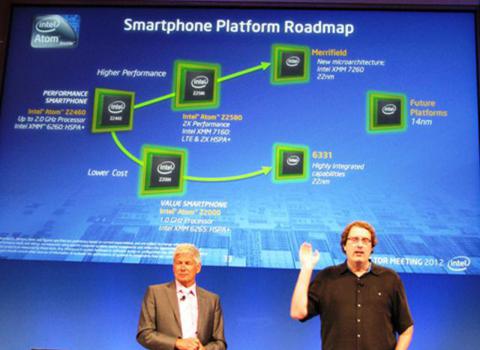 Unfortunately, multiple sources have hinted to me that this part is dead as a doornail. It doesn't surprise me one bit - if this thing were actually still in development we'd have heard something about it by now. In fact, while we did get some hint that such a low end focused part was coming at Mobile World Congress...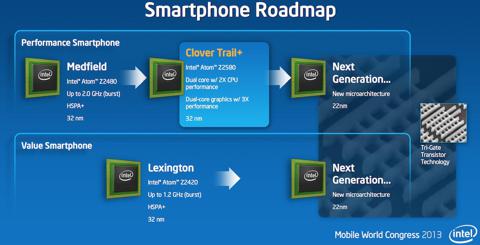 ...no mention was made of this part at Computex.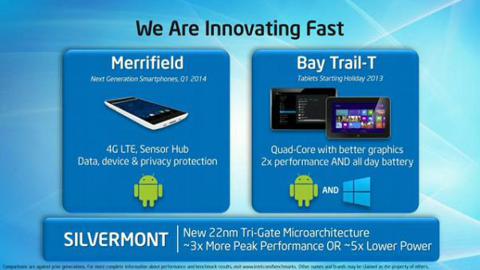 Interestingly enough, on the most recent earnings call, CEO Brian Krzanich actually addressed the topic of an integrated cellular baseband:
So you have got to get the graphics right. You have got to get the connectivity right. You have got to get the comms right. We really have a drive to both our individual IPs correctly there and then to integrate them into the silicon. That's kind of the order that you have to do with it. You have to go get the IP correct. That's why you see our LTE products are standalone now. Then you integrate them in once you get the capability in a standalone product. We will be working on that next year.
It is not likely that we see an integrated cellular baseband + apps processor from Intel until the 14 nanometer generation, and even then I'm pretty skeptical.
Conclusion
Intel has a lot of questions to answer at its upcoming investor meeting in just over a week. The company will likely give a lot more color on its smartphone/comms/integration roadmap, and this will allow investors to get a better sense of what kind of market share gains are possible over what period of time. Make no mistake, Qualcomm is still the leader in smartphones/comms, but Intel is likely to be the #2 player. How aggressive a #2 remains to be seen.
Disclosure: I am long INTC. I wrote this article myself, and it expresses my own opinions. I am not receiving compensation for it (other than from Seeking Alpha). I have no business relationship with any company whose stock is mentioned in this article.