ETF Spotlight on the Schwab U.S. Dividend Equity ETF (NYSEARCA:SCHD), part of an ongoing series.
Assets: $1.3 billion
Objective: The Schwab U.S. Dividend Equity fund tries to reflect the performance of the Dow Jones U.S. Dividend 100 Index, which is comprised of high dividend yielding stocks from companies that have consistently paid dividends for at least 10 consecutive years and are selected based on fundamental strength relative to their peers.
Holdings: Top holdings include Microsoft (NASDAQ:MSFT) 4.9%, Procter & Gamble (NYSE:PG), Johnson & Johnson (NYSE:JNJ) and Exxon Mobil (NYSE:XOM) each at 4.5% and Coca-Cola (NYSE:KO) 4.4%.
What You Should Know:
Charles Schwab (NYSE:SCHW) sponsors the fund and Schwab clients can trade it commission-free.
SCHD has a 0.07% expense ratio.
The fund has 101 components and the top ten make up 41.1% of the overall portfolio.
Sector allocations include consumer staples 26%, industrials 19.4%, information technology 12.9%, energy 12.3%, healthcare 11.8%, consumer discretionary 8.8%, materials 3.2%, financials 2.4%, utilities 1.7%, and telecom services 0.5%.
Market capitalization breakdown includes mega-cap 61.1%, large-cap 32.0%, and mid-cap 6.3%.
SCHD has a 2.58% 12-month yield.
The ETF is up 7.9% over the past month, up 4.6% in the last three months and up 28.7% year-to-date.
The fund is 8.0% above its 200-day exponential moving average.
"SCHD is a dividend strategy ETF that target quality stocks instead of high yield or dividend growth," according to Morningstar analyst Abby Woodham.
"Although SCHD may lag riskier funds during market upswings, its holdings are better positioned to weather economic uncertainty," Woodham added.
The Latest News:
U.S. stocks inched higher on Veteran's day in listless trading.
"Today's going to be very light because it's a holiday for many people," John Carey, a portfolio manager at Pioneer Investment Management, said in a Bloomberg article. "People will be watching over the next few weeks to see if the Fed does decide to begin tapering this year. If earnings continue trending higher, the support will be there for better share prices."
Looking ahead this week, market observers are waiting on retail sector earnings.
"Investors want to know the strength of the U.S. consumer going into what might be a tepid holiday season," Alison Porter, U.S. equities fund manager at Ignis Asset Management, said in the article. "Consumer spending has been fairly restrained. With big retailers like Wal-Mart and Home Depot yet to report, we'll want to see whether that has picked up."
Schwab U.S. Dividend Equity ETF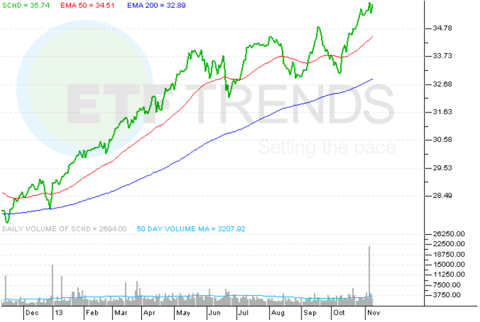 Max Chen contributed to this article.
Tom Lydon's clients own shares of SCHD, Coca-Cola, Microsoft and P&G.
Disclosure: I am long SCHD, MSFT, KO, PG. I wrote this article myself, and it expresses my own opinions. I am not receiving compensation for it. I have no business relationship with any company whose stock is mentioned in this article.