So far in this series I've profiled six of General Electric's (NYSE:GE) eight segments: Home And Business Solutions, Transportation, Healthcare, Energy Management, Power And Water, and Oil & Gas. In this article, we'll take a look at GE's robust Aviation business in an attempt to assign it a standalone value.
GE's Aviation business is the gem of the bunch on the industrial side, in my view, as its reputation for quality and sheer size and profitability make it an extremely attractive business. The Aviation business basically sells all kinds of aviation engines including jet and turboprop units as well as provides maintenance, repair and overhaul services under long-term contracts. In addition to these businesses, Aviation produces aerospace systems and equipment including landing gear and power generation products.
Note: In order to save some space here, for an explanation of the methodology I'm using to value these businesses, please see Part I, Home and Business Solutions linked above.
To begin our analysis, I've shown Aviation's operating results for the past six years below.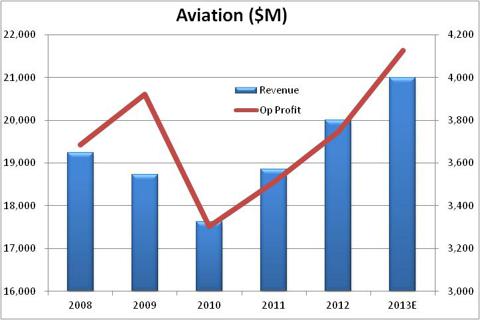 As you can see, there are a few impressive traits about Aviation we can see in this chart. First, this business is huge; my estimate for 2013 revenue is $21 billion. Second, the segment is experiencing terrific growth in revenue. After the financial crisis, revenue dipped from $19+ billion to less than $18 billion but has since rebounded to $21 billion. For a business this size growing revenue at a 5%+ rate is exemplary.
However, the most impressive thing on this chart is the segment's operating profits, which we can see with the red line. After dipping due to the fall in revenues in 2010, operating profits have soared each year since to my estimate of nearly $4.2 billion in 2013. We can also see a very direct relationship between revenue and operating profit suggesting that this segment must have terrific operating leverage. In other words, GE's margins on this business must be very good in order to produce so much incremental profit from additional sales and if we look below, that is exactly what we see.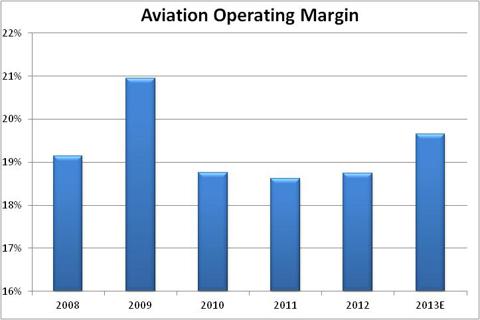 GE's operating margins on this business are outstanding, coming in at nearly 20%. The other thing to notice about operating margins for Aviation is that not only are the margins prodigious but they are very stable as well. We see margins of 19% for all years except 2009 and this year when both figures are actually higher. This is a tremendously desirable margin profile as Aviation sports very high margins that also happen to be very stable. This bodes well for the standalone value of this business, as we'll see now.
In order to compute the standalone value for Aviation, we have to include the integration of the Avio aviation acquisition earlier this year. Avio's 2012 standalone numbers were revenue of $2.2 billion and $500 million of EBITDA. Thus, using my estimate for 2013 revenue of $21 billion for Aviation and $4.125 billion in operating profits, we get pro forma 2014 numbers of $23.2 billion in revenue and $4.6 billion in operating profits, respectively.
Since Aviation has an extremely attractive margin profile, very high and stable margins, along with very nice organic and acquisition-fueled growth, this business would likely attract an earnings multiple premium to the broader market. Since we know the S&P 500 (NYSEARCA:SPY) has an earnings multiple of 15, this business, with its growth and strong operating leverage, would likely command a 20 to 22 earnings multiple if it were a standalone business. If we apply the midpoint of that range to my operating earnings estimate assuming the full integration of the Avio aviation purchase and apply the same 25% tax rate I've been using throughout this series, we are left with an implied standalone value for Aviation of $72.5 billion. While this is a gargantuan sum of money for one line of business it is also warranted. GE's Aviation business is the crown jewel of the industrial side of GE and it provides enormous profits and revenue growth for the long term.
In the next article, the segment analysis will conclude with a piece on Capital. So far in the series I've profiled each of GE's seven industrial segments: Home and Business ($3.8 billion), Transportation ($18.6 billion), Healthcare ($38 billion), Energy Management ($1 billion) Power and Water ($65 billion), Oil & Gas ($26.3 billion), and in this article, Aviation ($72.5 billion). After profiling Capital, we'll take a look at all segments' aggregate value and compare it to GE's current market cap.
Disclosure: I am long GE. I wrote this article myself, and it expresses my own opinions. I am not receiving compensation for it (other than from Seeking Alpha). I have no business relationship with any company whose stock is mentioned in this article.