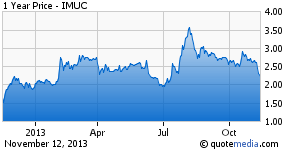 In reference to Immunocellular Therapeutics' (NYSEMKT:IMUC) first clinical trial, an article was published yesterday that stated:
For example 3 of 16 patients or 19% were alive at five years which compares to about 4% for standard of care.
This is wrong, the correct number is 7 per the results of the ICT-107 follow-up study that will be presented at the World Federation of Neuro-Oncology meeting on November 23.
That 7 of 16 glioblastoma patients survived five years is unheard of - glioblastoma is one of the deadliest of cancers.
This is new, previously undisclosed information, and is very encouraging for ICT-107's current pivotal Phase IIb trial.
Here is the background from the presentation synopsis, we offer it as a balance to the misinformation propounded the last few days:
BACKGROUND: We previously reported that expression of four ICT-107 targeted antigens in the pre-vaccine tumors correlate with prolonged survival as measured by PFS and OS in newly diagnosed GBM patients. (Cancer Immunol Immunother 2013 Jan;62(1):125-35). Here, we analyzed 7 patients still living after 5 years, for immune response, cancer stem cell (CSC)-targeted tumor-associated antigen (TAA) expression, PFS and OS. PATIENTS AND METHODS: ICT-107 is an autologous vaccine consisting of patient dendritic cells pulsed with six TAA peptides from AIM-2, TRP-2, HER2/neu, IL-13Ra2 (overexpressed on CSC), gp100, MAGE1 administered intradermally three times at two week intervals to HLA-A1 and/or HLA-A2 positive GBM patients after a standard therapy with concurrent Temozolomide and radiation therapy. RESULTS: Seven patients of 16 GBM patients are alive at 56, 60, 60, 62, 66, 73, 79 months. Of the 16 patients, 6 were disease free over 5 years. One of these 6 patients later died from leukemia without recurrent GBM and one progressed at 62 months. Four patients are still disease free. TAA expression by qRT-PCR showed 7 patient tumors expressed at least 5 TAA with 86% expressing all six and 100% of 4 antigens (AIM-2, TRP-2, HER2/neu, IL-13Ra2). Immune response data available on 6/7 patients showed 66% responders in comparison to 22% responders of 9 expired patients (> 1.5 fold increase IFN g production after vaccination = responder by tetramer/FACS; P = 0.119, Fisher's Exact test). While long term remission and survival was seen in this 16 GBM patients, median PFS was 16.9 months, 5-year PFS was 37.5% (95%: 15.4-59.8), median OS was 38.4 months and 5-year OS rate was 50% (95% CI: 24.5-71.0).
We are on record that Immunocellular is one of the best risk vs. reward stocks in the market. This new information, combined with the misinformation and sell-off of the last couple of days, makes IMUC an even more compelling bargain.
Disclosure: I am long IMUC. I wrote this article myself, and it expresses my own opinions. I am not receiving compensation for it (other than from Seeking Alpha). I have no business relationship with any company whose stock is mentioned in this article.