Occidental Petroleum (NYSE:OXY) is another independent oil- and gas exploration company that is worth a look. The company presented very solid Q3 results which were driven by higher realized oil prices and increased sales volumes in the US. Core income for the third quarter of 2013 stood at $1.6 billion vs. $1.3 billion in Q2 2013 (plus 23%) and vs. $1.4 billion in Q3 2012 (plus 14%). Core diluted EPS increased to $1.97 from $1.58 in Q2 2013 (plus 25%) and from $1.70 a year ago (an increase of 16%). Total production stood at 767,000 Boe/d compared to 772,000 Boe/d in the second quarter of 2013. It is noteworthy that Occidental's improvements in core income was driven without major increases in oil and gas production.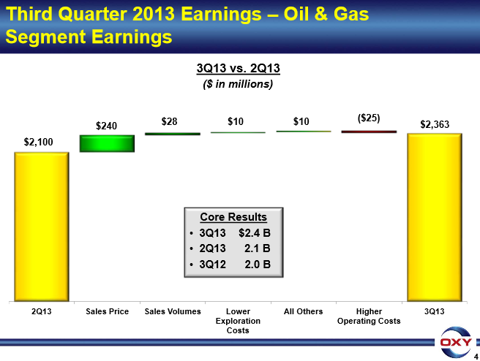 Production costs trending downward
Since Occidental did not post the kind of production increase that came from other companies in the third quarter, such as Anadarko Petroleum (NYSE:APC), a focus on reducing costs is even more relevant for Occidental Petroleum. The company aims to deliver cost savings in the range of $500 million per year. Though domestic production costs have been slightly upward trending in the last quarter, the trend shows significant improvements in reducing dollar production costs per boe. Since 2012 domestic production costs have been reduced from $17.43 to $14.33 YTD: A decline of 18%. Total production costs over the same time period decreased from $14.99 to $13.64 in 2013 (a decrease of 9%): Occidental's original plan aimed at reducing total production costs to $14.00 per boe in 2013 and has therefore already achieved its goal. Occidental wants to reduce total production costs to $12.84 per boe which would increase operational efficiencies and increase return on capital.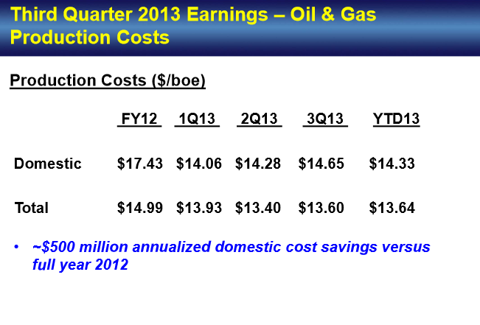 Streamlining, downsizing and re-focusing business
Probably the most distinguishing characteristic of Occidental Petroleum is its focus on Middle Eastern oil- and gas production particularly in Oman, Qatar and the United Arab Emirates. In all those countries, Occidental has an impressive record of increasing gross production and has demonstrated the capability to deliver large amounts of free cash flow. As part of a strategic review Occidental Petroleum has decided to sell minority stakes in its Middle Eastern and North African operations and instead pursue oil- and gas opportunities in the United States. Relevant areas of interest include the Williston Basin, the Hugoton Field, the Piceance Basin and Rocky Mountain assets. The shale oil- and gas boom currently promises stunning production growth rates and with a strong position in Williston and Permian it makes sense to deploy more capital at home than to expose it to political risk in other countries.
The company has reaffirmed in its Q3 presentation that it intends to become a leaner organization with a lower risk profile. It also sold a part of its investment in the General Partner of Plains All American Pipelines (NYSE:PAA). Occidental expects proceeds from divestitures to be used for debt reduction, share repurchases and investments in new oil- and gas opportunities in the US.
Market valuation
Occidental's strategic repositioning offers investors the opportunity to get exposure to an oil- and gas company which intends to become a larger shale player in the US. The transition to a lower risk business model will take time but investors still have the chance to purchase Occidental Petroleum at a forward P/E of 13. If the company succeeds in developing strategic alternatives with additional acreage, the company has substantially more room to grow its equity valuation.
The oil- and gas peer group below consists of Anadarko Petroleum, Apache Corp. (NYSE:APA), Devon Energy (NYSE:DVN), Suncor Energy (NYSE:SU) and Marathon Oil (NYSE:MRO). The peer group currently has an average forward P/E of 12.51 and Occidental Petroleum trades at a slight 4% premium to the average P/E. Occidental also has a dividend yield of 2.68% which is the highest in the peer group.

Conclusion
Occidental Petroleum currently undergoes a shift in production footprint. The company intends to become a smaller, more cost-efficient company with more exposure to the US rather than higher-risk geographies. Further divestitures and debt reductions as well as share repurchases will likely drive shareholder value. The purchase of new acreage in high-impact regions could be a substantial catalyst for Occidental's share price. The market currently values Occidental Petroleum at 13 times forward earnings. Should Occidental Petroleum succeed in repositioning its operations, above-average EPS growth could quickly justify higher valuations and higher multiples as well. Long-term Buy on streamlined operations, potential catalysts with regard to new exploration projects and a low earnings valuation.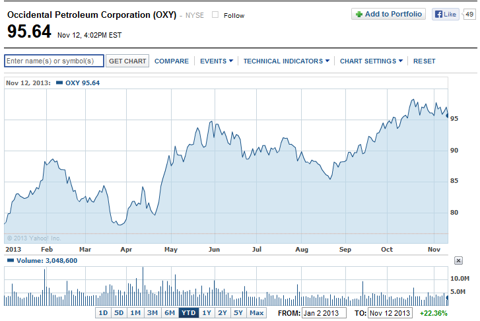 Disclosure: I am long APA, DVN. I wrote this article myself, and it expresses my own opinions. I am not receiving compensation for it (other than from Seeking Alpha). I have no business relationship with any company whose stock is mentioned in this article.