Veolia Environnement (VE) is a global reference in the environmental services sector, offering water, waste and energy services worldwide. Currently, its high-dividend yield of 5.6% seems attractive for income investors, especially as the company is going through a turnaround process which should provide a sustainable dividend over the long-term. Veolia is traded in the U.S. on the New York Stock Exchange and has currently a market capitalization of $9.2 billion.
Company Overview
Veolia is French company being a world leader in the environmental services sector. The company was founded in 1853 and has nowadays more than 220,000 employees around the globe. The company was part of Vivendi (OTCPK:VIVHY) but in 1999 was separated from the group as Vivendi Environnement, to better distinguish its communications and environmental businesses. In 2003, the company changed its name to Veolia Environnement, and in 2006 Vivendi no longer held any shares in Veolia Environnement. Veolia's closest competitor is Suez Environnement (OTCPK:SZEVY), which compete especially in France to provide municipal and industrial waste and water services.
Currently, Veolia offers customized solutions in three complementary business areas: water management, waste management and energy management. In water management, it offers water and wastewater services for municipal and industrial clients and the design/build of technological solutions and facilities necessary to deliver water and wastewater services. In waste management, it manages municipal and industrial waste processes, from flow logistics upstream to technologically advanced treatments downstream. Its energy management business provides management of heating and cooling networks, optimization of industrial utilities, and improvement of building energy performance. Through these divisions, Veolia Environnement currently provides drinking water to 101 million people and treats wastewater for 71 million people in the world, processes nearly 54.4 million tons of waste, satisfies the energy requirements of hundreds of thousands of buildings for its industrial, public authority and private individual customers.
By business segment, Veolia's largest business segment in 2012 was water accounting for about 41% of its revenues, followed by environmental services (waste management) with a weight of 31% on the group's revenues, and Energy accounted for 26%. By geography, France is still the company's largest market accounting for more than 40% of its revenues. The Rest of Europe was responsible for close to 36% of Veolia's revenues. The U.S. is responsible for 6.1% of revenues.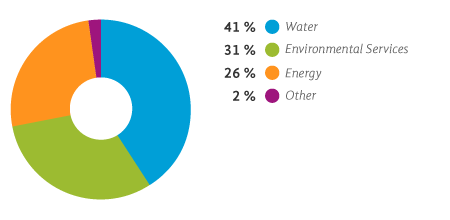 Regarding its financial performance, Veolia's revenues increased by 2.8% in 2012 to more than $39 billion despite a challenging macroeconomic environment in Europe. This resilient performance is justified by a substantial portion of its activities involving long-term contracts providing repeat business and visibility. Its profitability remained stable with an EBITDA margin at 11%, or about $4.4 billion. Its net profit improved to $525 million in the past year, compared with a loss of $650 million in 2011. During the first nine months of 2013, Veolia's revenues decreased by 3.9% to $21.5 billion impacted by a weak economic backdrop in France.
Veolia started a transformation plan at the end of 2011, focusing its business activities on a smaller number of activities and countries to achieve higher efficiency, targeting savings of more than $600 million by 2015. This transformation program involves three aspects: restructuring operations to reduce debt, simplifying and tightening the company's organization and cutting costs. It is also divesting from the transportation business, water activities in the United Kingdom and solid waste activities in the U.S. through asset disposals of about $8 billion over two years. Part of this target was already met with the disposal of the U.K. and U.S. businesses, generating a cash inflow of about $5 billion. The company recently reached an agreement to switch part of its Energy business in France (Dalkia France) to EDF (OTCPK:ECIFY), in exchange for the international part of Dalkia for $730 million. With this transaction, France's weight on Veolia's revenues will decrease to around 34%. Veolia expects to close this transaction in mid-2014.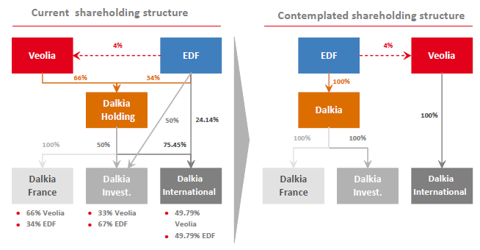 Going forward, Veolia wants to expand its business in the most dynamic sectors and markets, targeting by 2015, at least half of its revenues generated in growth markets, namely in Eastern Europe, Asia, Middle East and Latin America. Currently, these markets account for only one-third of Veolia's revenues and should be the company's growth engine over the coming years. This growth should be supported by a growing global population and an increase of urban populations in emerging countries over the long-term, increasing therefore the demand for environmental services provided by Veolia.
Dividends
Veolia's dividend history isn't impressive, given that it cut its dividend by 40% in 2011 to €0.70 ($0.93) per share. The dividend has remained stable since then and should continue unchanged at least for the next two years. At its current share price, Veolia offers an attractive dividend yield of 5.6%. Its dividend payout ratio was 90% in 2012, which is a high ratio and a cause for concern. However, Veolia's earnings-per-share should be close to bottom, so the dividend payout ratio should improve to more sustainable levels over the coming years.
Veolia's cash flow generation is good, given that in 2012, it generated more than $3.6 billion in cash from operations. However, the company has had over the past few years a heavy investment cycle, leading to high capital expenditures [capex]. In 2012, its capex amounted to $4.4 billion but should decline to only $2.2 billion in 2013, following its asset disposals and lower capex needs after the completion of its investment cycle. According to analysts' estimates, Veolia should return to positive free cash flow in 2014, resulting in a more sustainable dividend going forward.
One of the company's turnaround goals is to reduce the company's indebtedness. In 2012, Veolia reduced its net debt by $4.5 billion to about $15 billion, mainly through asset disposals. Its goal is to decrease its net debt further, to be between $10.5 and $12 billion by the end of 2013, compared to $12.8 billion at the end of September, 2013. Its net debt-to-EBITDA ratio decreased significantly from 4.6x in 2011, to 3.5x at the end of 2012. Its goal is to achieve a leverage ratio of 3x, which seems conservative given its improved cash flow profile and remaining asset disposals expected.
Conclusion
Veolia offers an attractive dividend yield of 5.6%, which is partially supported by its turnaround plan. However, its sustainability is not assured over the long-term, both from a earnings and cash flow perspective. If Veolia is able to successfully implement its cost cutting and turnaround plan over the next two years, its dividend sustainability will improve considerably. On the other hand, the margin for error is quite low and if operational figures don't improve, the dividend may be at risk. Therefore, Veolia seems attractive for investors who want to play the European recovery theme, but it is not appropriate for those looking for safe long-term income.
Disclosure: I have no positions in any stocks mentioned, and no plans to initiate any positions within the next 72 hours. I wrote this article myself, and it expresses my own opinions. I am not receiving compensation for it (other than from Seeking Alpha). I have no business relationship with any company whose stock is mentioned in this article.