Since 2004, the global economy's sustainable growth rate has been significantly hindered by surging fuel costs. With increased fuel consumption costs comes higher shipping costs, which means higher costs for producers and suppliers, and ultimately higher per unit costs of goods purchased by consumers. According to a study conducted by the U.S. Department of Transportation, fuel represented 20% of operating transportation expenses in year 2000, at costs of roughly $60 per barrel. With current costs of roughly $95-$100 per barrel, fuel now represents roughly 35% of transportation operating costs worldwide.
From the perspective of an individual consumer looking to mitigate the burden of increased fuel costs on budgets, there are two outcomes that arise from the problem of having to spend larger amounts of income on fuel, both of which we are in full control of. Number one, we can continue to acknowledge the increase in fuel prices and do nothing, further allowing the burden to continually inhibit consumption and saving. Or two, we can look to invest in those companies who benefit from the increase in oil prices, and with increased earnings comes a hedge for the burden we are constantly trying to minimize.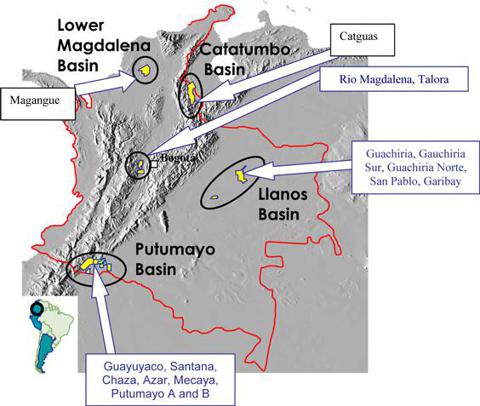 Oil and exploration companies generate earnings by utilizing the company's talents to identify areas where hydrocarbons are located, bidding for and ultimately purchasing the land which is needed for the extraction, and selling the oil. From one exploration project to the next, high levels of spending are required to start new projects. Therefore, those companies who are able to fund these projects at the lowest cost will be able to attain the highest margins.
Gran Tierra Energy (NYSEMKT:GTE) is based out of Canada and conducts oil exploration in Columbia, Peru, Argentina, and Brazil. All of these countries have undergone highly substantial regulatory reforms in the past ten years in order to induce and facilitate the exploration of natural resources in the country, to further meet the needs of domestic demand and increase economic expansion through royalties collection.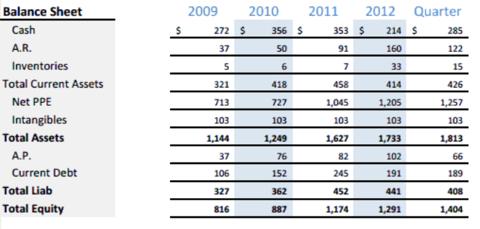 With the ability to take on any project at any time utilizing in house financing, Gran Tierra Energy is as nimble and equipped to meet increasing demand as we could ask for. This company has the gold, and therefore makes the rules. We would also like to point out the increasing level of accounts receivable as well as the increasing inventory. Ecopetrol is the main purchaser of oil from Gran Tierra and accounts for roughly $50 million of those receivables, the rest of the receivables are due to a new customer in Columbia and increased oil and gas sales in Argentina. We expect this build up to reverberate across Tierra Energy's bottom line through 2016, and reassures us the company is set up for future revenue growth. The inventories are the product of rapid increases in production.

We want to point out the level of cash on hand, because in addition to its free cash flow generating abilities, these are two of the biggest reasons Gran Tierra has been able to attain the margins that more than double the industry. It is also unique to notice that this is something it has done across many different metrics and measures in relation to margin. In an industry such as this it is extremely rare for this to occur.

The companies utilized in the above graphic are a few other oil and exploration companies we have been researching. While none of them are direct competitors with Gran Tierra, in terms of size and age we view them as being the best companies to use for comparison. We want you to notice Gran Tierra's funds generating ability and cost managing effectiveness we have harped on in comparison to other oil and exploration companies of similar size. This is exhibited by the lack of drop off when looking at revenue per well and gross profit per well. The difference between the two measures is cost of goods sold costs and we can see the drop off is far less for Gran Tierra. The company has a total of 105 net wells, with only three in Brazil and zero in Peru. The acquisition of roughly 6,000,000 acres in Peru was due to the company's oil discovery in the area earlier this year, contracts have since been secured as Gran Tierra has begun extraction and is currently testing the oil in order to see how viable it is. During the 2013 Q2 earnings call CEO Dana Coffield made the statement "Gran Tierra Energy is in the midst of one of our most exciting years in terms of potential reserve and production growth." And we see why with roughly 22,000 BOEPD produced during the first six months of 2013 up 57% from 14,000 BOEPD for the same period of 2012. Funds from operations were also up to $200 million from $116 million in the same period a year earlier due to the increased production in sales and the decrease in general and administrative expense.
The numbers should be attributed to the production from the Moqueto fields in southern Columbia, and with the limits of the field still yet to be found, the end is not near in terms of the derivation of value to be extracted. Earlier this year the company also successfully bid for 3 blocks in Brazil, increasing the company's acreage to roughly 47,000 in the area. In addition, newly drilled wells in Argentina were successfully tested this year and drilling is expected to start by end of year. These are just a few of the occurrences attributable to what caused production and sales to grow 47% from this time 2012, and why the sales growth does not appear to be in danger of slowing down.
While the Moqueto fields seem to be what management perceives as being the driver of future growth for Gran Tierra, Miraflor west, another well on the Guayuyaco block is supposed to take off by end of year. There are many blocks the company is incredibly excited about and rightfully so, that will continue to fuel the company's success. The biggest risk though are the blocks that Gran Tierra has taken over operations of. Not to make them sound presumptuous but when a major firm in the space like ConocoPhilips (NYSE:COP) decides to pull out of operations a firm should take notice. Conoco pulled out of the area under pressure from Achuar Indians, who protested at the company's Houston headquarters wearing traditional robes and headgear and lobbied shareholders.
According to a Wall Street Journal article:
"We aren't interested in operating counter to the interests of the [local] population," says a ConocoPhillips spokesman.
Gran Tierra could soon be embroiled in contentious public relations debates with indigenous people in Peru. Phillips pulled out because the indigenous people actually came and protested in full regalia at their Houston headquarters, now even the trip would be much further to Gran Tierra, the effects most likely would not be much different. This is beyond the fact that the areas in this region have a history of being mistreated and Gran Tierra might have just stepped in it. The big thing to remember with all of this though is that much like with the BP (NYSE:BP) oil spill the person who owns an area when an issue arises is responsible in the eye of the public, it doesn't matter how little damage they actually did. As bad as this seems though the fact is that there has not been a disaster on any scale to cause any other firms to take major steps back, just a situation to keep on the radar.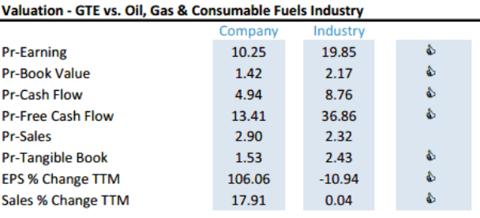 You can identify a company as the greatest money generator in the world, but if everyone already knows about it, and the price isn't right, there will be nothing to benefit from. We are rather sure the market has it wrong in reference to Gran Tierra. The recent performance by the company is not a common phenomenon, yet the company still trades at a discount. Sales and earnings this past year have been astronomical. The cash flow generating abilities of Gran Tierra is what establishes it as a powerhouse among its industry. Even though Gran Tierra is not an Exxon Mobil (NYSE:XOM) or a Shell (NYSE:RDS.A) (NYSE:RDS.B)in terms of market share and capital resources, the company should be trading at an industry average P/E of 19 with the future field prospects we spoke about earlier. With current utilization of wells and projects underway we see no reason why the production should slow before the end of 2016.
Another great metric to use when looking for neglected companies is whether or not analysts have failed to properly forecast earnings.
| | | | | |
| --- | --- | --- | --- | --- |
| Earnings History | 12-Sep | 12-Dec | 13-Mar | 13-Jun |
| EPS Est | 0.11 | 0.13 | 0.16 | 0.14 |
| EPS Actual | 0.16 | 0.15 | 0.2 | 0.17 |
| Difference | 0.05 | 0.02 | 0.04 | 0.03 |
| Surprise % | 45.50% | 15.40% | 25.00% | 21.40% |
Gran Tierra not only beat earnings estimates four out of the last four quarters but beat them by an average of 26.83%. 2014 year end estimates are $.69 per share. With analysts proven inability to accurately forecast earnings for Gran Tierra combined with off the charts recent performance from outstanding bidding, project completion, and exploration activities by the company, we are going to say that Gran Tierra has a high probability of beating estimates again. We project the company will do so by at least 15% again, and we will grow the earnings estimate of $.69 per share by 15% to attain an estimate of $.80 per share. Apply an industry average multiple of 19, and we attain a 2014 year end share price of $15.30.
Disclosure: I have no positions in any stocks mentioned, and no plans to initiate any positions within the next 72 hours. I wrote this article myself, and it expresses my own opinions. I am not receiving compensation for it (other than from Seeking Alpha). I have no business relationship with any company whose stock is mentioned in this article.
Additional disclosure: AlphaStreetResearch is a team of Investment Research Analysts. This article was written by Mr. Hunter Orr, Director of Research, with research assistance from Mr. William Hambley, Junior Research Analyst.