Economic news out of China was not too good last night and caused Asian markets to retreat strongly. European markets are following through with that price action this morning, but we would like to point out for our readers with China exposure that not all news was bad last night. Sina.com (NASDAQ:SINA) came out with their quarterly results and blew away the EPS consensus figures and provided guidance which puts them with Baidu (NASDAQ:BIDU) as the two names in the leadership category for Chinese internet stocks. In the lesser categories we would include Sohu.com (NASDAQ:SOHU), Youku Tudou (NYSE:YOKU), and Changyou.com (NASDAQ:CYOU).
Chart of the Day:
Investors did not like the news out of China regarding their plans for the next few years as it pertained to economic growth and the price action in Asian markets highlight that. Although the Shanghai Composite has been a poor performer after hitting highs earlier in the year there have been some bright spots, including their internet sector.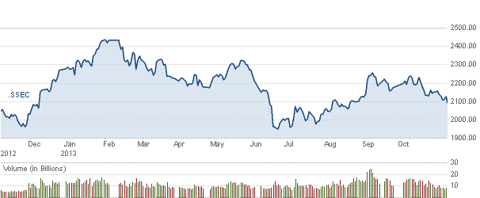 Source: CNBC
We have economic news today and it is as follows:
MBA Mortgage Index (7:00 a.m. EST): Est: N/A Actual: -1.8%
Treasury Budget (2:00 p.m. EST): Est: N/A
Asian markets finished lower today:
All Ordinaries -- down 1.37%
Shanghai Composite -- down 1.83%
Nikkei 225 -- down 0.15%
NZSE 50 -- UNCH
Seoul Composite -- down 1.60%
In Europe, markets are trading lower this morning:
CAC 40 -- down 0.87%
DAX -- down 0.70%
FTSE 100 -- down 1.32%
OSE -- down 0.52%
Winners & Losers Shaking Out?
In late October those who were invested in the Chinese internet names were surprised when both Changyou.com and Sohu.com reported results which left a lot to be desired. In both cases investors were caught off guard and the next day saw the entire sector get hit as there was fear that advertising dollars were drying up and the growth rates would be slowing for the sector. Our opinion was that one should not just the entire sector on two reports from second tier names, but rather wait until we heard from some of the industry leaders, especially Baidu which we thought would beat.
At the time it sounded crazy, and some readers were pretty surprised we would have that type of confidence in a name like Baidu when its counterparts in China were having issues but it all ended up playing out like we anticipated it would - with mobile paving the way higher - and readers benefited from the call.
This pullback is giving investors another shot at accumulating shares in Baidu at reasonable prices, nibbling here would not be a bad thing as there is established support around these levels.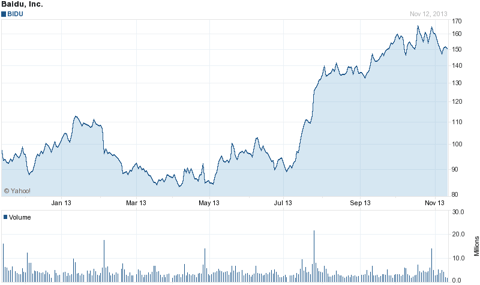 Source: Yahoo Finance
See simply being in the game like Sohu.com, Changyou.com and Youku Tudou is not enough. Moving forward companies need to have something that they are focus upon and doing really well. With Baidu that happens to be mobile and with Sina it is the company's Weibo microblogging service and a partnership with Alibaba, the gigantic Chinese internet company which is seeking to do an IPO in early 2014 in either Hong Kong or the US.
Based on the latest quarter it appears that Sina has now put its name into the discussion of top internet names in China due in large part to their Weibo service which is somewhat like Twitter. Alibaba purchased a portion of the site and is helping monetize its ad space and according to Sina investors should see revenues from mobile increasing in the coming quarters as Alibaba shifts advertising spending towards the mobile user. A few key takeaways from Sina's results show that the company saw revenues come in at a record high of $184.6 million (versus guidance of $176-180 million), net income of $25.4 million (versus consensus of $22.8 million), and a continued search for mobile properties which the company can buy. The most exciting news was probably the revenue guidance for Q4 which the range is $190-194 million and if the company hits anywhere within that range will provide for yet another record revenue quarter.
Sina's conference call transcript can be located here.
We remain bullish a few of the Chinese internet names, especially with the Alibaba IPO approaching, however we would be very selective in those names to include in a portfolio at this time. We still like Baidu and Sina and would stay long there, but would shy away from names that have underperformed as of late such as Sohu.com, Youku Tudou and Changyou.com to name a few.
Disclosure: I have no positions in any stocks mentioned, and no plans to initiate any positions within the next 72 hours. I wrote this article myself, and it expresses my own opinions. I am not receiving compensation for it (other than from Seeking Alpha). I have no business relationship with any company whose stock is mentioned in this article.