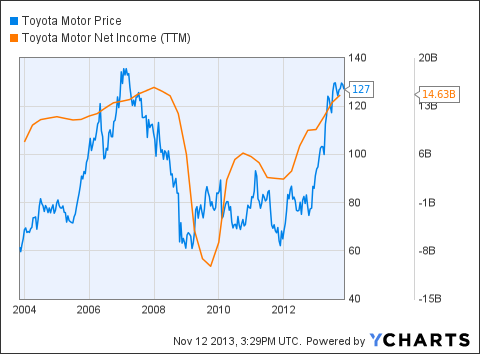 Probably a bit overlooked when viewed next to the General Motors (NYSE:GM) turnaround story or the hype surrounding Tesla Motors (NASDAQ:TSLA), Toyota Motor (NYSE:TM) has been putting up some solid numbers. While the shares are not too far from their highs, they aren't expensively valued. It currently has a P/E of 14 and trades at about 10.5 times projected fiscal 2014 earnings.
Quarterly vehicle sales were basically unchanged, as 2.24 million vehicles were sold in comparison to 2.25 million a year ago. For the first 9 months of 2013 7.41 million vehicles were sold, also roughly unchanged from a year ago. The numbers were still higher than GM though, allowing Toyota to retain the title of the world's top selling automaker.
Nevertheless, net profit for the quarter was $4.4 billion/¥438.4 billion and full year profit outlook is $17.2 billion/¥1.67 trillion, just shy of its ¥1.72 trillion record realized in its fiscal year ending March of 2008. Its quarterly earnings of $1.40/¥138.26 per share represented very close to a 70% year over year gain while net income impressively did hit over a 70% gain.
There are two main catalysts responsible for Toyota's recent results:
Cost Cutting
Cost cutting activities contributed to a $707 million/¥70 billion improvement in operating income for the quarter. Efforts to use standardized parts across a greater range of models have been finding some of the best success. Reduced costs from some suppliers have also given solid help.
Having ramped up cost-cutting measures for a few years, it was kicked into overdrive after the global recession as Toyota posted a loss for the first time in about 70 years. During this time is when it initiated its "Emergency Profit Improvement Committee." Toyota has fortunately done all it can to avoid terminating employees, but some losses were unavoidable, marking the first time since the 1950s this action was taken.
Japanese Yen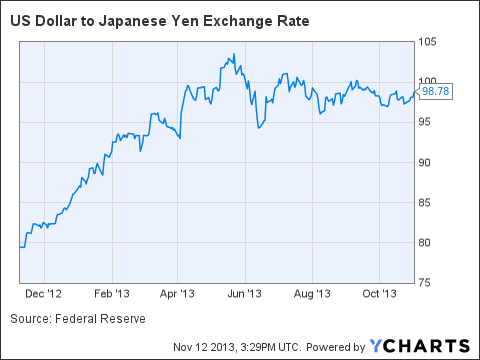 US Dollar to Japanese Yen Exchange Rate data by YCharts
Positive currency movements contributed to a $2.8 billion/¥280 billion improvement in operating income for the quarter. Moving forward you can expect the Yen to play a substantial part in its improving results. The company's projections with the Yen are rather conservative. They forecast an exchange rate of 95 Yen per USD for the rest of their fiscal year. At approximately 99 currently, currency analysts view the trend towards a weakening Yen intact thanks to Japanese government anti-deflationary actions. Many put it at the 105-110 level by the New Year or shortly after. As nearly 50% of Toyota's production is exported from Japan, they would stand to benefit nicely.
Titled "Abenomics" after new Prime Minister Shinzo Abe, efforts to finally improve Japan's macroeconomic problems have been paying dividends. Efforts to finally create sustained, positive inflation are having benefits in many areas of the economy, as revised 2nd quarter GDP numbers were impressive. Numbers showed an annualized 3.8% gain, making it the 3rd consecutive positive quarter.
One Area of Concern
There is an area of concern with this though, which potential or current investors need to keep an eye out for. The good economic news is being met with talks that the spring will see an increase in a sales tax, which is a contentious topic. Sustained growth in the face of this is possible, but Japan is still not quite on firm ground. Since ending the recession in 2012 news has been good but not enough time has passed for deflationary expectations to be fully supplanted with this new, positive inflation.
Japan is going to need additional revenue streams, but I agree with those who state a delay in this tax is in their best interests. In comparison to other advanced countries, real interest rates have been rather high in Japan, not a good mix with their large debt. Keeping these rates down should be the top priority waiting until growth in Japan has a firm foothold should be their course of action.
New Fiscal 2014 Guidance
Despite the conservative outlook for the Yen given by the company, guidance was still upped. After the 2008 crisis Toyota was at one point afflicted with the lowest profitability among Japan's three major automakers, with Nissan Motor (OTCPK:NSANY) and Honda Motor (NYSE:HMC) being the other two members. Recently Toyota was the only one of the group to upgrade its outlook, sending a strong signal that it is once again gaining strong momentum.
New guidance includes:
Revenues: $257.7 billion/¥25,000 billion. Up 13.3% from 2013.
Operating Income: $22.7 billion/¥2,200 billion. Up 66.6% from 2013.
Net Earnings: $17.2 billion/¥1,670 billion. Up 73.6% from 2013.
Disclosure: I have no positions in any stocks mentioned, and no plans to initiate any positions within the next 72 hours. I wrote this article myself, and it expresses my own opinions. I am not receiving compensation for it (other than from Seeking Alpha). I have no business relationship with any company whose stock is mentioned in this article.