Enterprise Products Partners (NYSE:EPD) offers one of the strongest opportunities for growth and income in the midstream energy space. The company has benefited from the price spread between natural gas and crude with its focus in natural gas liquids but could be on the verge of an export boom in liquefied natural gas products. An expansion program over the next couple of years could help to increase cash flows substantially and investors may want to use a recent selloff in the shares to add to positions.
The picks and shovels play on the U.S. energy boom
With the United States forecast to surpass Russia as the world's top oil producer by 2015, I have been looking at companies leveraged to take advantage of the coming commodities boom. An earlier article highlighted Seadrill (NYSE:SDRL) for its focus on ultra-deepwater platforms and newest fleet in the industry.
I have been researching master limited partnerships (NYSEARCA:MLPS) for the last few years and have several in my own portfolio. Reviewing the group this quarter made me realize that one in particular has the best opportunity for growth and is one of the strongest income stocks I own.
Enterprise Products Partners is a midstream energy company, meaning that it transports and stores products rather than explores or drills (upstream) or refining and distribution (downstream). While I hold stocks of upstream and downstream players, I like the midstream field because revenue is more closely tied to volume transported rather than energy prices.
The company receives most of its revenue from natural gas liquids pipelines (56% of 2012 sales), followed by onshore natural gas pipelines (18%), petrochemical and refined products (13%), onshore crude pipelines (9%) and offshore operations (4%).
The shares only pay a yield of 4.5% but the distribution has increased by a compound annual rate of more than 6% over the last ten years. MLPs also have an income advantage over other stocks because most of the distribution is not taxed as income but goes to lowering your cost basis in the shares. You may have a higher tax bill when you sell the shares but the energy boom could mean that these are stocks you hold for a very long time.
While the price of crude has come down to low $90s, the price spread on natural gas is still almost 27 times and will continue to drive strong profits for natural gas liquids (NYSE:NGLS). Revenue on the NGL segment grew 13% last year along with sales growth in every other segment except offshore operations.
Distributable cash flow increased to $4.1 billion last year, and is up at an annualized rate of 35% since 2009. Even if you remove the $1.2 billion in proceeds from asset sales and insurance recoveries, which I like to remove for conservatism, you get a DCF coverage ratio of 1.27 times the distribution. Add in almost $5 billion in retained earnings over the last four years and you get no problem with distribution sustainability and growth.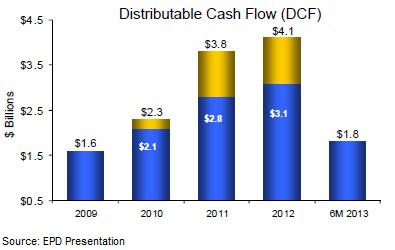 LNG exports are the growth story
The expanded Panama Canal is set to open in 2015 and will cut costs to Asia by up to 24% for larger ships that now must go a longer route. It is estimated that carriers hauling liquefied natural gas (NYSEMKT:LNG) will use the expanded canal 350 times a year and transport up to 12 million metric tons, about 5% of the world's trade.
Prices for natural gas in Asia are more than four times higher than in the states. Only three terminals have been approved for exports to non-Free Trade Agreement countries: Lake Charles, Sabine Pass and Freeport. It is still uncertain how much gas the government will permit for exports but that kind of price gap will incentivize companies to push hard on Congress.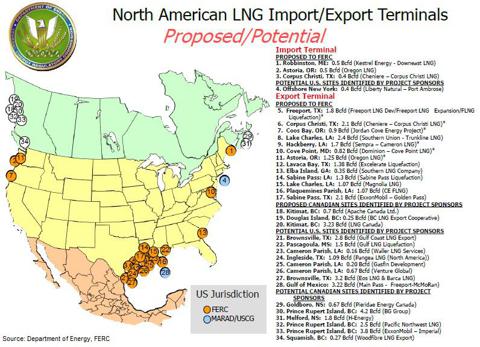 While EPD only books about a fifth of its sales from natural gas pipelines, it owns assets in all the major shale plays with a strong focus in the Permian Basin, Barnett and Eagle Ford areas. The company has over $5 billion in planned projects coming online in 2014 including completion of the 1,230 mile Atex Express pipeline connecting the Marcellus and Utica shale deposits in Texas. I see natural gas business growing faster than other segments and think the company is well-positioned to take advantage of the export environment.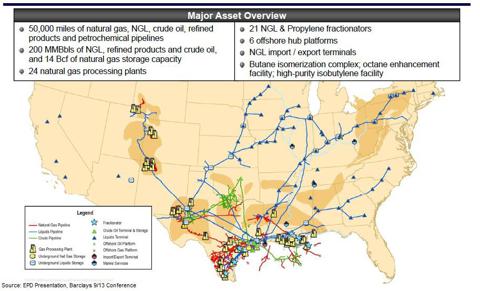 The company will tap the equity and debt markets to fund most of the capex budget but this is normal for an MLP and the increase in assets means sales could jump over the next couple of years. I don't think the market fully appreciates the volume increase from the U.S. energy boom and coming exports.
Valuation
EPD has lowered its cost of debt over the last four years, now at 5.4%. The average maturity to first call on debt has increased to 14 years, helping to improve the company's credit profile and lower cost. Discounting future cash flows below, I am assuming a 6% growth in distributions over the next five years before slowing to 4.5% in stage two and a terminal growth rate of 3%. The shares have a beta of just 0.72 for a cost of equity around 6.2%.

The assumptions on distribution growth do not account for a strong increase in volume over the next few years and are probably overly-conservative. Even on conservative estimates, the shares are up to 24% undervalued on future cash flows.
Other options on the LNG export play
There are a few, more direct plays, on the LNG export story. Cheniere Energy estimates that it can achieve a margin of between $4.30 and $7.80 per MMBtu with natural gas around $3.50 in the United States. While other terminals will be approved for export, Cheniere Energy's Sabine Pass already has its export license and should be ready to start by 2015. Shares of Cheniere have more than tripled over the last two years and the company has posted a net loss of $1.33 per share over the last four quarters.
Teekay LNG Partners (NYSE:TGP) has already booked two tankers to export LNG on five-year contracts. Teekay is the third largest carrier of LNG carriers. The long-term, fixed-rate contracts generate fairly stable cash flows and the shares pay a 6.5% distribution. While the share price has not skyrocketed like Cheniere, increasing only 23% over the last two years, I am a little concerned about the buildout in the global LNG fleet. Over the next two years, the fleet of LNG carriers will increase by 16% far outpacing the 9.7% increase in liquefaction capacity. That means that utilization and rates may come down even as volume exports increases.
While Cheniere Energy and Teekay LNG Partners have direct upside on export play, I like EPD for its fundamentals and growth even without the LNG export theme. The company has increased distributions consistently and has a big year ahead of it for new projects. At a discount of nearly 24% to its fair value on conservative estimates and a sustainable yield, investors may want to look at the recent selloff as an opportunity to add the name to growth and income portfolios.
Disclosure: I am long EPD. I wrote this article myself, and it expresses my own opinions. I am not receiving compensation for it (other than from Seeking Alpha). I have no business relationship with any company whose stock is mentioned in this article.