Over the past 25 years the diamond market has undergone a paradigm shift from being controlled by market supply to being driven by market demand. Previously, the De Beers company controlled prices with its monopolistic approach and market share reaching nearly 90% in the late 1980's.
De Beers maintained control over the industry by expanding from mining into every facet of the diamond industry and influencing almost all of the world's rough suppliers to sell their production through their distribution channel, giving them the power to control diamond supply and ultimately diamond prices. The company created stockpiles of inventory in weak pricing environments and sold the excess inventory into the market during periods of higher prices allowing them to control the market supply and prices.
Eventually there were a number of new large scale mines discovered in Australia, Canada and Russia making it increasingly difficult for De Beers to maintain their dominate market share position. Pressure started to mount on the company and the move away from the De Beers supply channel escalated in the 1990's during the Soviet Union collapse. The company's market share continued to erode with the discovery of new mines and mounting lawsuits against them.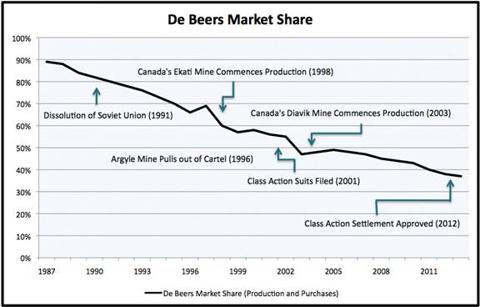 Ultimately, De Beers's business model and control of the market proved not viable for the long term due to increased competition. For the first time in a century, the diamond industry and market prices are not controlled by a single company but by supply and demand.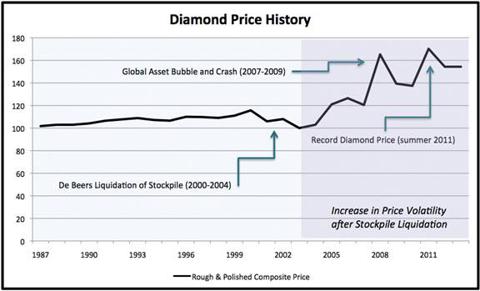 As with many commodities and hard assets demand growth has been fueled by developing and emerging economies, specifically China and India, which together account for the majority of the demand growth. As wealth increases in both countries, diamond sales are skyrocketing. After the US, China is now the world s second-largest diamond jewelry market with demand growing 18% from 2010 to 2011. After China, India is the third largest market with demand growing 17% during the same period.
The diamond market in both countries is expanding rapidly. In China, consumers are adopting the western practice of giving diamond jewelry to celebrate engagements, weddings and anniversaries which has been a key driver to the demand. As a result of this the number of jewelry outlets in these countries is soaring as well. As the demand continues to rise many consumers are starting to view diamonds as an investment causing demand for the gemstone to increase further.
As the economies and consumer confidence in a number of more mature markets such as the US, Europe and Japan start to pick up, the demand from these countries will add to the demand for diamonds from China and India.
According to the latest Bain and Co. report, The Global Diamond Report 2013: Journey through the Value Chain, global demand for diamonds is expected to grow at 5.1% compounded annually through 2023, while supply is expected to only grow at 2.0% annually over the same period of time. Minimal new supply growth over the next ten years can be attributed to mature mines becoming no longer economically viable and a lack of new projects coming on line to offset the diminishing production. Since the mid 1990's there have been very few significant new projects in development due to the fact that it can take capital expenditure of over $1 billion and nearly a decade to take a diamond project from discovery to production.
According to the Bain report, supply and demand of the rough diamond market is expected to remain balanced through 2017. In 2018, mining production is expected to start decreasing by 1.9% annually. The decrease in supply driven by the depletion of existing mines existing and the lack of new projects expected to come on line coupled with increasing global demand, driven by China, India and the US, creates an environment for rapidly increasing prices of diamonds per carat and increasing profits for many in the diamond industry.
Investment Considerations
There are a number of different ways to gain exposure to the diamond market and expected supply and demand imbalance. The first is one of the largest pure play publicly traded diamond producers:
Dominion Diamond Corporation (NYSE:DDC), formerly Harry Winston Diamond Corporation, is focused on the mining and marketing of rough diamonds to the global market. The Company supplies rough diamonds to the global market from production received from its 40% ownership interest in the Diavik Diamond Mine and its 80% interest in the Ekati Diamond Mine. Both mineral properties are located in a politically stable part of the world at Lac de Gras in Canada's Northwest Territories. Dominion's rough diamond production for the calendar year 2012 increased 8% to 7.2 million carats compared with 6.7 million carats in the prior calendar year. The increase was driven by increased grades at its projects and accounts for roughly 2% of global annual diamond production. The company has a current market cap of $1.2 billion and trailing twelve month sales of $566 million.
Another large diamond producer is Anglo American plc (OTCPK:AAUKY) which currently owns 81% of De Beers. De Beers still owns a large percentage of the world's diamond market with a 37% market Share. While the company has a $32.8 billion market cap and $29.5 billion of sales over the past twelve months, many may overlook this company as it trades on the OTC market and is less liquid. This company is more diversified than DDC expect it does hold a large market share in the diamond market.
Another option is to invest in large diversified miners such as BHP Billiton (NYSE:BHP) and Rio Tinto (NYSE:RIO) which have 4% and 5% markets shares respectively in the diamond market. While these companies are far from pure plays, they do offer exposure to the market and may appeal to investors looking for diversified mining operations that may minimize volatility in the diamond market.
The third way one can invest in the diamond market is by investing in a jewelry retailer such as Tiffany & Co. (NYSE:TIF) or Blue Nile Inc. (NASDAQ:NILE). Again these retailers are not pure play investments and do not offer the leverage to diamond prices that miners often exhibit, but their ability to pass along higher costs to consumers does provide some safety to increasing prices.
A relatively new investment option is the PureFunds ISE Diamond/Gemstone ETF (NYSEARCA:GEMS). The Fund seeks to provide investment results that, before fees and expenses, correspond generally to the price and yield performance of the ISE Diamond/Gemstone Index. The fund was created to provide investors with an easy way to invest in the supply and demand cycles of rough and polished precious stones. The fund's inception was 11/29/2012, carries an expense ratio of 0.69% and has assets under management of only $1 million. Due to the funds small size it does not see much daily trading volume and is more illiquid then some of the other investment options.
Conclusion
Bottom line, there is not a lot of new production coming online, and existing mines are approaching depletion levels. Utilizing Bain's 5% annualized growth in global diamond demand for the next decade, there does not appear to be enough new supply coming online in the coming years to offset new demand creating significant opportunities in the diamond industry.
Disclosure: I have no positions in any stocks mentioned, and no plans to initiate any positions within the next 72 hours. I wrote this article myself, and it expresses my own opinions. I am not receiving compensation for it (other than from Seeking Alpha). I have no business relationship with any company whose stock is mentioned in this article.