Synta Pharmaceuticals (SNTA) has had a rough couple of weeks, having fallen by close to 45% from its October highs following the release of updated data for its Galaxy-1 Phase IIb/III trial in advanced non-small-cell lung adenocarcinoma, and its recently announced public offering of approximately 14 million shares priced at $3.75 each. It is currently trading at just above a 52-week low of $3.70/share, with an approximately $260 million market cap.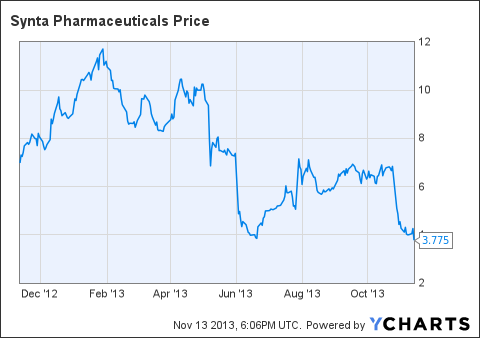 Source: SNTA data by YCharts.
Celldex Therapeutics (NASDAQ:CLDX) has seen its shares soar year over year by as much as 600%, before most recently settling around $25/share with a $2 billion market cap. Just last November, CLDX had a share price of approximately $5/share and a market cap of approximately $400 million.
What Do CLDX and SNTA Have in Common?
Both companies have revolutionary methods of fighting cancer, offering treatments for multiple tumor types with low toxicity. While Celldex has found a way to unlock the power of the immune system to combat tumors, Synta has found a way to neutralize HSP90, known to be a key factor in the progression of many types of cancer. Specifically, HSP90 has been shown to play a important role in stabilizing oncogenes that would normally be broken down by other cellular functions. These oncogenes, such as mutant p53, are known to play central roles in tumor growth, helping immortalize cancer cells and causing resistance to chemotherapy.
Both companies are in advanced clinical trials for a variety of cancer types, and both have shown remarkable results in pre-clinical models and in actual patient cancer trials using monotherapy. Yet, despite these similarities, SNTA's share price and valuation remains less than one-seventh of CLDX's.
An Upcoming December Catalyst?
One type of cancer both companies have pursued has been triple-negative breast cancer (TNBC), which is a difficult to treat and aggressive breast cancer subtype. In Synta's ongoing Phase II Enchant-1 trial in both HER2 positive breast cancer and TNBC, at least one advanced TNBC patient has already experienced a complete response (meaning the tumor could no longer be detected) within the 12 weeks of treatment with Ganetespib alone. Additionally, of the 15 Enchant-1 trial participants who were evaluable as of July 2013, four had experienced objective tumor response and five had achieved stable disease with the monotherapy regimen. The Enchant-1 trial remains ongoing and Synta has promised that updated data will be presented at the 2013 San Antonio Breast Cancer Symposium in December. Synta has not disclosed the extent of the update, but has indicated it is busy gathering data for inclusion in the presentation.
This data update presents the opportunity for considerable upside and at Synta's current valuation also offers the possibility of a low-risk run-up play, especially with the highly anticipated financing now out of the way (discussed in more detail below). However, before I delve into the technicals of the chart, a little more background on Synta's lead drug should be helpful.
What in the World Is Ganetespib?
Synta's lead drug candidate Ganetespib is what the company calls a next-generation HSP90 inhibitor. A quick Google search reveals to any interested party that the first and second generations of HSP90 inhibitors demonstrated efficacy in preclinical cancer models across a broad range of cancer types. They were pursued by Big Pharma, including Pfizer (NYSE:PFE), before being abandoned due to toxic side effects when used at therapeutic levels (specifically liver and retinal toxicity).
In contrast, Synta's Ganetespib has an excellent safety profile (confirmed through treatment of over 700 clinical patients who experienced only moderate transient diarrhea as a side effect), while still displaying the same type of broad based cancer fighting ability observed in the earlier generations and achieving up to 100 times greater potency. As mentioned earlier, but so important it bears repeating, the drug is clinically confirmed as an effective monotherapy generating up to complete response in breast cancer patients. However, another of the drug's key strengths is its ability to be synergistically combined with chemotherapy regimens. In fact, numerous preclinical results have demonstrated that for many types of cancers the combined treatment of Ganetespib and chemo substantially outperformed either treatment administered alone.
Synta has a plethora of simultaneous studies ongoing, including a) the Galaxy-2 Phase III trial in lung cancer as a combined second line therapy with chemo, b) a Phase I dose escalation in lung cancer as a first line therapy in combination with chemo, c) the Enchant-1 Phase II trial in triple negative and HER2 positive breast cancer, and d) various stage studies in colorectal cancer, mesothelioma, multiple myeloma and acute myeloid leukemia. The hospitals involved in these studies include many of the world's most prestigious cancer treatment institutions, including Harvard's Dana-Farber Cancer Institute.
All of this raises the question: If there is so much potential, why is the stock price hovering around $4/share?
The Galaxy-1 Trial: Good or Bad?
For most cancer biotech companies, news that your drug reduced the relative risk of death by 25% (seen in the .75 overall survival hazard ratio) in a Phase II cancer study with near-final results would be cause for celebration. In fact, prior drugs approved for this type of cancer showed a 20% reduction in hazard ratio at best. So why did these results send the stock falling by 40%?
For one, the hazard ratio worsened over time (had been approximately .69 in April 2013) meaning, the longer the study ran the slimmer the survival advantage of the treatment arm over the control arm. For another, and perhaps more important from a share price perspective, Synta announced that it planned to expand the Galaxy-2 Phase III trial from 500 to 700 patients in order to ensure adequate statistical powering. This expansion meant a six month delay in interim and final results, which are now projected for the second half of 2014 and early 2015, respectively. Neither of these developments were perceived to be positive and hence the drop in the stock price.
However, it is important to note that the decline hazard ratio was not due to worsening performance of the treatment arm, but rather improved performance by the control due to certain Eastern European outliers who had been randomized disproportionately to the control. Specifically, the Eastern European recruitment centers (due to apparent enthusiasm for Ganetespib) had violated treatment protocols by bringing patients into the trial who were at an earlier stage of disease progression than their Western counterparts, meaning that they tended to survive far longer than other patients. This effect can clearly be seen in the chart below where the "D East" line, representing the Eastern Europeans in the control arm, significantly outperforms all other groups in the study by month 18 (including all the Westerners in the control).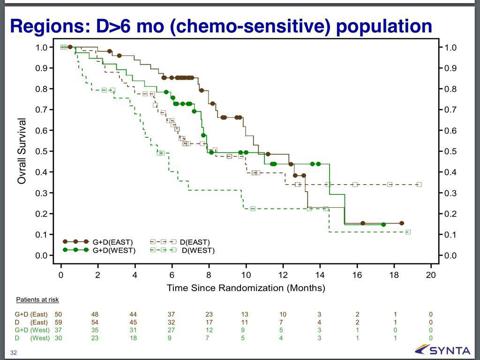 It is also very important to note that Synta has indicated that the hazard ratio in the Western population that will be used for the Phase III trial is currently approximately .5, indicating that Westerners in the treatment arm experienced a 50% survival advantage over Westerners in the control. If this trend holds through the Phase III trial, this would be an incredible outcome in a very common and extremely difficult to treat cancer. As a result of this analysis and given the closing of the Eastern European centers and the expansion of the size of the Galaxy-2 trial, I am extremely bullish on the outcome of Synta's interim analysis of their Phase III trial due in the second half of 2014.
If the Phase III trial is successful, it would mean Ganetespib would very likely be adopted as a combination therapy for the 160,000 patients treated annually with chemo in the second-line setting, especially given that no other combination therapies exist. Moreover, the total population treated with taxane chemo across all cancers is approximately 500,000, which would represent a massive untapped opportunity if the concept of combo therapy is proven.
What the Chart Says in the Near Term
For those interested in the near-term price potential of the stock, one only needs to look at what the stock did in the two months following ASCO 2013. Indeed, this isn't the first time this year SNTA has traded at these levels. In fact, following the release of updated data for the same trial at ASCO, the stock plummeted in a remarkably similar fashion, falling over 45% in the weeks following the event and hitting a 52-week low of $3.76. This was followed by a reversal to $5 and a subsequent surge to $7/share following the unexpected release of the extremely preliminary, but encouraging, results from Enchant-1, the Phase II monotherapy trial mentioned above.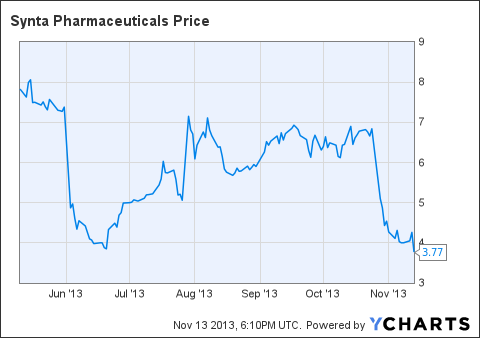 Source: SNTA data by YCharts.
In my view, it is very likely that history repeats itself given the impending December data release and the enormous short position that will need to be unwound (standing at over 45% of the float as of Oct. 31), meaning that from under $4/share there is a near-term upside of +75%. With a well-established floor of approximately $4/share this also constitutes an excellent entry point especially following the completion of the underwriting at $3.75/share. Run-up players should consider entering now with the intention of riding the potential reversal to $5/share that was seen in early July 2013 and plan to exit the position at some point before the December conference.
Drug Conjugates -- A Completely Unvalued Opportunity
Although likely too early to materially impact the price of the stock in the near-term, Synta has recently unveiled a proprietary system of drug conjugates (named the HDC Platform) utilizing the unique ability of its HSP90 inhibitor to preferentially remain in cancer cells up to 20 times longer than in normal tissue. Specifically, by binding various therapeutic agents to the HSP90 compound with a linker that decays over time, Synta can offer a tremendously versatile payload delivery package that can be used to enhance the concentration of chemo and other agents in cancer cells and reduce toxicity in normal tissue. Given that Ganetespib itself enhances the activity of chemo agents, the potential benefit of this system in terms of improved efficacy and safety is cumulative.
Moreover, Synta believes this platform can offer considerable advantages over antibody drug conjugates because of its ability to deliver significantly higher payload concentrations inside cancer cells (due to its ability to diffuse into cells passively and preferentially accumulate in tumor cells rather than rely on the presence of specific cell surface antigens or transporters) and its ability to carry a much broader array of payloads. This could mean that Synta will soon be successfully competing with companies like Seattle Genetics (NASDAQ:SGEN), which focuses almost exclusively on antibody drug conjugates and has a current market cap of approximately $4.75 billion (and actually licenses its technology to Celldex). This platform represents one of the alternative ways Synta may be able to generate revenue, through licensing arrangements and partnerships, and represents a considerable market opportunity that has not yet been priced into Synta's share price.
The Recently Announced Secondary Offering
As of September 2013, Synta had approximately $53.4 million available to fund operations and a cash burn rate of approximately $22 million a quarter. With the recently announced 14 million share offering priced at $3.75/share, Synta has raised approximately $50 million, giving it a balance sheet of approximately $80 million to fund operations in 2014 (after subtracting the expected cash burn for Q4 2013). This amount should be more than sufficient to see Synta through the announcement of interim Galaxy-2 Phase III results in the second half of 2014.
Conclusion
Synta Pharmaceuticals has the potential to revolutionize the treatment of cancer by employing Ganetespib as both a mono and combination therapy with potent activity in a wide variety of tumor types. The drug is proven to be safe and well-tolerated with some patients having been on treatment for years without material toxicity. If the trading pattern from June/July holds, the near-term upside on the stock is +75% with limited downside given the impending December data release and the fact that the stock is trading at approximately its 52-week low. For the long-term investor, Synta offers multibagger potential given that the company has an advanced stage cancer drug with treatment implications comparable to CLDX's pipeline, but only one-seventh the current market capitalization.
Such potential exists even without factoring in Synta's new drug conjugate platform, which offers the ability to preferentially deposit a wide variety of anti-tumor agents into cancer cells, thereby lowering their toxicity profiles and dramatically increasing their therapeutic indices. This platform should make Synta a significant competitor to Seattle Genetics, which currently has a market capitalization over 17 times greater than that of Synta.
Investors in small developmental biotech companies, such as Synta, should keep in mind that with the possibility of great reward comes significant risk. Risks for many such biotech companies include but are not limited to: a dilution to fund ongoing operations due to a lack of current revenue, drug development that may be delayed or halted entirely due to lack of safety or efficacy, or a competitor reaching the market with a product that obviates the need for the drug being developed. Investors should conduct their own due diligence and seek to fully understand such risks before making any investment decisions.
Disclosure: I am long SNTA. I wrote this article myself, and it expresses my own opinions. I am not receiving compensation for it (other than from Seeking Alpha). I have no business relationship with any company whose stock is mentioned in this article.
Additional disclosure: I am long SNTA call options