Moleskine (OTCPK:MOSKY) is an Italian retail/luxury company that produces the famous black notebooks that were (supposedly) used by great artists such as Wilde, Hemingway or Picasso. The company was founded in 1997 in Milan and now operates in 92 countries through 14,000 sales outlets.
If you ever owned one, the black notebook is a unique piece of paper that has the characteristics of a fashion object: sober, elegant, with a story to tell but affordable to almost everyone. This is Moleskine's main strength.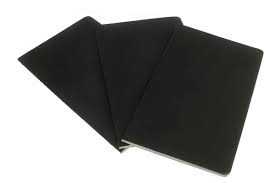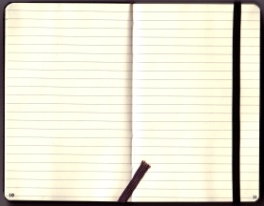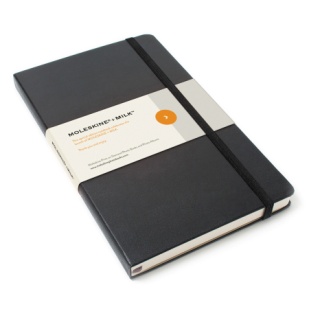 The Italian firm went public in March 2013 at 2.3€ and the share now trades at 1.6€. I believe that the share price is impacted negatively by the Italian framework but also suffers from a lack of investor interest for luxury companies now that the crisis could come to an end in Europe. The price could also be impacted by the bad results recently published by the industry.
Moleskine started at Buy by Goldman Sachs (NYSE:GS).
I believe that an investor should consider Moleskine for four main reasons:
- The company offers a "conservative" exposure to the luxury industry. Moleskine produces hybrid products that are not completely luxury items but also not simply stationery products. The company's positioning is perfect to quickly expand market shares globally and to maintain a luxury image potentially resilient to crises. It makes the product adapted to any kind of environment. If you already own LVMH (OTCPK:LVMHF), Richemont (OTCPK:CFRUY) or Kering (OTC:PPRUF), Moleskine could be an interesting way to diversify and strengthen your portfolio.
- The growth opportunities in terms of business segments and geographical areas. Moleskine is a young company but already fully globalized and geographically diversified. The Italian firm is also investing in the digital segment, which should drive the revenues at medium/long term.
- Moleskine generated increasing revenues and margin over the last years along with a good debt profile.
- The company is currently undervalued. I believe that Moleskine has a 25% upside potential at short term.
Here are some topics that should give you the main keys to understand and analyze the company. I also included some selected financial statements and a DCF valuation in order to have more visibility on Moleskine's performance and perspectives.
Premium positioning with a strong customer base
The luxury industry's revenues should grow by 5/6% yearly for the upcoming years and reach $250b in 2015 according to Bain and Company.
The global business should evolve according to the following drivers:
- Strong focus on the premium segment. For instance Vuitton is becoming a more and more expensive brand, targeting the wealthiest part of the customers. Kering recently sold FNAC (a retail company that sells books and electronic devices) in order to refocus its activity on high level luxury (Gucci).
- Revenues from accessories already account for 27% of sales and should grow over the upcoming years.
- Luxury products for middle classes should increase in order to deal with Henrys (High Earnings, Not Rich Yet). As a consequence, marketing will be key to understand a company's positioning and performances.
- The notion of customer experience should drive the strategies. Luxury will enter in the digital age and develop online sales and personalization.
I believe that Moleskine products can be considered as fashion accessories, in the premium segment of their markets and fundamentally affordable by the middle class. They are to me the perfect combination to deal with the evolution of the fashion industry and tackle emerging markets' consumers.
The black notebooks are one of the cheapest luxury iconic products on the market. The "Pleasure/Price ratio" is great and much better than its peers (Driving shoes by TOD's, Kelly Bag by Hermes, Wayfarers sunglasses by Ray-Ban etc.)
According to Mediobanca, Moleskine's customer base is approximately 228 million people and could reach 320 million people worldwide by 2020.
Well-balanced geographical business mix and upcoming diversification
Moleskine is well diversified geographically and managed to reduce its exposure to Europe (revenues were flat in 2012 for Italy and Spain). The company's results rely more and more on the Americas and Asia and should benefit from new distributors in Korea and Australia.
Revenues by area: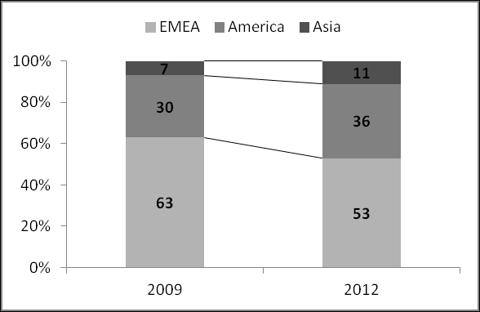 Click to enlarge
Source: Financial reports
The Italian company also started a product diversification in order to increase its market shares and deal with new markets. Moleskine launched WTR (writing, travelling and reading) items in 2010 that already accounted for 7% of the revenues in 2012.
The product diversification is coming along with product personalization, which should drive the revenues at short term (Q4 accounts for 1/3 of the revenues). Customers can now build online their own Moleskine notebook and directly order it.
The company can develop a new product in approximately 12 months, which is a strategic asset that makes Moleskine a fast growing and versatile company. New products are supposed to account for 15% of the revenues as stated in the objectives.
Control of the supply chain and upcoming digitizing
A luxury company should be able to manage the whole supply chain, from the suppliers to the distribution, in order to control the quality of the production process and protect the margin. Moleskine developed a vertically integrated business structure based on a tight management of the key segments of the value chain. The most strategic activities including brand equity & communication, marketing, production development and distribution are run by the Group in Italy.
The company recently invested in an online platform that should be fully operational at the end of the year. E-commerce and online operations should be expanded in the upcoming years and drive future revenues. Moleskine developed several applications for Apple's (NASDAQ:AAPL) iPhone and iPad in 2011 that have already been downloaded more than a million times.
The digital strategy is in line with the development of a new customer experience and more product personalization.
Ownership and key players
Finally Ownership and key players are two criteria to watch carefully because many luxury companies such as Hermes for instance are still owned by one or several families, which could trigger less decision power for the remaining investors. The image of the luxury company can also be linked to a person like an entrepreneur (Bernard Arnault for LVMH) or a designer (Karl Lagerferl for Chanel), which can be risky in case anything happen to them.
Something great with Moleskine is that there are no key players such as genius designers, which should make the company more stable over time and less depending on strategic/key players changes.
Selected financials
Moleskine has been able to generate increasing revenues and margin over the last years. Results slowed down in Italy and Spain in 2012 but were compensated by the dynamism in America/Asia (Revenues are +16% in Euros and were impacted negatively by the weakness of the currency in 2012). I expect the revenues to grow by 20% in 2013 considering the improvement of the economy in Europe and Moleskine's new business segments and canals.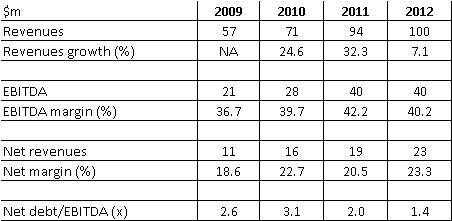 Source: Financial reports
The Italian company has a strong debt profile given its young age with a 1.4x Net debt/EBITDA ratio in 2012. I believe that the firm could easily finance investments at a low cost. According to analysts, the cost of debt should be about 3.4%.
Cash available increased by 122% from $4.18m to $9.26m in 2012.
DCF
An indicative target could be 4.72$ considering Moleskine's perspectives. It accounts for a 116% upside potential. This DCF is a bit extreme but I believe that Moleskine is currently undervalued by the market.

Click to enlarge
My forecasts are conservative. For instance analysts project a 26.5% 3Y CAGR for sales to €160m in FY15, a jump in EBITDA from €31.4m in 2012 to €66m (3Y CAGR 28%), the EBITDA margin rising to 41.7% in 2015 and net profit growing on average by 30%.
I used a 10% WACC to reflect the youth of a company that was still private a few months ago.
I assumed that the EBITDA margin will remain stable at 40%.
Capex should increase over the next years due to the investments in E-commerce.
Conclusion
Moleskine produces a great hybrid product considered as iconic but affordable. The company has been able to generate strong results and margins maintaining a good debt profile and should keep expanding its market shares worldwide over the upcoming years.
The Italian company could also be an interesting target for the sector's giants at medium term.
The share price is currently negatively impacted by the Italian political and economic framework and the luxury industry's overall performance but could easily go up after annual results. My target is 2.0€ (2.8$) by the end of the year.
9 months revenues reached $82million and improved by 10.5% yoy. The EBITDA margin is maintained at 39.4%. I believe that the company is in line with the objectives and my forecasts given that Q4 accounts for 1/3 of the annual revenues.
Disclosure: I have no positions in any stocks mentioned, and no plans to initiate any positions within the next 72 hours. I wrote this article myself, and it expresses my own opinions. I am not receiving compensation for it (other than from Seeking Alpha). I have no business relationship with any company whose stock is mentioned in this article.