Pure-play E&P firm Concho Resources (NYSE:CXO) is a relatively younger and nimble independent oil and gas producer with big plans. Concho, with an approximate $11 billion market capitalization, was executing horizontal drilling early in the Permian Basin. Since 2011, the firm has drilled and completed 211 wells in six target zones in the Northern part of the Delaware Basin, its most active area of operations. (The map below and a table further down details the six zones, which are updated from the last reporting on Concho.)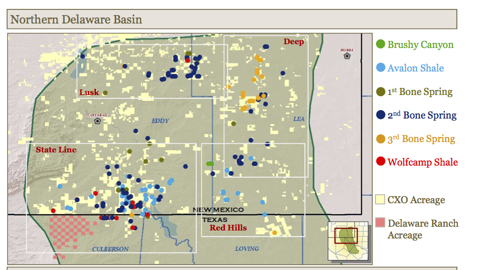 In terms of production, Concho's production has doubled and oil content has tripled over the last five quarters. From 2013, they estimate a doubling of production growth, a 25% cumulative annual growth rate ((OTC:CAGR)) to 2016, reaching an expected 67 million boe. This is changed from 20% organic growth rates of the past. The rate of growth is expected to exceed capital spending, which allows for de-levering.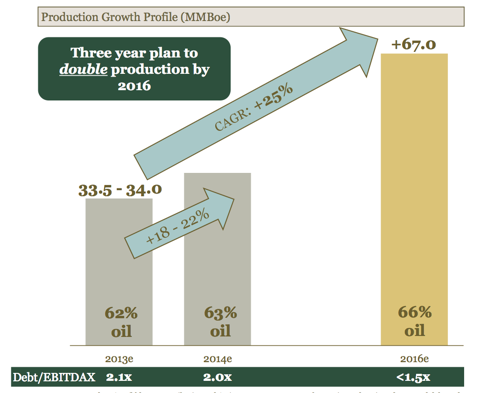 The 38-county Permian Basin consists of the eastern Midland Basin, the Central Basin Platform and the western Delaware Basin. Concho says it has a "distinct competitive advantage" in the emergent play area in the southern part of the Delaware Basin. Of 15 wells, "initial well performance continues to improve with average 30-day IPs sequentially higher," says Concho in the earnings transcript. For reference, in the Delaware, Reeves County produced 5,780,690 barrels of oil in June 2012-June 2013, according to the Texas Railroad Commission; neighboring county Ward produced 15.58 million in the same period. Note in the map link above, the darker orange and red areas overlaying the Permian Basin. Midland Basin counties are strikingly high production areas. The Delaware Basin counties, a focal point of Concho's, have production intensity and potentially room to grow.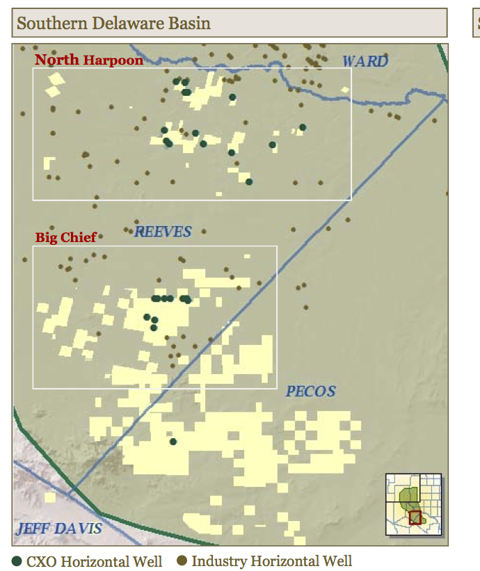 Culberson County, where Concho has added new acreage, the Delaware Ranch, sports 572,689 barrels of production for June 2012- June 2013. It is an emergent area based on past production. A new mega-well near the border, in the 2nd Bone Springs interval, boasts a peak 24-hour rate of 4,500 boepd and after 20 days, 3,700 boepd, with a 4600-foot lateral. (Note 2nd Bone Springs findings in table below compared with an earlier table. CXO has broken out the three Bone Springs intervals.) The well cost $6.8 million, has an expected ultimate recovery rate of 1 million barrels, and is expected to pay-out in less than six months. It is considered to be potentially a "historic Permian well." The Bone Springs interval is a relative newcomer to the unfolding shale story.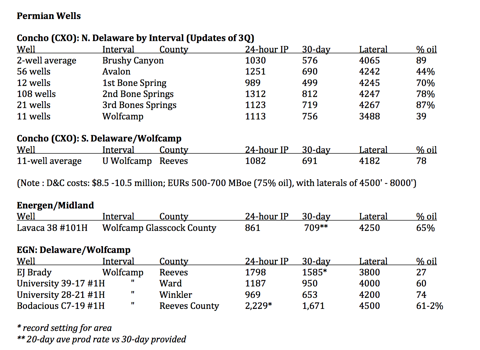 Other firms have reported some outperforming wells such as Pioneer Natural Resources (NYSE:PXD) in the Midland Basin and Energen (NYSE:EGN) in Reeves County, Delaware Basin. While Concho's focal area is not the Midland Basin to date, 2014 plans include horizontal rig growth from 12 (1Q'14) to 14 rigs in the 4th quarter. In comparison, from an average of 13 horizontal rigs in the Delaware, future plans include having 25 rigs by the fourth quarter of 2014. Concho intends to focus activity in Upton, Midland and Andrews counties in the Midland Basin. In reference to the Texas oil map, these counties produced the following in the June 2012 - June 2013 period: Andrews (31,063,102), Midland (22,262,259) and Upton (22,793,257).
Concho traded in a $105 to $110 range on November 13th. One-year target estimate price is $125. Wall Street analysts recommend Concho at a strong buy, buy, hold ratio of 12:5:4, respectively.
Sources include third quarter presentation (here) presentations
Disclosure: I am long CXO. I wrote this article myself, and it expresses my own opinions. I am not receiving compensation for it (other than from Seeking Alpha). I have no business relationship with any company whose stock is mentioned in this article.
Additional disclosure: My CXO holdings are utterly inconsequential. Opinions expressed herein by the author are not an investment recommendation and are not meant to be relied upon in investment decisions. The author is not acting in an investment advisor capacity. This is not an investment research report. The author's opinions expressed herein address only select aspects of potential investment in securities of the companies mentioned and cannot be a substitute for comprehensive investment analysis. Any analysis presented herein is illustrative in nature, limited in scope, based on an incomplete set of information, and has limitations to its accuracy. The author recommends that potential and existing investors conduct thorough investment research of their own, including detailed review of the companies' SEC filings, and consult a qualified investment advisor. The information upon which this material is based was obtained from sources believed to be reliable, but has not been independently verified. Therefore, the author cannot guarantee its accuracy. Any opinions or estimates constitute the author's best judgment as of the date of publication, and are subject to change without notice.