Tablets and smartphones are not computers, at least not yet. But they are major consumers of data, making them grist for the mill of the likes of Verizon (NYSE:VZ), Sprint (NYSE:S) and AT&T (NYSE:T). Anyone who confuses tablets with work just needs to take a few minutes to see where these devices are used.
The theory of the case is that many of the 1,000,000 apps in each of Google play or the Apple (NASDAQ:AAPL) app store are targeted at enterprise use and those schools, universities and businesses are major consumers of the devices. A peek at what apps are really popular puts that theory to rest.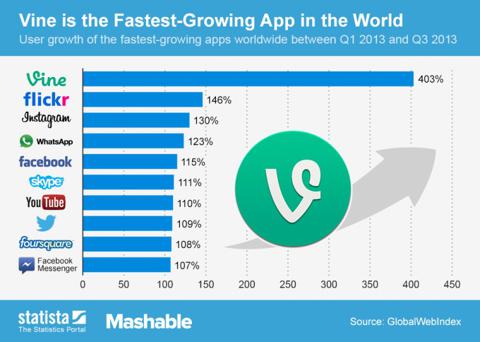 Click to enlarge
Vine, Flickr, Instagram, WhatsApp, Facebook (NASDAQ:FB), skype, YouTube, Twitter (NYSE:TWTR), foursquare and Facebook messenger are not mainstream enterprise applications. But this is where the growth in apps is taking place.
If we just look at tablets, the bulk of the time users spend with these devices is spent entertaining themselves, communicating with their friends and finding information. Only about 15% of the time spent on a tablet is for anything like producing anything remotely related to work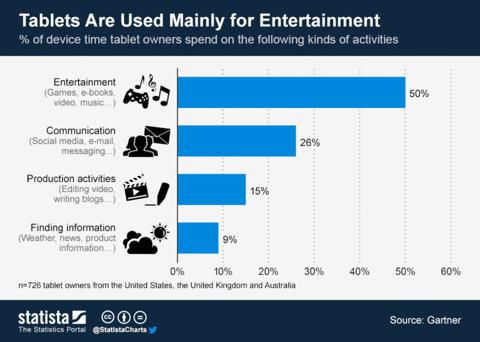 Click to enlarge
With the world going mobile, consumers are driving the train. The list of most visited web properties tells the tale. Google (NASDAQ:GOOG), Microsoft (NASDAQ:MSFT), Facebook, Yahoo (NASDAQ:YHOO), Wikimedia and Amazon.com (NASDAQ:AMZN) make up the six most visited places online.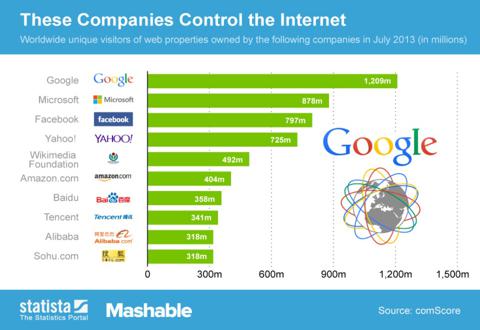 Click to enlarge
A big part of Apple's success was seeing this trend develop. Their imaginative and innovative products distinguish themselves both by ease of use and by the rich Apple ecosystem that supports them. While not very flexible or powerful, Apple devices provide a consistently solid experience if you are looking to chat with friends, watch a YouTube video or update your Facebook page.
Android device makers have followed suit, adding not only a high degree of functionality with comparable ease of use and ecosystem but also a range of price points putting smartphones and tablets in the hands of consumers who otherwise might not be able to afford them.
The beneficiary of this trend is not limited to Apple or its rival Samsung, but is captured now and very likely for many years to come by the service providers - Verizon, Sprint, AT&T and T-Mobile in the United States and many others abroad. Verizon's average revenue per account of $157.74 per month makes it clear why it is willing to subsidize a $600 phone to the tune of $400 over a 2-year plan during which time it will generate over $4,000 revenue from its user.
The bulk of Verizon's mobile revenue is generated from plans that include data, a virtual necessity if you own a smartphone or tablet.
Ericsson forecasts data traffic will grow ten-fold buy 2019, a staggeringly high growth rate far outstripping the growth in smartphone subscriptions.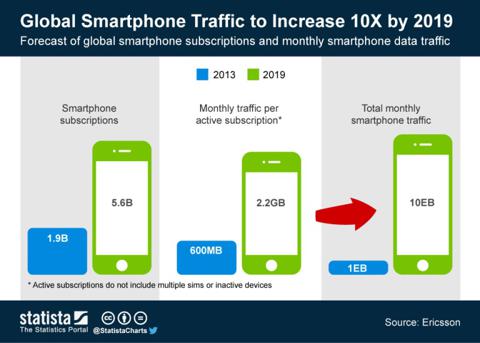 Click to enlarge
And, you might ask where all the data use is going. Not surprisingly, Netflix (NASDAQ:NFLX) and YouTube and the major culprits, with relatively small contributions from iTunes, Facebook, Amazon and hulu.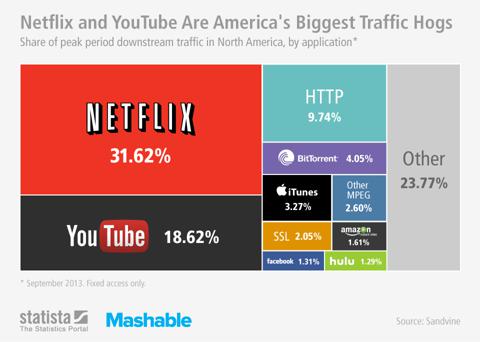 Click to enlarge
For investors looking to capitalize on this trend, you can avoid having to pick a winner in the competitive smartphone and tablet arenas, avoid the nosebleed valuation of a NetFlix or a Facebook, and still get a good ride. Verizon's recent buyout of the 45% of its shares held by Vodafone levered up its balance sheet a bit but not to the breaking point, and there is every reason to believe it has a robust future.
Verizon stock has done pretty well, up about 50% in the past two years.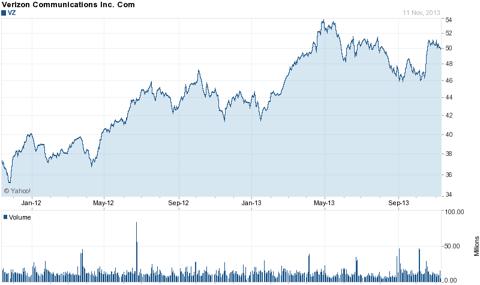 Click to enlarge
Trading at about 15 times 2014 earnings and sporting a dividend just above 4%, Verizon is worth considering for most portfolios.
I don't hold Verizon today, having traded it in the past year, but I'm looking for the right entry point. I have mentioned a number of other stocks in this article and have positions in some of them but none relevant to this investment thesis and all disclosed in other articles.
Disclosure: I am long MSFT. I wrote this article myself, and it expresses my own opinions. I am not receiving compensation for it (other than from Seeking Alpha). I have no business relationship with any company whose stock is mentioned in this article.
Additional disclosure: I am short Apple calls and puts and long MSFT calls. I have no position in VZ.