One way of getting exposure to Warren Buffett's Berkshire Hathaway (NYSE:BRK.B) is to invest in iShares S&P 500 Value ETF (NYSEARCA:IVE). In addition to Berkshire exposure, investors will also get a 2.2% yield, which BRK.B does not pay. Investors also get exposure to a diverse large number of stocks in addition to those included in the BRK.B portfolio. The IVE fund has beaten the performance of the S&P 500 in the past year and for more than a decade.
The extent of the Berkshire exposure in IVE includes BRK.B as the third highest holding in the fund. BRK.B comprises 2.72% of the ETF. Berkshire owned, Wells Fargo (NYSE:WFC), is the largest holding in BRK.B and the fourth highest holding in the IVE fund. Walmart (NYSE:WMT) is the ninth highest holding in IVE and Berkshire's sixth highest holding. Proctor and Gamble (NYSE:PG) is Berkshire's fifth highest holding and IVE's twelfth highest holding. The 14th and 15th holdings in IVE are International Business Machines (NYSE:IBM) and Conoco Philips (NYSE:COP), which are Berkshire's third and twelfth highest holdings respectively. All of these together comprise about 11% of the IVE fund.
To a lesser degree, there are other Berkshire owned companies in IVE that comprise less than 1% each of the ETF: National Oilwell Varco (NYSE:NOV), General Motors (NYSE:GM), Precision Castparts (NYSE:PCP), Praxair (NYSE:PX), Viacom (VIA.B), and Washington Post (WPO). All together Berkshire comprises a little over 12% of the IVE fund.
Here are IVE's top 10 holdings as of November 11, 2013:
| | |
| --- | --- |
| Company | % of IVE |
| General Electric (NYSE:GE) | 3.6% |
| Chevron Corp. (NYSE:CVX) | 3.06% |
| Berkshire Hathaway | 2.72% |
| Wells Fargo | 2.7% |
| JP Morgan Chase (NYSE:JPM) | 2.67% |
| ExxonMobil (NYSE:XOM) | 2.46% |
| AT&T (NYSE:T) | 2.43% |
| Citigroup (NYSE:C) | 2.00% |
| Wal-Mart | 1.68% |
| Microsoft (NASDAQ:MSFT) | 1.68% |
Berkshire has outperformed the S&P 500 (NYSEARCA:SPY) and IVE for over a decade. So, investors would be wise to have exposure to it. Buy Berkshire outright if you wish - that's certainly a solid investment. However, with IVE, the 2.2% dividend is icing on the cake as Berkshire doesn't pay a dividend.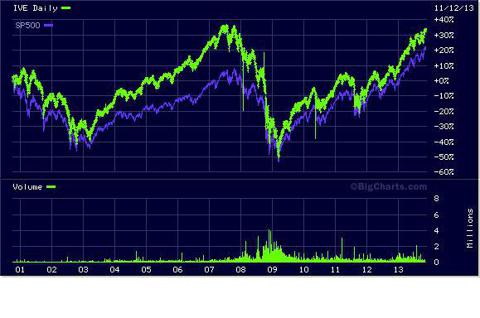 Ironically, IVE is currently trading with a trailing PE of 19.9, which is slightly higher than the S&P 500's PE of 19.5. Investors would think that the S&P 500 value fund would have a lower PE than the overall S&P 500. However, this is currently not the case. The goal of the IVE fund is to track the investment results of the S&P 500 value index, which is comprised of large-cap U.S. equities that have value characteristics. Those particular stocks including Berkshire have had a good run, which resulted in a higher valuation than the overall market. Despite this, the market and IVE still has room to run. The economy is still making gains and there are not many negative catalysts to stop the bull market. Granted, the market looks due for a correction, but there will need to be a negative catalyst to trigger one.
IVE achieved a gain of 20% year-to-date. The three-year gain was over 15%, with the 10-year gain at 7.4%. The fund has gained 4.22% since inception on May 22, 2000.
The fund is currently trading at $82.87, which is slightly above its net asset value of $82.49. It has a low expense ratio of 0.18%.
Overall, IVE looks like an attractive alternative to the S&P 500 ETF. The iShares S&P 500 Value ETF can provide investors with exposure to BRK.B with additional diversity and a 2.2% dividend yield. IVE has edged higher than the overall S&P 500 over the long-term and I would expect it to continue to do so with the Berkshire exposure and the other top holdings driving these increases.
Disclosure: I have no positions in any stocks mentioned, and no plans to initiate any positions within the next 72 hours. I wrote this article myself, and it expresses my own opinions. I am not receiving compensation for it (other than from Seeking Alpha). I have no business relationship with any company whose stock is mentioned in this article.